I recently celebrated my first wedding anniversary with my husband, Lance. Our only rule for the day: no gifts. Instead, we enjoyed a nice dinner at the Red Cat Kitchen in Oak Bluffs – the location of our first date – and then looked through our wedding album.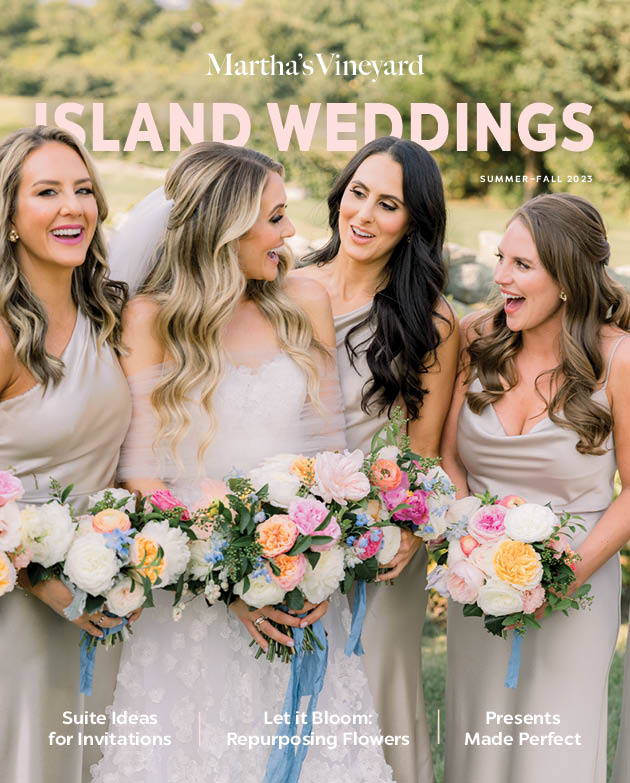 Earlier that day, friends and family texted us their well wishes. Many shared with us their favorite details from the wedding, and what stood out to them a year later: the food, the music, the venue, the flowers. Lance and I loved all of those things too. But one behind-the-scenes, unexpected moment stood out to me: how we were able to regift our flowers the following day.

After our wedding, I took my bouquet home and placed it in a vase on our kitchen island. All the other blooms, I figured, were heading to the compost pile. On Sunday morning, we got a call from our florist. "We have all of your wedding flowers down here," she said. "And since you're Islanders, we figured you might want them to gift to others." Lance quickly hopped into his truck to retrieve them.

We pulled out any wilted flowers and spent our first day as a married couple distributing them – to our parents, wedding party, friends, and family members. We loved seeing the smiles on people's faces as we handed over the flowers. Lance's maternal grandmother's reaction was particularly memorable. She was so happy to receive the colorful peonies, garden roses, and ranunculus and she couldn't wait to display them.

There are more ways to repurpose wedding flowers beyond gifting them following the event. In this issue, the story "Flowers with (Re)Purpose" beginning on page 44 will highlight just that. I honestly wish we had done this article before my wedding as I would have loved to implement some of the ideas into my day.

It should come as little surprise that flowers were a highlight in many of the real weddings featured in this issue. Brittany Shaw has always loved the look of Tea Lane Farm's flower stand in Chilmark, so she and her husband, Izra Izrailov, hired owner Krishana Collins as their florist. Using galvanized buckets, each with a single bunch of flowers, Collins recreated the look of her flower stand for their reception at the Allen Farm in Chilmark. Their story begins on page 30.

At Alexandra Berry and Grant Ladner's reception at the Dr. Daniel Fisher House in Edgartown, florist Aubrey Sirois of Aubrey Maria Designs/Donaroma's created an all-white floral display. The bride's favorite detail: the hydrangea runner for the head table. Their wedding can be found on page 38.

And for Elizabeth Russo and Josh Grasso's up-Island reception at the Tower House in Chilmark, they requested florist Heather Brown of Birds of a Flower to fill their tent – from the bar and the tables, to the escort card baskets and the tent's entrance – with colors ranging from pinks and peaches with touches of yellow, blue, and green to highlight "the last hurrah of summer" on the Island. Their story begins on page 22.

If you're currently planning a wedding, I can't help but wonder what aspect of the big day will end up being your favorite. Maybe it will be the band selection or the thoughtfully crafted food menu. Maybe it will be the backdrop for your ceremony or the personal vows you recite to one another. Or maybe it will end up being something you never anticipated, like regifting flowers.
I hope you find that special something.