Food and love seem to go together. Think: a romantic night with champagne, roses, and chocolate-covered strawberries. Now, there's a whole new way to connect food and love – starting with the proposal, through the bridal shower, right up to the big day itself – with a curated, luxury picnic.
Luxury picnics, as the name suggests, are created to fulfill your dreams of eating in picturesque settings without having to buy and make the food or lug it, the blankets, and accoutrements with you. Three companies have emerged on the Island to do all that work: Sea'Nic with Amor, Ashore Delight Picnics, and Martha's Vineyard Picnic.
These companies believe the natural beauty of the Island is the perfect backdrop for personalized picnics that look attractive, taste fabulous, and are magically there when you arrive and disappear after you leave.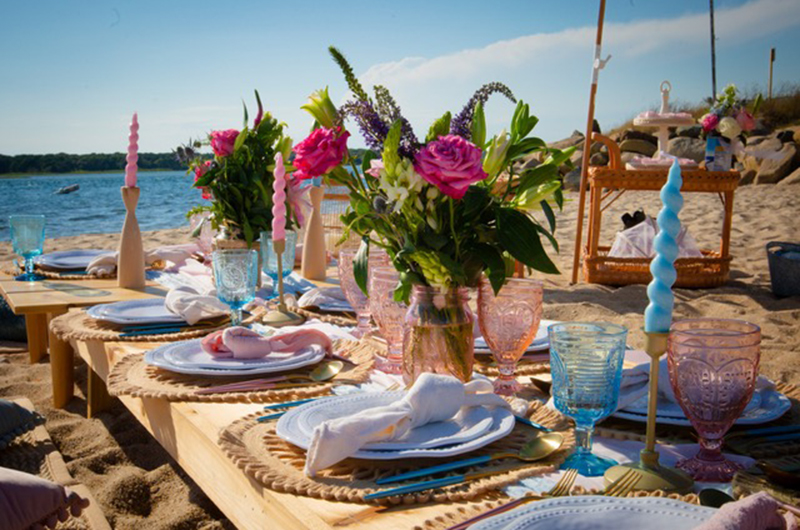 Courtesy Martha's Vineyard Picnic
The aptly named Sea'Nic with Amor is run by Roma Chhon, who has been in the food and beverage industry for thirteen years. She first got the idea for her business while helping her photographer boyfriend on a photo shoot of a proposal in Aquinnah. "It was absolutely beautiful, but I looked at it and felt: I wish there was something more – like a bottle of champagne or a cheese board, some type of picnic – because it was a special event for the couple," Chhon said.
She soon discovered that the idea she had been thinking of was actually a trend that had already caught on in Australia. "It was beautiful, just what I was picturing when I was helping my boyfriend," Chhon said. Thus, Sea'Nic with Amor was born, offering full-service luxury picnics with everything a client needs for an unforgettable experience, whether it be a proposal, bridal shower, anniversary, or a romantic date.
If clients don't have a clear destination in mind, Chhon works with them to find a spot that fits. "My favorites are definitely Aquinnah or Tashmoo or Menemsha," she said. Once the location is set, Chhon creates a unique picnic using the client's wish list. Her website shows a range of Boho-style items – many of which she sourced from her home country of Cambodia – that include low or tall tables, place settings, pillows, candles, and a hanging macramé lamp.
For one client, Chhon created a pink-themed picnic on the beach that included a chandelier, flower petals, and pineapples, which the soon-to-be fiancée happened to favor. For another surprise engagement, Chhon worked with the prospective groom's sister to set the date and go through the details. It was to be a simple picnic set-up so the girlfriend wouldn't know that he was going to ask her to marry him. "This proposal was very cute," recalled Chhon. "The whole family and their friends were helping. After I set everything up, we all hid, and [the girlfriend] had no idea that he was going to propose. All she knew was that he was taking her to Menemsha beach for the sunset, but when they arrived at the picnic, he got down on his knee and proposed."
The Sea'Nic basic package includes a charcuterie board and either still or sparkling water. If clients don't want to bring their own additions to supplement the charcuterie board, Chhon will acquire whatever they wish. No matter the choice, she sets everything out to look attractive and cleans up afterward. "I don't want them to have to worry about anything – just show up and enjoy themselves," Chhon insisted.

Courtesy Cathleen Garcia
The idea for Ashore Delight Picnics, run by Cathleen Garcia and Milica Vujcic, also began with a boyfriend – in this case, Garcia's. She was putting together a picnic for a date night and thought: "This was fun. I should start doing it for other people on the Island with all this scenic beauty."
Garcia started the business in 2021, and Vujcic came on board soon after. The pair scope out locations, which, in addition to beaches around the Island, have included Polly Hill Arboretum in West Tisbury. They have a flat rate and a wide variety of setups, which include seating arrangements, a low-rise table, and a Bluetooth speaker for music. Add-ons include a firepit, a decorated tent, and additional catering items.
Along with flat and sparkling water and wine, they provide locally sourced grazing boards, which includes items such as grapes, olives, berries, cheeses and crackers, jam or jelly, honey, and, if desired, a variety of dried meats. They also offer novel charcuterie champagne flutes.
For one bachelorette weekend, Garcia and Vujcic dropped off welcome baskets the first night followed by cucumber sandwiches, lobster roll sliders, and dessert flutes filled with chocolate pretzels, strawberries, and other sweet treats for the second-night backyard gathering. They also did a surprise sunset engagement in Aquinnah with a vegan grazing board and, because the couple didn't drink, a bottle of chilled nonalcoholic sparkling apple cider. The hopeful fiancé proposed on the way to the picnic they had set up along with a sign that read, "Congratulations on your engagement" complete with a ring emoji. "It was super casual. They really loved it. It was very special," said Garcia.
Both businesses design luxury picnics for non-wedding events too. Ashore Delight Picnics even offers a movie-night option with a nostalgia-inducing old-fashioned popcorn machine and firepit complete with s'mores.
Then again, who's to say you won't want to add an activity like that to your wedding weekend, or to an anniversary down the line?