Angela Sison and Noah Mayrand were surrounded by the colors of fall on the Vineyard at their October 22, 2022 wedding – the orange of an early sunset over Watcha Pond, the light blue of a foamy ocean, and the hunter green of fading grass fields.
Their color palette – and their commitment to staying local, sustainable, and handcrafted – spread through every element of their wedding. Guests dressed in the colors of an Island fall, and friends and family helped the couple create a day filled with do-it-yourself spirit and personal touches, from handmade dresses to dried flowers from the couple's garden.
Sison was raised in San Francisco and the Philippines, while Mayrand was born and raised on the Vineyard. They met in San Francisco in 2013 and share artistic backgrounds – both went to art school, with Sison going into fashion design and Mayrand studying printmaking. Six years ago they settled on the Vineyard, where Sison now owns and operates the clothing store Conrado, which repurposes deadstock fabric bound for the landfill. Mayrand recently started Tisbury Oyster Co., an oyster farm in Lagoon Pond.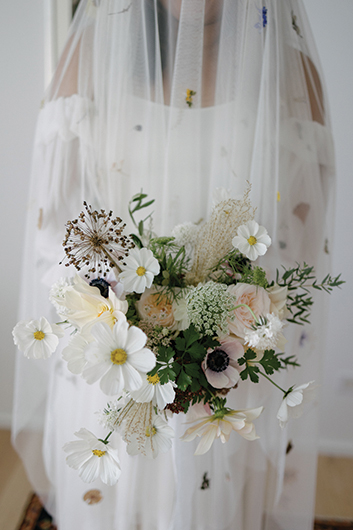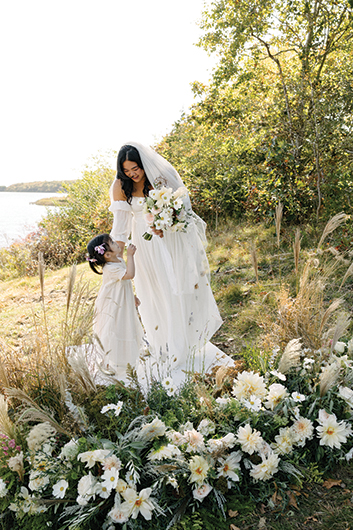 A sustainable, do-it-yourself wedding was "in line with the way we live, the way we run our businesses," Sison said. When she started making plans for the wedding last January, she often found herself thinking, "Oh, I can make that. I can make it even better." She also found that a true DIY celebration takes more than just yourself – it takes a whole community.
The venue was outdoors on a friend's property at Scrubby Neck in West Tisbury. Décor included pressed flowers, grasses, and herbs from the couple's garden, along with end-of-season flowers gleaned from Tea Lane Farm in Chilmark and Morning Glory Farm in Edgartown. Friend Kay Frank, who operates the floral design studio Plant Post, made Sison's bouquet, which also had parsley in it, a nod to Mayrand's background as a chef.
Sison and Mayrand crowdsourced bud vases from friends and family, and purchased extras from a friend who had a wedding just a few weeks before – lessening the cost for everyone, and reducing waste. They also reused gauze runners from another Island wedding, cut blocks of wood from an old home project to use as candle holders, and created place cards out of oyster shells from friend Noah Scheffer's Little Minnow Oyster Co. farm, painted gold around the edge.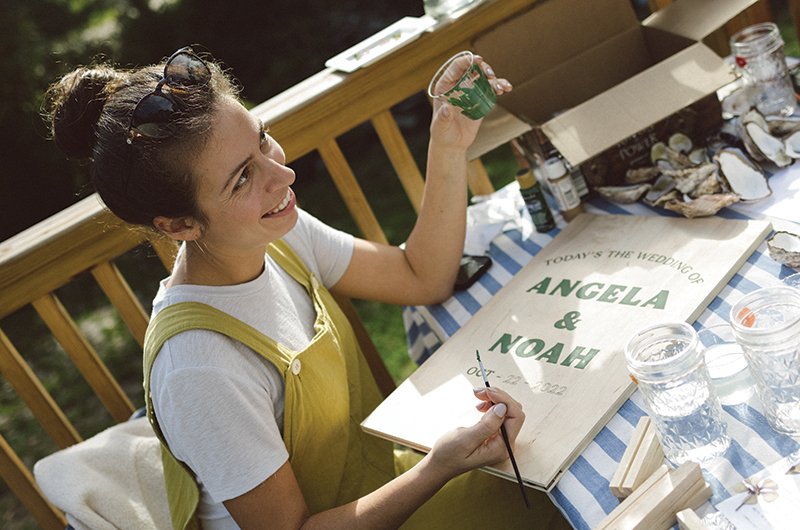 Sison handmade the wedding invitations, cutting leftover scraps of linen from her summer clothing collection into different sizes of rectangles, stacking them, and sewing them onto a piece of recycled white paper. The wedding information was screen-printed on top. The same linen was used to make embroidered aprons that were given to the guests as favors.
During wedding planning – with help from Lucia Dillon of Daughters Martha's Vineyard, who served as a day-of coordinator – Sison utilized her skills as a designer and created a mood board of photos her friends had taken of the Vineyard during fall. "I picked my favorite colors out of those and asked our guests to incorporate those colors in their outfits," she said.
The true handmade showstoppers were several pieces Sison made for herself to wear over the weekend – five outfits in total, including a wedding dress. While she purchased a quilted jacket and a simple silk slip dress, everything else was handmade, from a sheer organza blazer for the welcome dinner to an organza dress with lace appliqué for dinner and dancing. Another party dress had thin straps adorned with organically shaped pearls, repurposed from one of the first gifts she received from her (now) mother in law.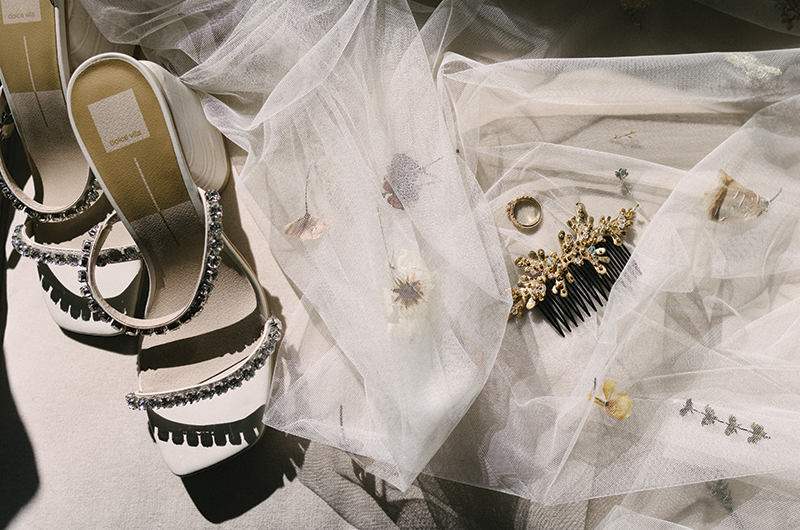 The wedding dress itself was a simple off-the-shoulder silk gown with a gathered skirt and billowy, ruffled sleeves. For the veil, she hand-sewed pressed flowers Mayrand had collected during their travels together – poppies from California, ginkgo leaf from Japan, bougainvillea from the Philippines – along with dried flowers from their garden, into tulle.
"I think that's the most favorite thing I've ever made," she said. It was also fragile, and destined for another purpose following the wedding: the veil now lives in a frame as a piece of art in their home.
On a trip to the Philippines, Sison went to a market known for wooden carvings and dinnerware. There, she collected wooden platters and various wooden chicken statues – a nod to another key wedding theme.
"We are obsessed with chickens," Sison said. They named their tables after some of their beloved flock – Miss Frizzle, Stormi, Adobo, Blue. Screen-printed chickens also adorned the invitations and other wedding décor.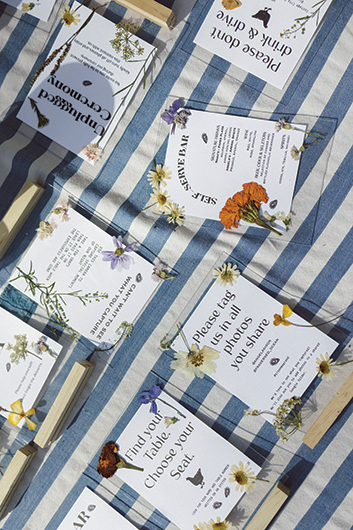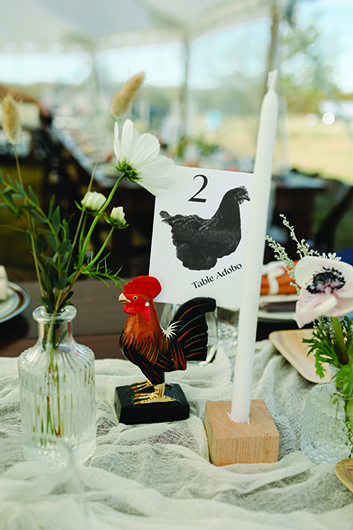 Like everything else, the wedding dinner was a collaborative affair, with help from friends. (The couple was prepping food until two nights before the wedding, Sison said.)
Mayrand's fishing derby catches were turned into smoked bluefish pâté for a charcuterie board – and, of course, there was an oyster bar featuring friend Scheffer's bivalves. The appetizers included hummus, pita bread, dolma, and other favorites from a Lebanese shop outside of Boston, since Mayrand is part Lebanese.
For a dinner taco bar, friend Tim Laursen of Local Smoke smoked a whole pig – a tradition at big celebrations in the Philippines – which was served along with smoked chicken and vegetables. Friends brought 200 tortillas from a factory in Brooklyn, and the couple made their own sides – pickled vegetables, salsa, and guacamole – with help from John Thurgood of Island-Sourced.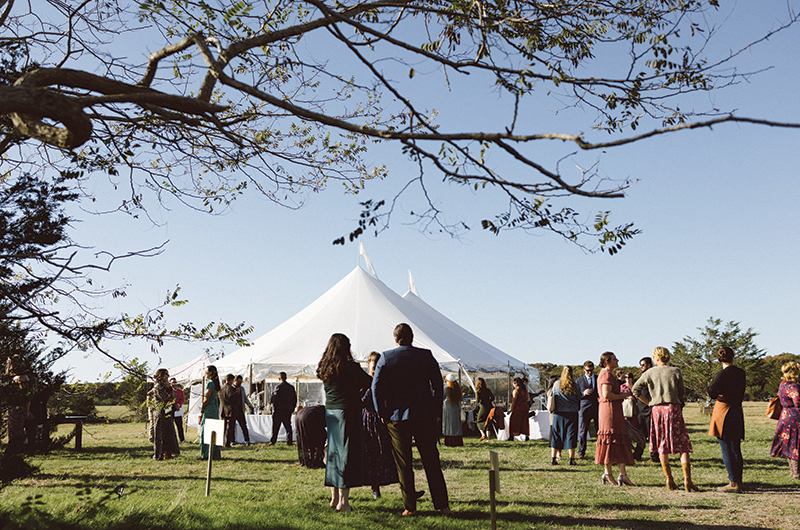 Dessert included cookie and brownie platters from Black Sheep in Edgartown, a chocolate and matcha cake made by Korilee Connelly of Korcon, and, later, an assortment of doughnuts. Sandwiches from Life at Humphreys in Vineyard Haven were a welcome late-night snack.
Dishware for the reception included dinner plates from friends, the Dumptique in West Tisbury, and even the side of the road for a mix-and-match look. White napkins, collected when Big Sky Tent and Party Rentals was giving away old linens, were dyed mauve and mustard.
The key to a successful sustainable, do-it-yourself wedding is to remember that there are many ways to do it, Sison said. She suggested "getting inspiration from past weddings you've seen, or going on a Pinterest board, and taking those inspirations and making it your own."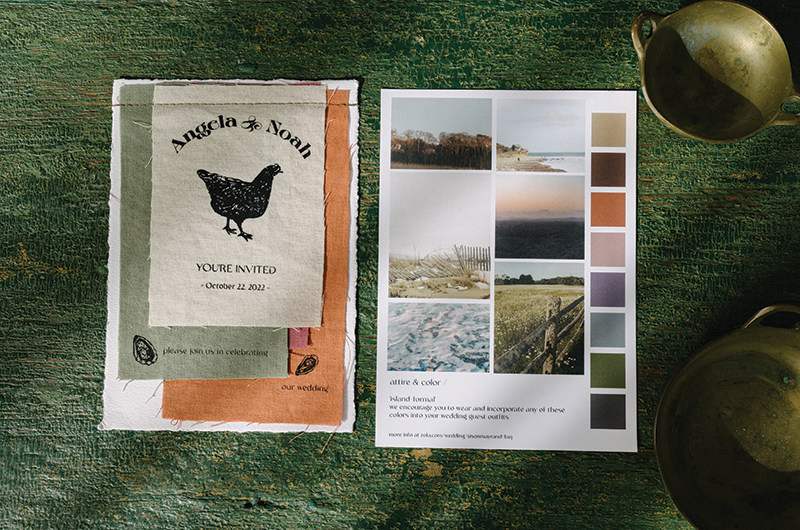 Sison was especially grateful for her friends' generosity through the whole process, from the one who knows calligraphy and wrote the place cards to those who gathered for a craft-filled, DIY bridal shower brunch, where guests made and painted signs, got the napkins and menus ready, and prepared the apron wedding favors.
"Asking your friends to help is very nice," Sison said. "I was really touched by my friends saying they felt so connected to the wedding, because they saw so many parts of it, and they felt so involved in the making of the wedding.
"We are so lucky that we have a lot of creative friends that were able to help us out.