Martha's Vineyard is surrounded by blue waters filled with jewels. Well, the jewels are actually the fresh seafood – which can be the perfect additions to a couple's wedding-day menu in the form of a raw bar.
Vineyard residents Trey Rasmussen and Emilyanne Williston, who married in 2019 at a private home in Edgartown, hired Beau Begin's mobile raw bar service, the Clambulance, to treat guests to some extra fresh seafood at their reception. "You're at a Vineyard wedding, now you get to taste the fruits of the labor of the Island," said Rasmussen. "It was the talk of the town."
Although you can have a cheese table and passed hors d'oeuvres during your cocktail hour, said Rasmussen, "I don't think you'll ever have a raw bar at your wedding and it will go untouched. And it's great for different ages. There was this little boy who was gobbling down shrimp cocktail every thirty seconds."
A standard raw bar spread includes oysters, littleneck clams, and shrimp cocktail, with an array of accoutrements such as signature mignonettes, hot sauce, cocktail sauce, and fresh lemons.
Begin starts the decision-making process by speaking with the couple to find out what they love most about the Vineyard. If they have a favorite location, such as a go-to beach or fishing spot, he tries to source some of the seafood from that area. "My raw bars have always been about a representation of the waters surrounding the Vineyard," he said. Begin knows these waters well – he grew up fishing and sailing to the Island from Marion, Massachusetts, with his parents when he was a young boy.
"It's about getting the seafood from these waters as fast as possible to the party. That's where the 'emergency' of the name Clambulance comes in. With my bar it's not just one farm but a multitude," Begin said. Some of his Island sources include Honeysuckle Oyster Farm, Signature Oyster Farm, and Martha's Vineyard Spearpoint Oysters. He will also bring in an off-Island farm, such as Fifth Bend Oyster Farm from Nantucket, to add an exotic "merroir" (taste/flavor based on growing conditions) to the mix. But, he said, it's always changing depending on what dynamics create the freshest product possible.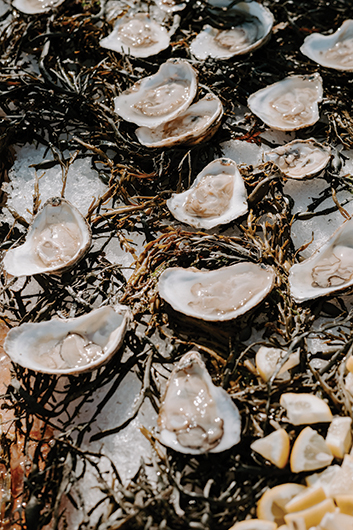 Freshness is key when selecting the spread, and those who provide the raw bars here passionately believe that the fare is exceptional. Dan Martino, of Cottage City Oysters in Oak Bluffs, believes "the oysters that are being farmed on the Island are some of the best in New England. If you have an event here and don't have oysters, it would be like having an event in California and not having wine. It's that synonymous with the Vineyard and a no-brainer."
Martino isn't alone in extolling the virtue of oysters from Vineyard waters. Shane Johansson, of Island Raw Bar Co., seconds that sentiment: "I think that Vineyard oysters are some of the best in the world. Especially Katama Bay oysters. When you open them up, they're milky white, which means it has a high-fat content and is a very healthy oyster."
Rasmussen said that raw bars are great because they are not cost-prohibitive and are a nice way to incorporate seafood into the day without breaking the bank with a full seafood dinner.
Begin touts another key use: "Raw bars are the ice breaker of the party. It's where the tribes come together. Often people are not sure of each other. The interaction with the shucker and eating at the raw bar lowers people's inhibitions. People get together, talk, and share, and it opens them up since it is a common bond. It creates an adventure."
While each company provides the standard fare, many include unique additions as well. Emily and Joe Monteiro, of 19 Raw Oyster Bar in Edgartown, offer crudo (sushi-grade raw fish) and a tuna poke, which is a big seller made of tuna mixed with avocado, mango, and seaweed salad served with malanga chips. "It's just outstanding, so people love that. Joe doesn't cut corners when it comes to food," said Emily Monteiro. They also have something called caviar bumps – little mother-of-pearl spoons filled with small mounds of caviar.
For their wedding, Rasmussen and Williston came up with the idea of oyster shooters, which were novel for them. Begin created it with an oyster, horseradish sauce, cocktail sauce – his is made with a Bloody Mary in mind – and about a half-ounce shot of vodka. "It's super fun, especially for people who have always been eating shellfish but never really experienced this," Rasmussen said.
Raw bar purveyors stress how important the interaction is between those partaking in the seafood. "There's nothing more fun than when someone walks up who has never had an oyster before, and you get to lead them through that experience of what they're tasting, what to appreciate in the oyster they are eating, and the different condiments and how that will change the flavor and texture of the oyster," Martino said. "We all kind of geek out on it."
Still, raw bar experts caution: don't let your guests have all the fun. "The shame about oyster raw bars for the wedding couple is the timing," said Johansson. "Right when they're inundated with people clamoring to congratulate them or taking photos, they don't typically get a chance to get to the raw bar themselves. I always make sure I do a private plate for them, a half or full dozen so they don't miss out on their own raw bar. Especially if it's an Islander wedding, all of it goes and I never have any leftovers."