If you follow stylist Talita Destefani on Instagram (@talitadestefani), you'll notice she travels often between New York City and Miami for clients, conferences, and brand photo shoots. But Destefani really shines when she is home on Martha's Vineyard styling brides inside her Vineyard Haven salon, Talita Destefani Beauty Lounge, which she opened in February of 2015. Here, Destefani breaks down how she brings her knack for self-care to each of her wedding-day clients, whether she's doing a simple updo, beachy waves, a messy bun, or even adding in extensions.
How many months in advance should a bride book a wedding day hair and makeup consultation? What does each consultation entail?
Book as early as possible. I usually book my brides for a trial four to six weeks prior to their wedding day.
A bridal consultation usually lasts three hours. The bride will bring her inspo ideas for hair and makeup and together we decide which is the best one based on her hair length, dress type, and location. I will usually do two different hair styles for them to have the option to choose, and start light on makeup so that I am able to add more if requested.
Are you noticing a lot of brides wearing veils? And, if so, do they bring them for their consultation? What else should a bride bring?
I usually ask the bride to bring any accessories she might want to use on the bridal trial day. Most of them wear a veil.
Are real flowers for your hair still a trend? Do you recommend hair accessories in general?
Once in a while I have a bride that likes to use real flowers in her hair. I think it's beautiful, especially for spring and summer weddings.
What do you see as the more popular style – hair up or down for wedding day? Do you recommend one over the other?
I see a little bit of both. I always like to ask the bride for the type of dress she is wearing and the location of the wedding. For strapless dresses, I recommend either half-up or hair down, like loose waves. If the dress has a high neckline, I recommend hair up, like a messy bun. If the wedding is outdoors, I recommend an updo or at least the front pieces up because you can still have the look of having your hair down without the chance of wind sweeping hair into your face.
Why do brides choose hair extensions for their wedding day?
Brides will usually get extensions to add volume or length to the hair. Normally we use the clip-in ones, and they are applied on the day of the wedding.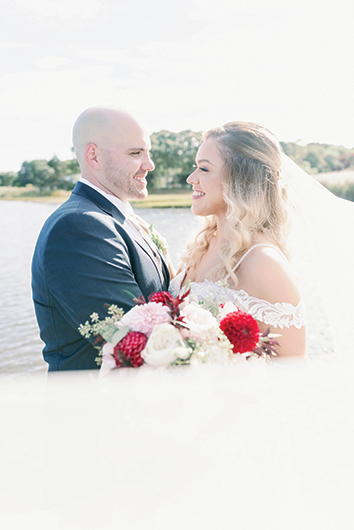 How do you incorporate extensions with clients? Do you order them or does the client buy them on their own and bring them to you?
On the day of the bridal trial, we decide if we will need the extensions. Some clients already have their own, but if not I order extensions for them.
Are all services done in your salon, or do you travel to sites as well? If so, is there a travel fee?
We offer both in-salon and on-site, but most of the brides choose for us to travel to them. For on-site services, we charge an additional fee ranging from $50 to $100.
How many brides do you style each year? Do you book multiple weddings in a single day?
Fifteen to twenty brides from May to October. Depending on the size of the wedding party, sometimes we will book two or three weddings on the same day.
What other wedding day services do you provide?
We also offer makeup as well as nail services.
What is your current fee structure?
Bridal Trial: $300
Bridal Hair: $200
Bridal Makeup: $200
Bridal Manicure/Pedicure: $100
You've built a large Instagram following. How has that influenced your business as a stylist on Martha's Vineyard?
I use my Instagram page as my portfolio, and it has brought me a lot of clients. Instagram is the real deal when it comes to marketing your business.
What has been the highlight of your career?
Expanding my salon has definitely been an incredible one, but also being invited to do hair and makeup on a celebrity in 2021 was such an honor and a dream come true.
Talita Destefani Beauty Lounge is located at 18 State Road in Vineyard Haven. For more information, visit talitadestefani.com or follow @talitadbeautylounge on Instagram.