Sandy Brooks absolutely loves pastels. So much so, that when she was planning her own wedding, she couldn't wait to incorporate her love of soft colors into the day. But when the Covid-19 pandemic arrived, forcing her to postpone her July 2020 wedding at the Harbor View Hotel in Edgartown, she chose to look on the bright side. Instead of waiting a whole year to get married, she and her fiancé Robert Kovacs decided to hold an intimate elopement ceremony on their original wedding date and filled it with a kaleidoscope of pink, orange, coral, yellow, and purple flowers.
"I wanted an explosion" of color, Brooks says of her vision for the backyard ceremony, which took place at her family's Oak Bluffs home. "With everything going on, I wanted something super bright, colorful, and fun."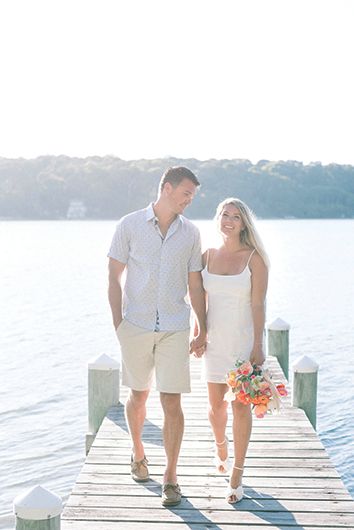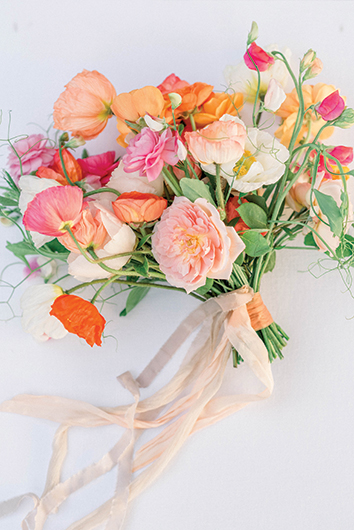 Brooks, who owns the bicoastal wedding planning company Timeless Event Planning, worked with Morrice Florist to create the vibrant arrangements. Her centerpieces included pops of yellow (her favorite color) and California poppies (a nod to her other home state). She also incorporated elements repurposed from her postponed ceremony, such as light purple glassware with gold rims that picked up on the notes in the arrangements and the gold in her ring. Then she piled on even more flowers.
"I just love flowers. I wanted them everywhere," she says. "I wanted them in my cocktail, in my salad, in my cookies." The latter was an idea she saw on Pinterest and asked Teri Culletto of Vineyard Baker to recreate using edible pansies. Brooks then layered everything on top of white linens, including a lace floral overlay and white napkins. She finished off the look with bamboo pendants from Big Sky Tent and Party Rentals.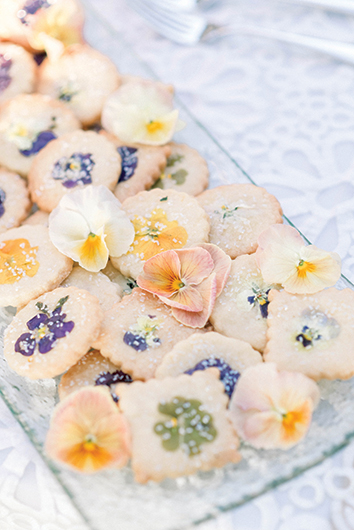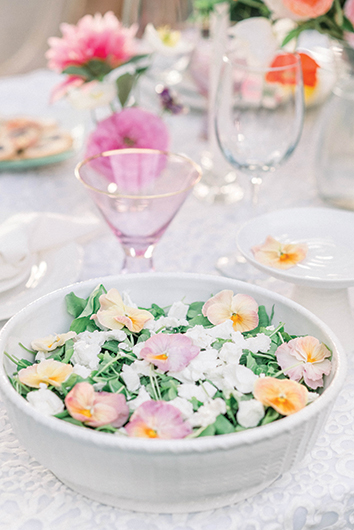 As a wedding planner and stylist, Brooks is well versed in crafting color palettes and creating sophisticated table designs, but she acknowledges that many of her clients struggle with the idea of mixing bold colors. Her advice to them is simple: don't be afraid to embrace bright hues; just balance them – and edit your choices.
"I love playing around with flower colors. But when it comes to bright colored linens, I can't handle it," she says. Instead, she suggests incorporating soft counterpoints. "Create a vision board and once you have all the colors together, throw it on something neutral and it will always look really pretty."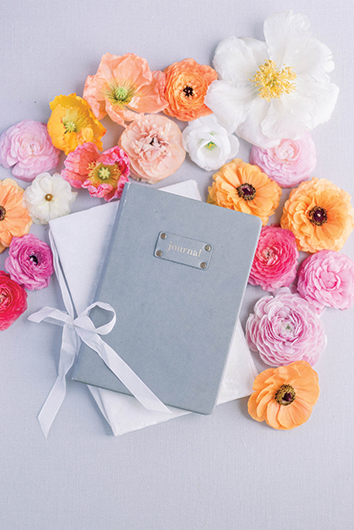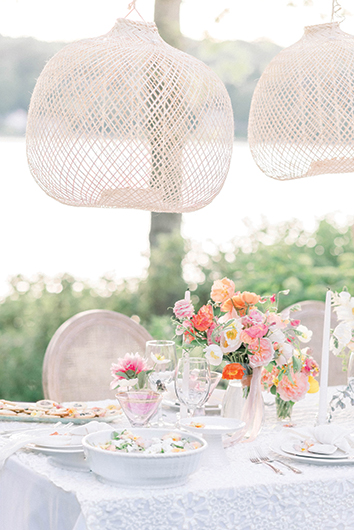 For those in need of further guidance, she says the environment around you offers plenty of inspiration. "Go to a garden or go outside…and you'll see all these plants coming together," she advises. But overall, don't be afraid to have fun
and take chances. "Play around with bridesmaid dresses.
Have people buy different styles," she suggests. "It will all come together."
Photos: Jessica K. Feiden | Planning + Design: Timeless Event Planning | Flowers: Morrice Florist + Grace Rose Farm | Rentals: Big Sky Tent and Party Rentals + La Tavola | Stationery: JFK Design Co. | Cookies + Bread: Vineyard Baker | Edible Flowers: Morning Glory Farm | Dress: Sea Legs | Earrings: Nell | Lashes: Sea Spa Salon | Wedding Bands: The Great Put On + Claudia + Diamonds on the Rock