Morrice Florist owner Emily Coulter loves to play with color. Scroll through the company's Instagram page and you'll find dazzling arrangements of moody burgundies and purples mixed with sumptuous creams, sherbet pastels, and citrusy pops of oranges, yellows, and corals. Or better yet, take a stroll through Coulter's Vineyard Haven shop, where depending on the time of year you'll find buckets of Day-Glo poppies and ranunculus or delicately hued sweet peas and hellebore lining the production room and tucked inside the refrigerated cases.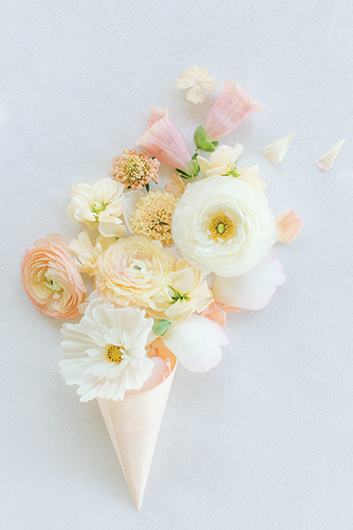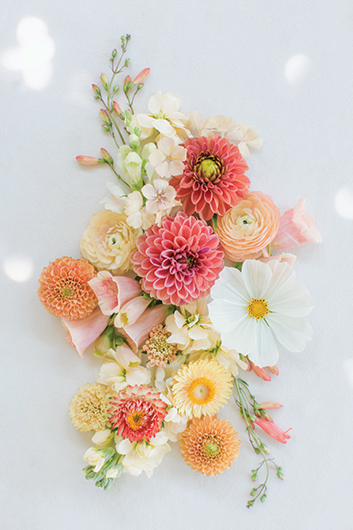 It was this environment in which Becca Brendler entered to photograph images for Morrice Florist's website in the summer of 2019. A former New England event floral designer turned photographer, Brendler found herself drawn not just to the completed bouquets, centerpieces, and everyday arrangements she was asked to capture, but also to the "leftover" blossoms that were unusable or didn't make their way into projects. In her spare time at the shop, she began grouping them into artful arrangements.
"Save it for me," she remembers telling the floral designers whenever she would see them gather the "rejects" for the compost pile. "And then I just started putting them together and playing. [Emily] really allowed me free rein to play with the flowers and design these beautiful two-dimensional pieces," she says of her friend, whom she met years earlier at an early-morning flower market where they bonded over their love of flowers and the Island.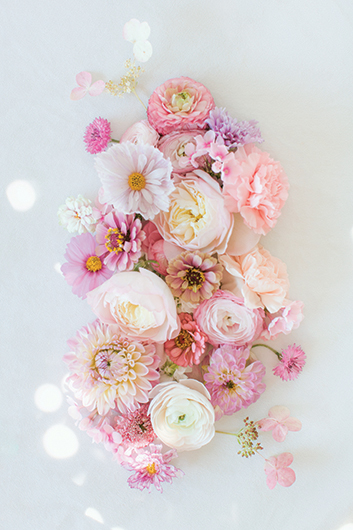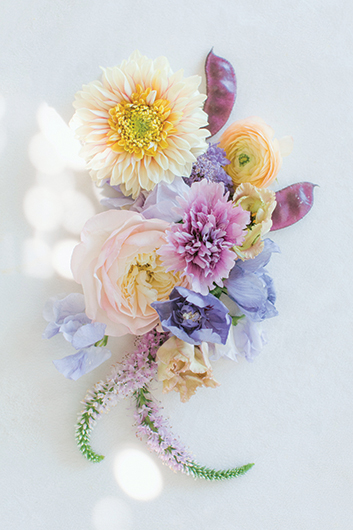 When Brendler first began working on the side project, she would style the blooms based on the palette of the arrangement to which they were attached. But as the project progressed, she began to utilize other flowers too. "I would cut stuff from the garden. And there was a bunch of cosmos in the back. And I would take a few extra beautiful ones here and there."
She named the project Color Theory and gave the images titles like Strawberry Fields, Creamy Whites, Purple Pods, and Summer Sunset – a nod to the variety of tonal groupings, from whites and soft yellows to deep purples and vibrant pinks. Images from the collection can be viewed on morriceflorist.com and beccabrendler.com, where giclée prints are for sale in a variety of sizes.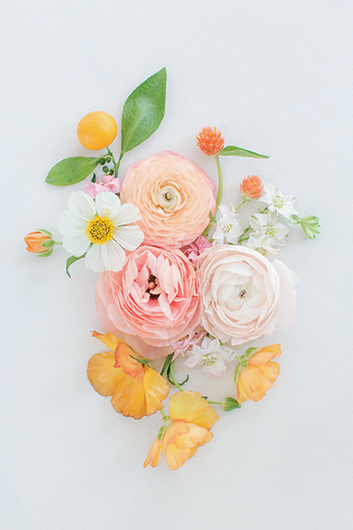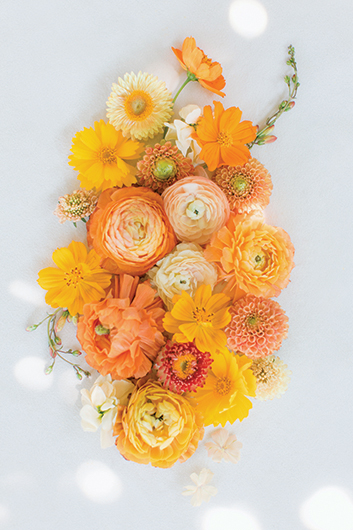 But while the Color Theory photos are primarily works of art, they've proven useful for engaged couples too. One such photo recently caught the eye of an Island bride, who used the image as inspiration for her wedding colors. After sharing the photo with Coulter and her team, they mocked up an arrangement in what they dubbed on Instagram as a "unicorn dream palette." The final product at the wedding reception featured a long centerpiece with flowers in soft purples, pinks, and whites.
Though the pandemic put a hold on Brendler producing more images last year, she anticipates continuing the project in 2021. A florist no longer, she sometimes misses "the stillness of flowers and the beauty that they offer." This project has allowed her to once again create her own arrangements. "I think that is the most magical thing about Emily," says Brendler. "She really just allowed me to have the freedom to make."