Jacalyn Kane, the maestro behind My Vineyard Elopement, a full-service wedding planning company that specializes in small, intimate unions, is busy.
"It's been a great year," said Kane, a seasoned event producer who spent her "past life" pulling off award shows, music festivals, major concerts, and nonprofit fundraisers for thousands of people, both on the Vineyard and off. In 2012, she moved to the Island full time and soon after that started two new businesses: My Vineyard Concierge and My Vineyard Elopement.
"It's funny," she said laughing, "I always said I would never be a wedding planner."
But the wedding industry suits Kane. Last year, when the Covid-19 pandemic put an abrupt hold on the industry with lockdowns, attendance restrictions, and travel bans – and while other wedding planners were busy pivoting and re-booking their clients for the year ahead – Kane's phone was ringing. "I was still busy. Even more people wanted to elope."
Like its namesake suggests, the heart of My Vineyard Elopement is small, intimate ceremonies. Kane also offers day-of wedding planning and custom coordinated services for larger weddings, but most of her clients are looking for personalized "mini-monies" or ceremonies without a large reception – a formula perfect for 2020 and 2021.
Her road to wedding planning wasn't a direct one. "When I first moved back to the Island, I sat down and wrote down everything I had ever done related to events and concert producing, and it just kind of came to me to come up with a concierge company that takes care of people and vacationers renting homes," she said.
Itinerary planning, restaurant reservations, private chef services, photography bookings, transportation, charters, spa appointments, and accommodations were all on that list. She's also a non-denominational ordained minister.
"By the end of the first season for My Vineyard Concierge, a couple came to me and asked me to marry them."
"Why not?" she thought.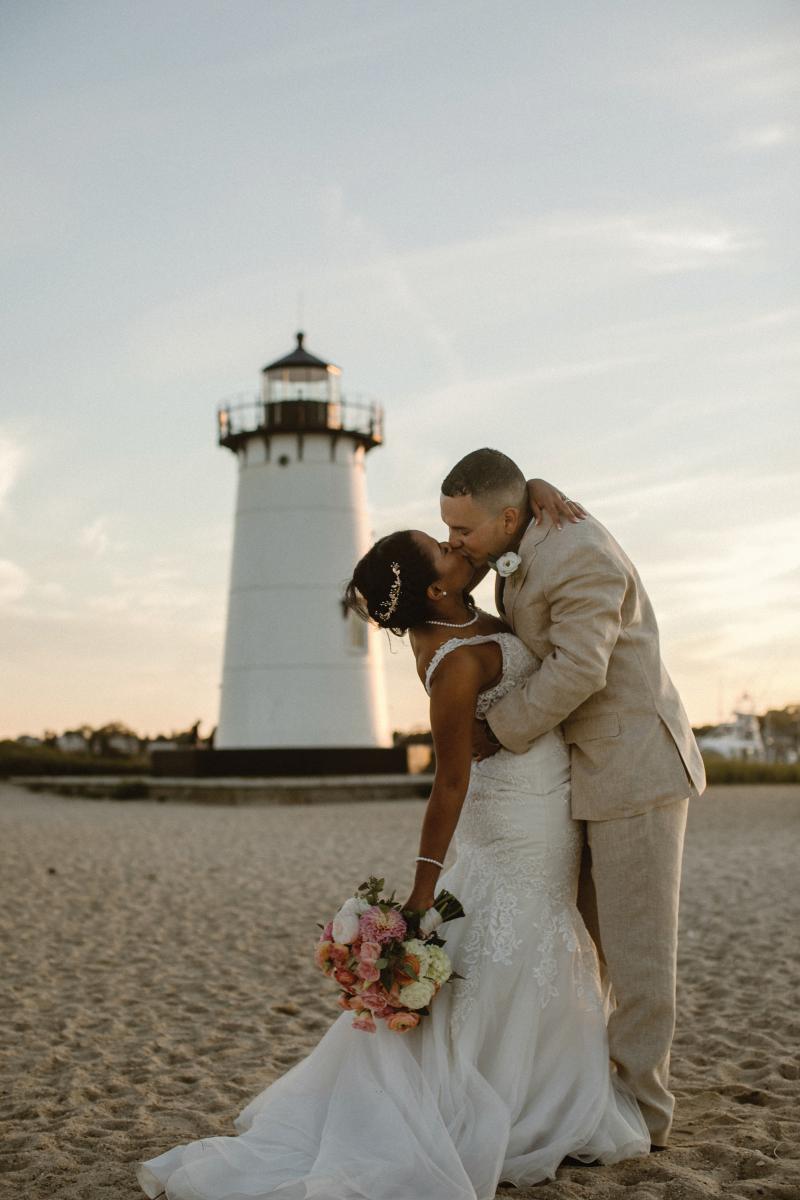 "At the time I didn't have a clue on how to write the ceremony, but I started researching and I really fell in love with it. I love poetry and prose and I have always loved writing," Kane said. The following year she founded My Vineyard Elopement and expanded her website to include a page where she writes each couple's unique love story. Today, when she performs a ceremony, she uses information from personal interviews conducted with each person getting married, creating a personalized speech and script.
As a business, Kane's ceremonies and stories expanded to full-on planning, which brought the elopement offering full circle. "I wanted to know about the flowers and if they needed help getting a dinner reservation, and before I knew it I was helping them with the cake and transportation and all of the details."
By 2014, couples were finding Kane's website and writing to her from all over the nation. Many of her clients were women who lived in states where same-sex marriage wasn't legally recognized. "I had a lot more women coming to me from out of state – some guys, but mostly women – and I think that's where I was really inspired to keep doing this," she said. Kane estimates about 75 percent of her clients come from off-Island.
Couples decide to elope for many reasons, including family dynamics, financial restrictions, and location preferences. Some feel it's just less stressful to eliminate even the thought of a guest list. Others don't want a big party. Heading into 2020, she already had a decent number of elopements on the books. But in late July of 2020, she said, she saw an even bigger rush of people wanting to elope.
"People still wanted their wedding day, so they were cancelling in their original place and wanting to get married on the Vineyard. I think the pandemic made people realize they wanted more than ever to be married. Some people called me and said they were supposed to get married in Aruba, or they were supposed to be married in New York with 200 people, but then Covid happened and they really just wanted to get married and have a party another time.
"I think a lot of people, because of Covid, their priorities in life changed and they were like, 'What are we doing anyway? We don't want to spend all this money; that's not what's important.'"
Kane does not share the number of elopements she does each year, nor does she share the cost. "Every wedding is different," she notes. Still, she said the number of elopements have increased, with 2021 being her biggest year on the books.
As for what the future holds, she sees herself curating special ceremonies far into the future. "Even when I'm old and gray I'll still do ceremonies. It's what I really love." It's also what keeps her busy.
For more information on services and packages, go to myvineyardelopement.com.