Pandemic weddings can be fraught with restrictions, worry, and cancellations, but sometimes good news shines. In the case of one lucky couple, Alexandra "Ali" Kruse and Brandon Willett, a helpful tip to enter the Dreaming of a Vineyard Wedding contest sponsored by this magazine resulted in good news in mid-March of this year. Readers may remember there was not much good news in March.
Winning the contest offered the engaged couple a chance to create, with the informed experience and talents of jeweler Elysha Joy Roberts, a handsome and unique wedding band for the groom and tie tacks for the men of their families. What Kruse and Willett won, in short, was the chance to work with an Island gem.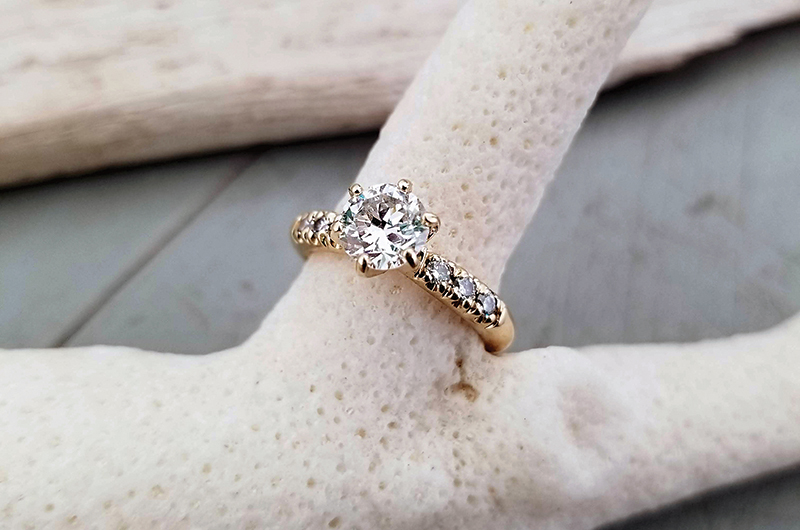 Roberts, who operates the one-woman studio Elysha Joy Metals out of The Workshop Gallery in Vineyard Haven, is no stranger to the Island jewelry scene. A Vineyard Haven native, she studied at Massachusetts College of Art and Design in Boston and the Rochester Institute of Technology School for American Crafts before returning to the Island to continue her training at CB Stark Jewelers in Vineyard Haven. These days, Roberts divides her creative energy between working at CB Stark as a bench jeweler and designing her own unique pieces that take inspiration from the natural world. She has also recently begun taking on more custom work, including wedding jewelry.
To get a sense of the scope of Roberts's style, one needs only to drop by her intimate Vineyard Haven studio at 32 Beach Road or scroll through her Instagram feed (@elyshajoymetals), where intricate diamond rings sparkle near ethereal earrings reminiscent of sea creatures and seed pods, some of which include paper that Roberts made from a wasp's nest. Whether working with fine jewelry using precious metals and stones or wearable art created with playful designs, Roberts says she is deeply inspired by natural patterns and materials.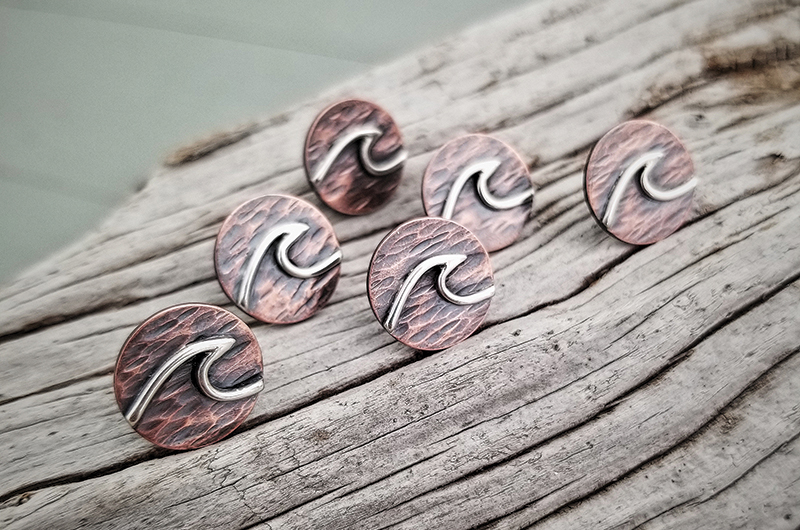 Take, for instance, the driftwood totems that decorate the walls of her studio. "Driftwood is a material I use often because, to me, it represents a well-traveled life after death," Roberts explains. "I think of the tree branches drifting and experiencing the unusual world of the sea until they return to land on some faraway shore once their journey is over. The components I create are reminiscent of flowers, pods, and seeds that represent new life in the finished object."
In her custom work with couples, Roberts also imparts new life to materials and says she especially likes it when couples ask for meaningful objects to be incorporated into the design. At the start of each collaboration, she listens to what the couple wants and creates a series of sketches and offers suggestions. Recently she created an engagement ring for a local couple, an oyster fisherman and a sustainable clothing maker, by casting metal from a gold coin passed down from the groom's grandfather. She then added mountings, granulation details, and diamonds reclaimed from an heirloom necklace. "When a couple is taking the big step of marrying," she says, "there should be an emotional connection to the item they choose as a symbol of their bond."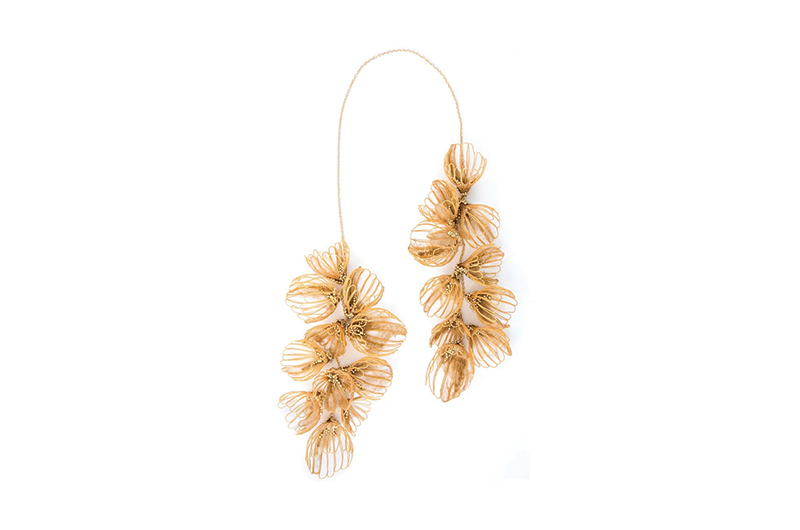 To date, Roberts has worked with more than a dozen couples on Martha's Vineyard to create custom wedding bands and engagement rings, and she says that most of her work has come by friends and word of mouth. Someone will wear one of her pieces, which leads to conversations with friends, which in turn leads to them contacting Roberts. "It is wonderful to see a little community building around happy couples" wearing her creations, she says.
A recent addition to that community is the couple who won the contest. After communicating virtually with Roberts on the design, Kruse and Willett paid a visit to Roberts's studio to size the ring, a gold flat band with a hammered brush finish. They also decided to create custom tie tacks for the men in their family. Working in a short time frame just before the wedding, Roberts designed a round coin with a copper wave to show the couple's love for the ocean, islands, and surfing. Today, those tacks not only function as wearable art but also as keepsakes. Says Kruse, "It's a nice piece for people to look at and remember our wedding."
For more information or to place a custom order, go to elyshajoymetals.com.