Sarah Cline and John Alaimo took their time meeting one another. Both are in their mid-thirties, active members of the addiction recovery community in Seattle, and attend the same church. Their paths had crossed several times before they officially met at a conference in Puerto Vallarta, Mexico, in January 2019. But after dating for less than a year, each knew it was the real thing. John wanted his proposal to be something they would always remember.
"I'm a romantic myself and she deserved something special. I didn't want to take any shortcuts," said John, an engineer for Amazon.
With the help of wedding planner Sandy Brooks of Timeless Event Planning and Island photographer Randi Baird, John devised an elaborate engagement treasure hunt that led him and Sarah to some of the Island's most charming spots, ultimately taking them to the top of the Edgartown Lighthouse. Sarah, a healthcare recruiter who thought the whole treasure hunt was part of a tourist package, was taken by surprise when John read what she thought was the final "clue."
"It was a four-paragraph proposal essentially, but once he started reading it, that's when I realized what it really was. That's when the ugly crying really started," she recalled.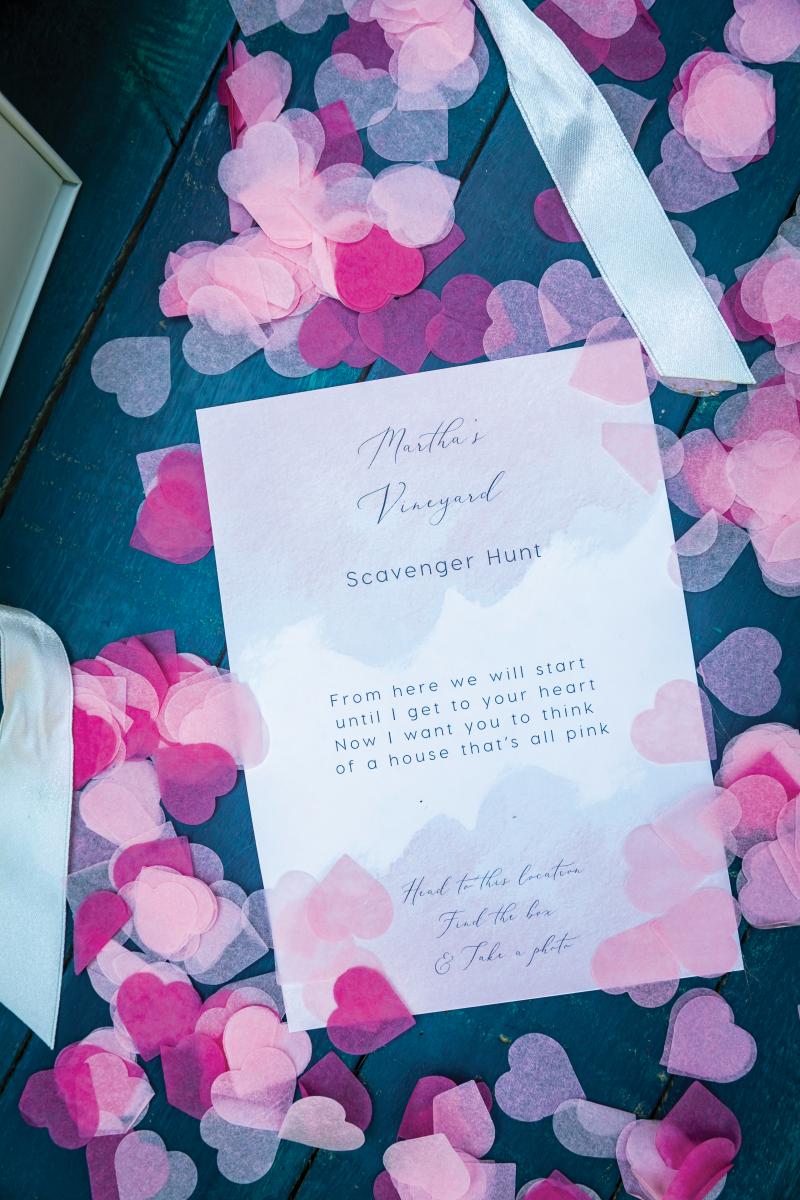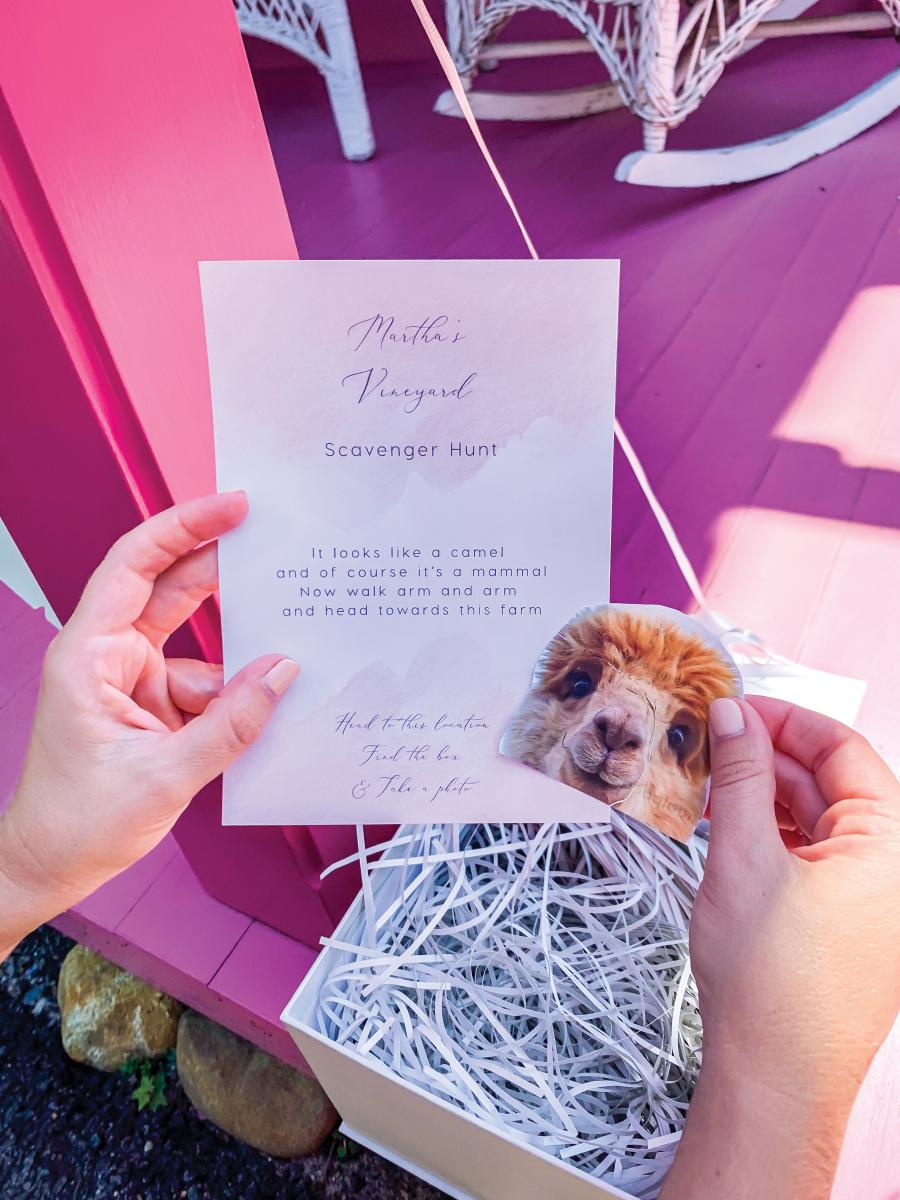 Randi's drone camera captured the moment from above as John got down on one knee.
"I think God really waited for the right moment when we were really happy and content with ourselves individually," John said. "It was the right time, and we were brought together when we were ready."
"When you know, you know," Sarah said.
After scheduling a Vineyard vacation for July, John, a Bay State native who had visited the Island years earlier and thought that Sarah would also love it, enlisted Sandy, the wedding planner, to help plan the engagement from afar. Together, they chose five locations. Sandy wrote the clues with help from her father and coordinated with each location to make arrangements, including renting the Edgartown Lighthouse through the Martha's Vineyard Museum.
"Throughout the day, I ran to each spot to put all the boxes in place," she said.
The couple began their hunt at 2 p.m., when Sandy, acting as a representative from a tour business, met them at their hotel to present them with the first clue. Each was printed on specialty paper and presented with a memento and a balloon.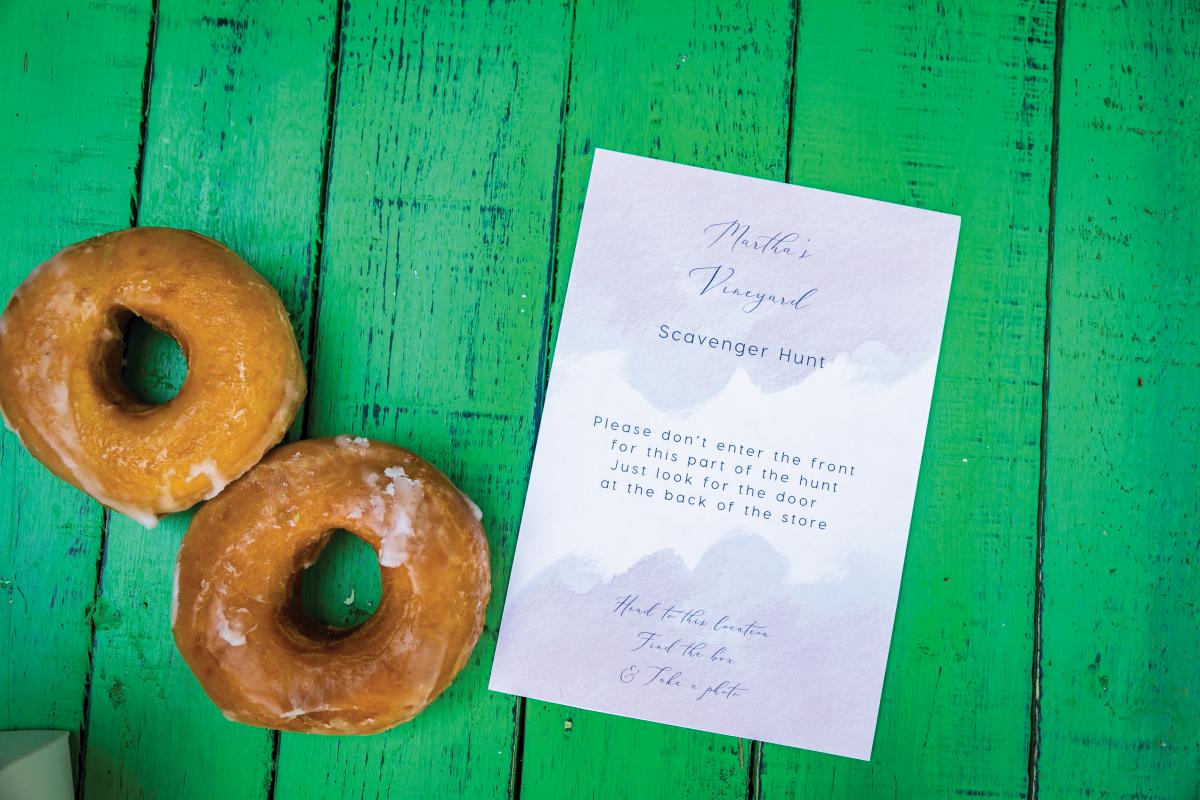 Since Sarah had never been to the Island before, Sandy typed up a tourist guide that described each of the treasure hunt locations plus a few others to help them along. The couple looked over the guide when they arrived at their hotel.
The first clue led John and Sarah to the iconic pink gingerbread cottage in the Camp Ground in Oak Bluffs. "From here we will start until I get to your heart," the clue read. "Now I want you to think of a house that's all pink." From there, they visited Island Alpaca on Edgartown–Vineyard Haven Road. The next clue led to the Flying Horses carousel in Oak Bluffs, then to Back Door Donuts, then to the famous Jaws Bridge on Beach Road connecting Oak Bluffs to Edgartown, and finally to the Edgartown Lighthouse near the Harbor View Hotel. "When you're lost out at sea, just look for me.…"
"Sarah goes, 'I can't believe how full service this scavenger hunt service is!' Because they actually valeted our car at the Harbor View," John said with a laugh.
The whole adventure lasted about three hours. John and Sarah took their time, stopping to enjoy a doughnut, snap photos, and pet the alpacas. Throughout the day, Sandy and two of her accomplices tracked the couple and planted the next clues, waiting out of sight to make sure John and Sarah found them. Sandy kept photographer Randi updated as the couple made their way to the lighthouse.
"It was complicated, but we managed to make it work," Sandy said. "I got to watch the whole thing, which was really fun."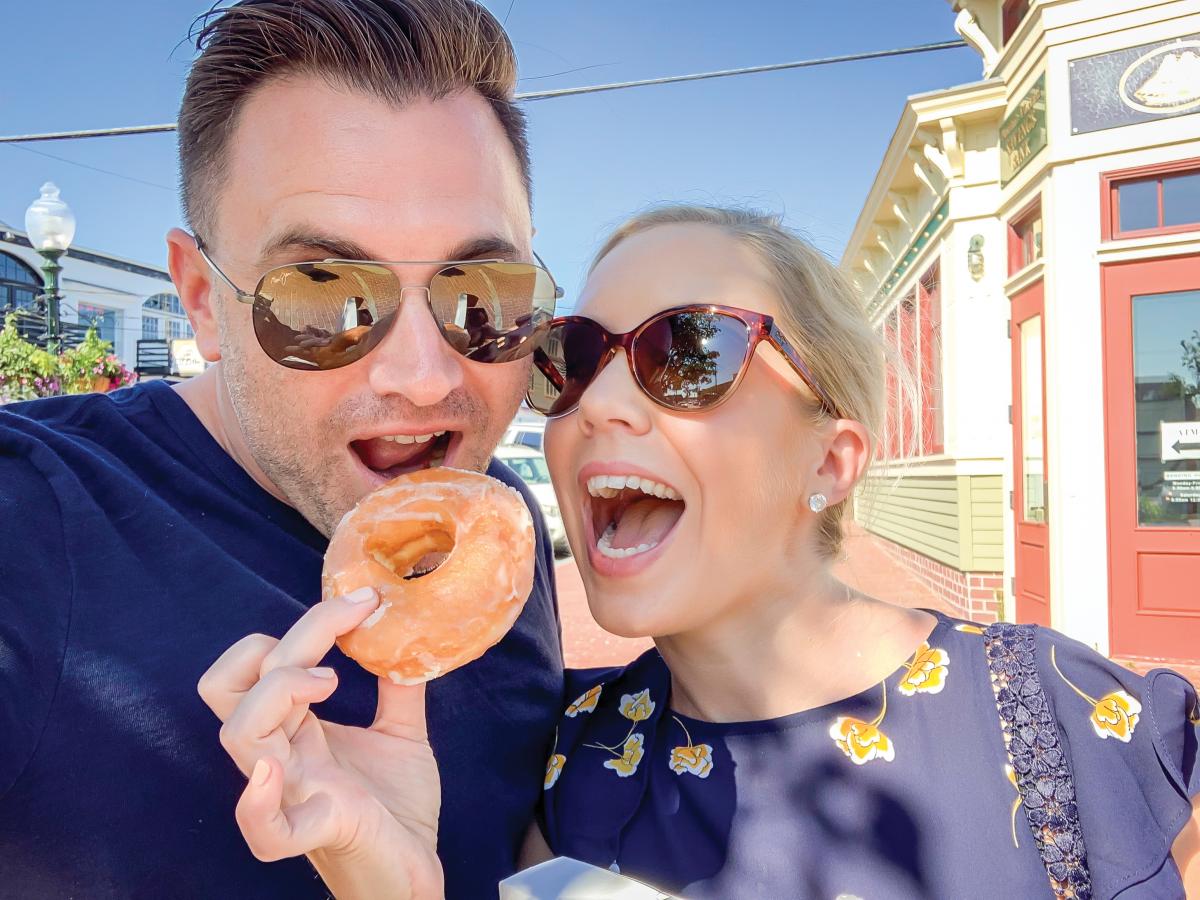 The destinations were limited to down-Island towns. Though up-Island boasts amazing scenery, Sandy thought it would be best to keep the day manageable. "She helped me understand what was practical and how much we could get done," John said. "The lighthouse always resonated as where the end should be."
After the couple shared their private proposal at the top of the lighthouse, Randi met them for a photo shoot, taking photos on the lighthouse deck, in the spiral stairwell, on the beach, and at the lighthouse base. In many of them, Sarah is laughing.
"I think I said, 'Oh my gosh!' like 20,000 times because I was so surprised by the whole thing. And then to have Randi there to just do the shoot right away, I was still trying to process what was happening. I think I was shaking," Sarah said.
Randi said she does a lot of secret engagements, working with the proposer to formulate a plan. She said John's was the most elaborate she has seen.
"That one was really, really well thought out. He had an idea and we kind of made it come true," she said.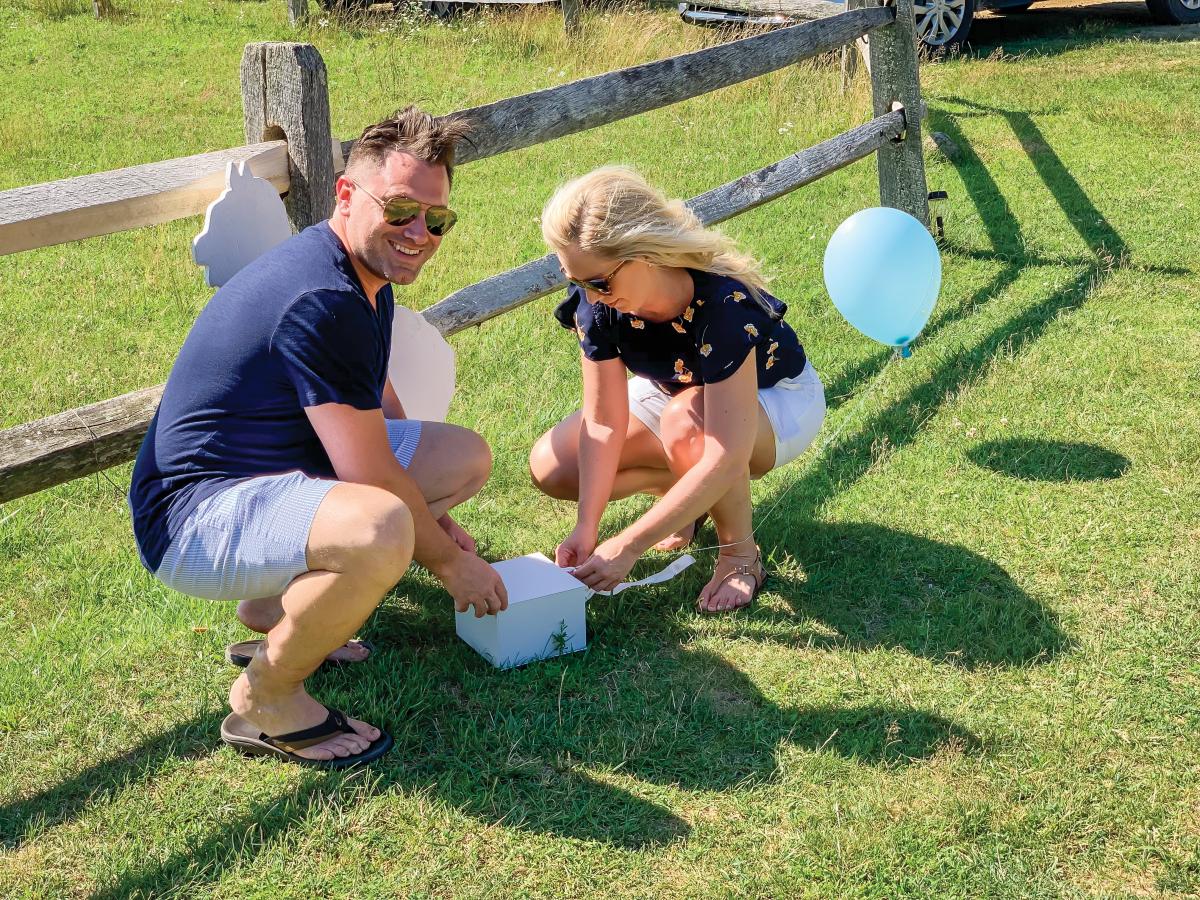 Before the hunt, she photographed each clue to tell the story of the day. She asked John to take selfies during the hunt too. After the proposal, she said it's all about letting the couple be in the moment.
"My goal is just for them to be with each other," she said. "To capture the connection and the happiness they're experiencing."
John and Sarah keep a picture from that day framed in their house next to a miniature lighthouse. The couple are tying the knot on June 28 at the Harbor View Hotel.
"The Island and the lighthouse are so important to us now," Sarah said. "Back to the scene of the crime."