The day before the wedding was once reserved for an exclusive, bridal-party-only rehearsal dinner. Large, inclusive welcome parties occurred at only the most extravagant celebrations. Oh, how times have changed. With so many guests traveling widely to attend Martha's Vineyard ceremonies, welcome parties have become the new standard. For good reason: they provide an ideal opportunity to show your guests different areas around the Island, and afford you time to catch up with them before the blink-and-you'll-miss-it wedding day. But what exactly is this new brand of welcome party and what does it entail? The answer, like most things, depends. Some couples opt to host a low-key backyard pizza party; others, a catered gathering so elaborate it mirrors a wedding reception. Curious which is right for you? We've rounded up some of the most popular Island welcome party archetypes to help you decide how to spend the big day before the biggest day of your life.
Take in the Sights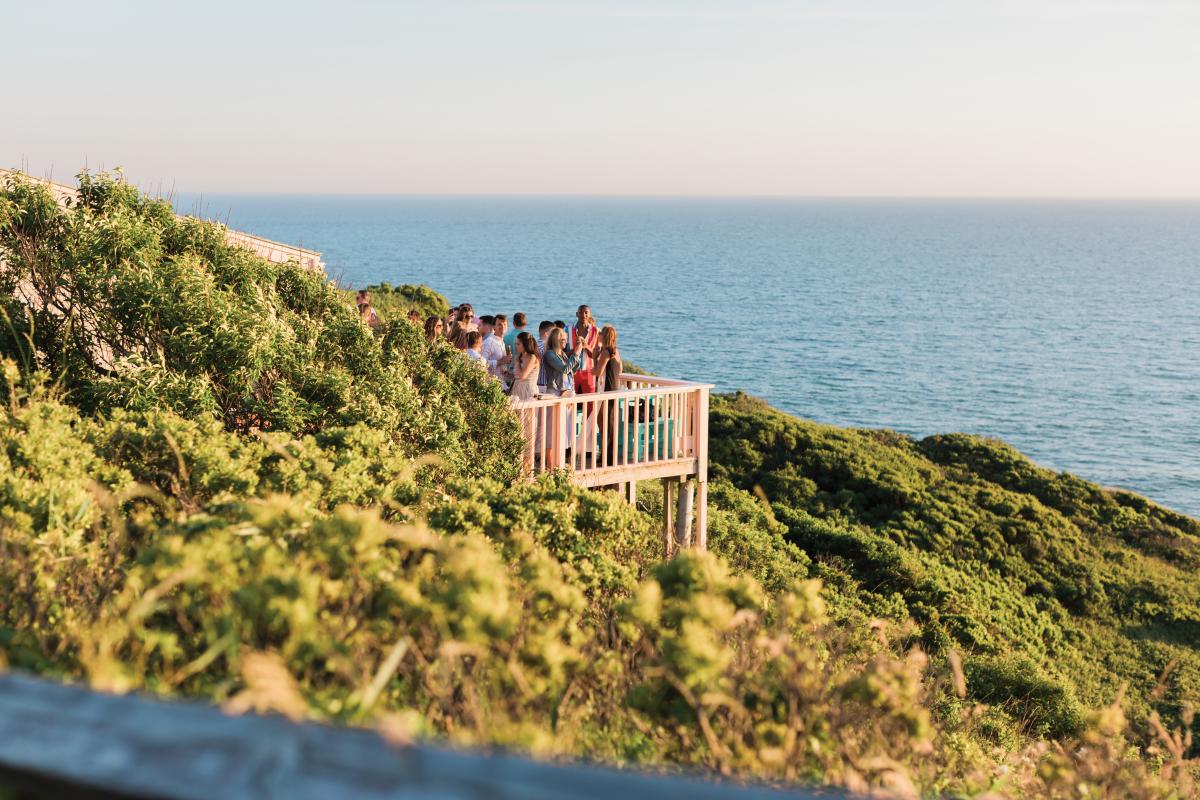 Five lighthouses, six downtowns, the Aquinnah cliffs...if you suspect your guests will be hard-pressed to make it to all their tourist destinations and attend wedding events, consider maximizing time by setting a welcome party in a picturesque locale. The options are nearly limitless (any public beach, the base of a lighthouse, overlooking a harbor...), but if you're looking for ready-made options, best bests include The Beach Plum Inn's restaurant in Menemsha, or the Aquinnah Shop (pictured here by Swift + Crowe) atop the Gay Head Cliffs.
Rent a Bar or Restaurant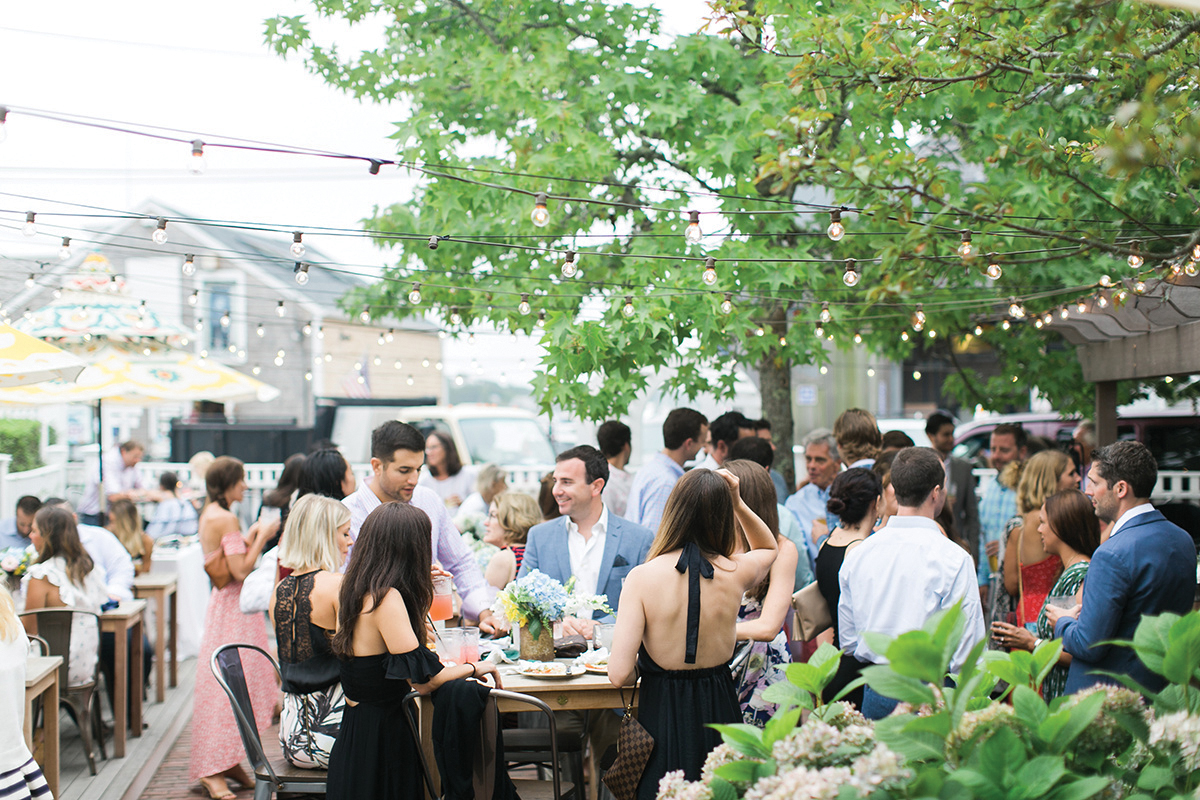 Dreaming of an elegant sit-down dinner? A laid-back open bar cocktail hour with passed appetizers? How about a small rehearsal dinner followed by a come-one, come-all welcome party? Many down-Island restaurants will fit the bill, and have the added bonus of being located near the major hotels where your guests are likely to stay. Call ahead to book the entire restaurant or a private room. Best bets include The Wave Bar (pictured here by Ruth Eileen) or Alchemy in Edgartown, The Sweet Life in Oak Bluffs, or Garde East in Vineyard Haven.
Throw a Backyard Bash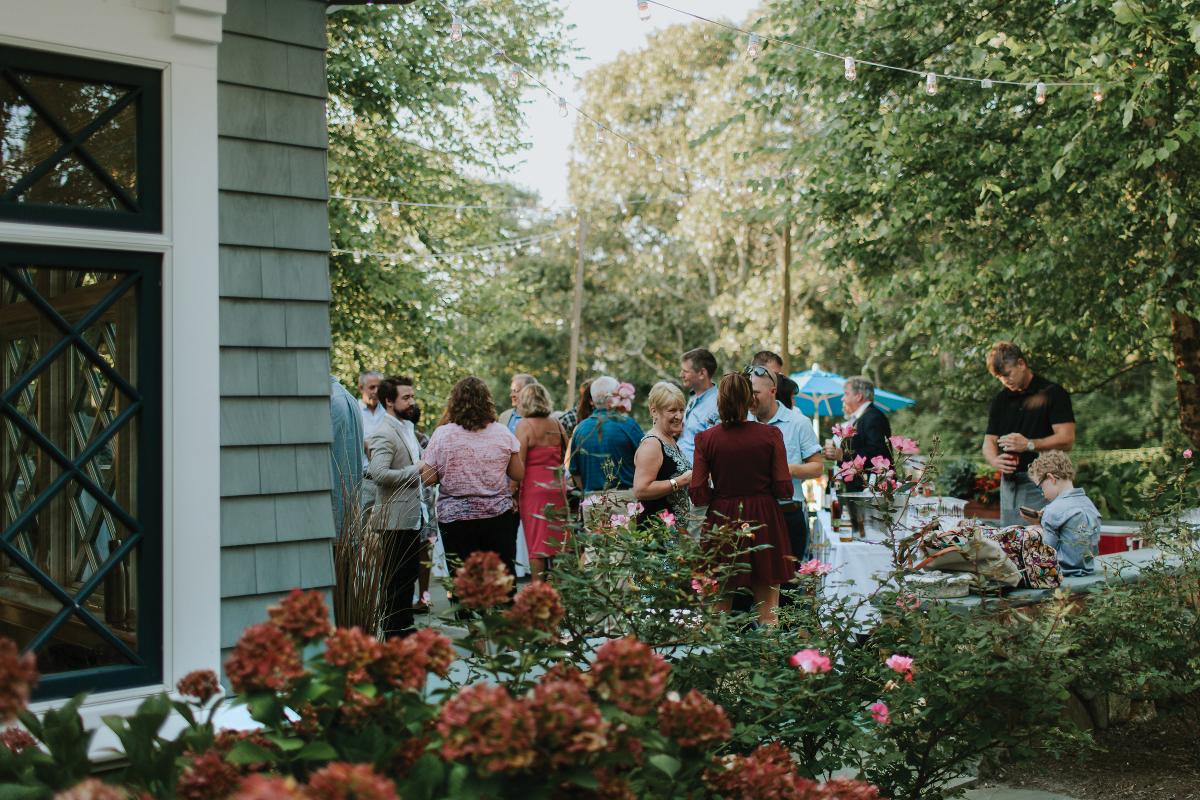 Pig roast, pizza party, or potluck more your style? Throw a low-key get together in the backyard of a family home or rental property. (If renting, approval from the owners is required.) Don't want to go full DIY? Black Sheep and Soigné in Edgartown specialize in prepared party foods. For a pig roast, call Smoak Barbecue. And don't forget the lawn games! (Photo by Taylor Lenci.)
Party at a Private Club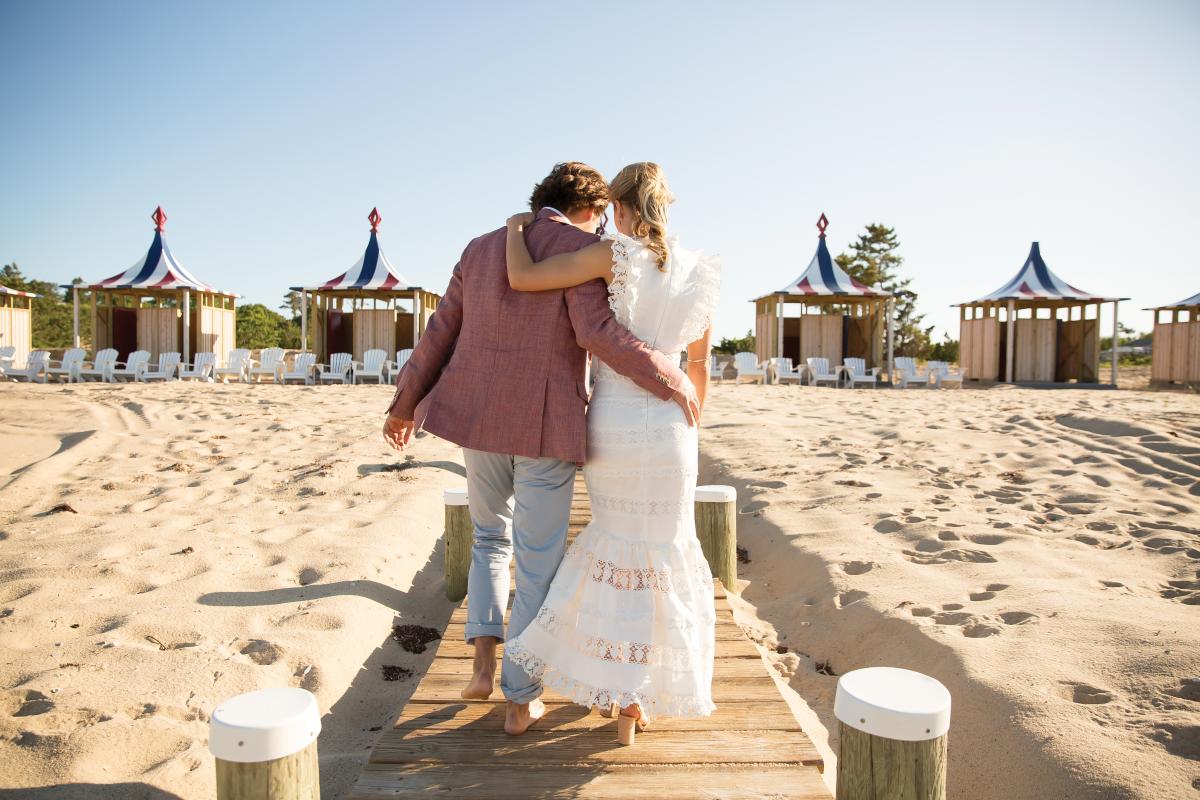 Want to give your guests an exclusive invite? Inquire about availability at one of the Island's many private clubs. (Membership or sponsorship by a member is often required.) Tie it all together with a catered meal from Kitchen Porch or V. Jaime Hamlin and Sons and a visit from the Chilmark Coffee Co.'s mobile café. Best bets include the Chappaquiddick Beach Club (pictured here by Joe Mikos), the Boathouse, or the Reading Room, all in Edgartown, or the West Chop Club in Vineyard Haven.
Charter a Boat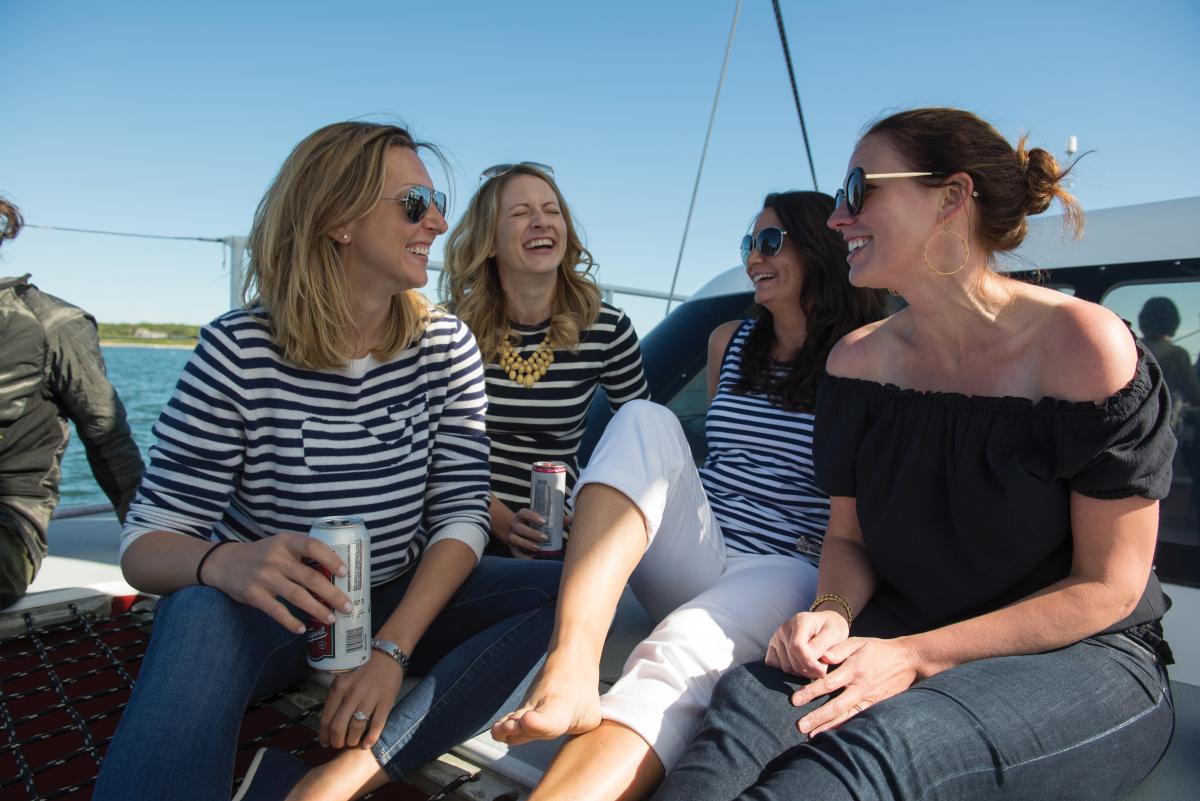 Is your guest list on the smaller side? Consider taking to the high seas. Options include sunset sails around the Island and hands-on adventures aboard larger fishing charters, where your guests might just catch a fluke or a scup. Best bets include Mad Max Sailing Adventures (pictured here by Carla Ten Eyke) and Catboat Charters, both out of Edgartown, and the Skipper party boat, out of Oak Bluffs.
Order a Clambake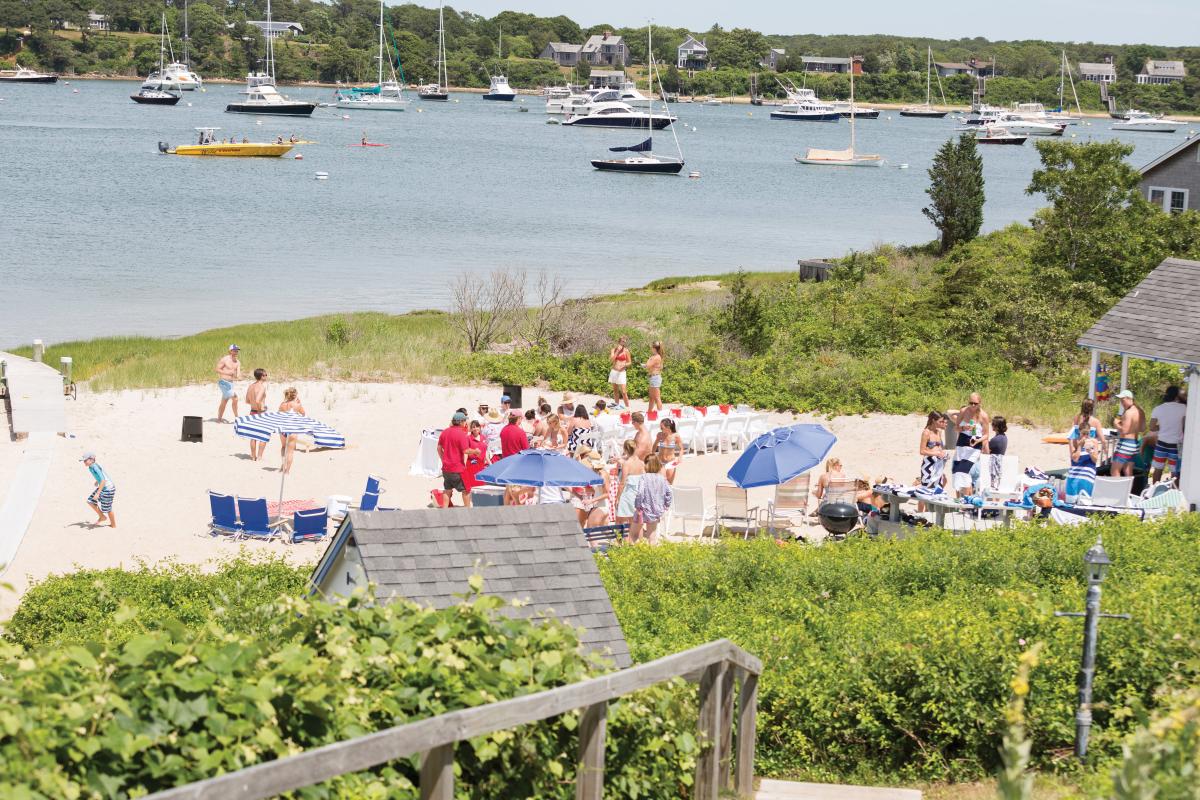 Almost everyone who visits the Island wants to eat a lobster during their stay. It's a ritual, a rite of passage...and a dangerously messy menu menu option at a wedding. But it makes for a great rehearsal dinner activity. For more than fifty years Bill Smith's Martha's Vineyard Clambake Co. has been cooking up traditional lobster, potato, and corn feasts that can be served in a rented hall, private home, even on the beach. In the mood for other seafood options? Best bets include a raw bar from Cottage City Oyster or a chowder buffet from Martha's Vineyard Chowder Co. (Photo by Anne Lee.)