Rachel McCue got into the wedding business on a bit of a whim. There was an early fascination with makeup, followed by a teenage job as a salon receptionist. But it wasn't until her college-age years that she began to take her interest in makeup seriously. On the advice of a friend and mentor, she enrolled in an esthetician program and took off running. Today, McCue is all about business – two businesses, in fact. She works as an esthetician and makeup artist at Sea Spa Salon in Edgartown and also runs the independent bridal makeup company Botanical Beauty, both of which keep her booked nearly every weekend during wedding season.
"I never would have imagined all those years ago I'd be living on a beautiful island being a part of so many women's big day," she says of the fortuitous path her life has taken. "I love what I do and can't imagine my life any other way." Here, she shares some of her best tips and tricks for brides, and explains what hiring a wedding-day makeup artist often entails.
What are some of the biggest do's and don'ts when it comes to bridal beauty?
First, don't try a spray tan for the first time right before the big day! If you think you're in need of a little glow, a spray tan is a great alternative to sitting out in the sun or in a tanning bed. Do some research, talk to friends who have had multiple spray tans, read reviews, and then try one for yourself at least two months before the wedding. If you love it, great! If not, you'll have some time to exfoliate off the old tan and try somewhere else.
Second, don't forget to keep up with a thorough skin care routine! Your face is the canvas for your makeup, so the better your skin is taken care of, the better your makeup will sit and stay. Drink lots of water, don't skip your a.m. and p.m. skin care routine, and keep up with monthly facials. If a skin care routine is something you've never thought about, reach out to your local, trusted spa and set up a skin consultation. Let the esthetician know about your skin goals so that you can set up a proper skin care routine.
Third, be open to stepping a little outside your comfort zone for makeup. There will be lots of cameras snapping pictures from morning until late into the night. Bridal makeup requires a little bit more of an application then your usual day-to-day makeup. Be open to trying false lashes! Lashes can really bring the whole look together; they have the ability to open and brighten your eyes. Plus, they are a game changer for your photos.
And finally, do speak up if your trial or day-of makeup isn't right. This is your special day and you want to feel your absolute best. A professional artist will not be offended and will work with you to achieve your desired look.
How do you help your brides' looks last throughout the whole day?
Before anything is even applied to the skin, the bride and I have a mini skin consultation. This gives me an idea of the bride's skin type and allows me to choose products best suited for long-lasting results.
Do you bring your own products?
I bring a whole array of makeup, but I do love when brides bring their everyday makeup with them. It gives me an idea of their personal makeup style. Also, the bride may have something that works well for their specific skin that I don't own or even know about.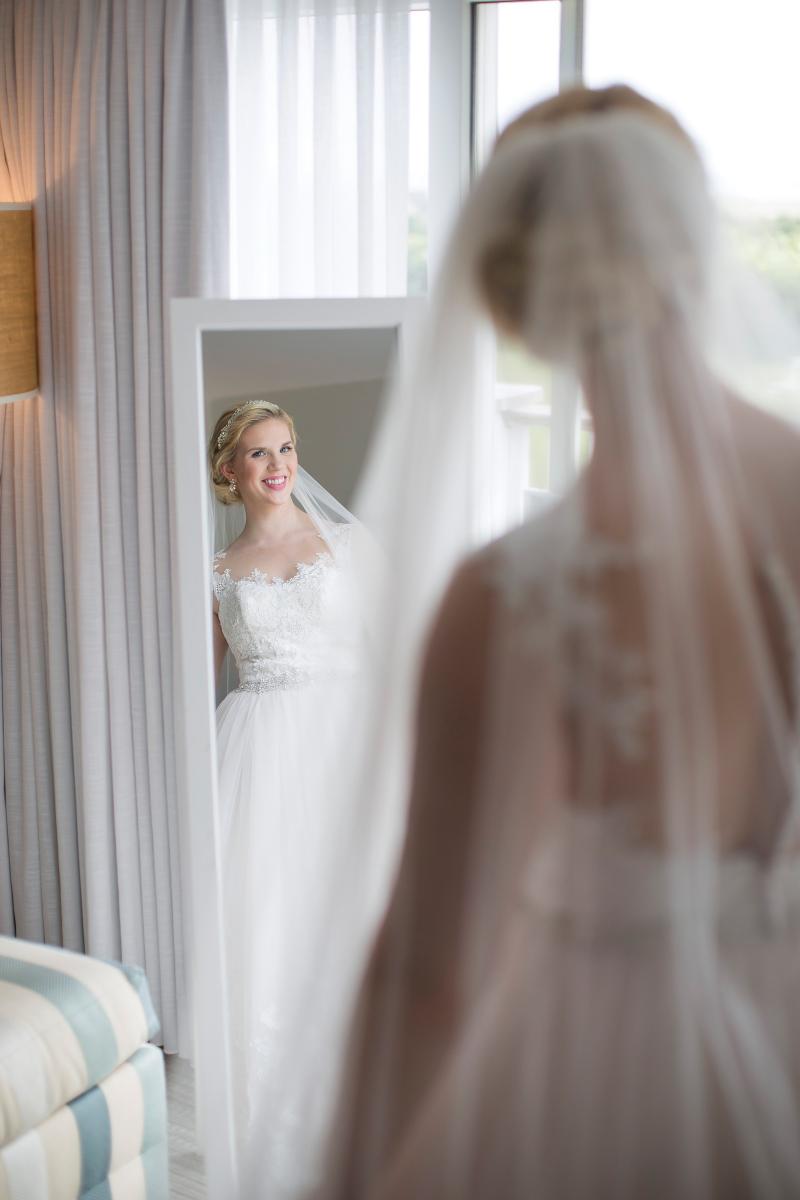 How far in advance should a bride book a makeup artist?
Martha's Vineyard is a wedding destination hot spot, so makeup artists can get booked up pretty quickly. As soon as you decide on your date and potential artist, reach out – even if it's more than a year in advance. Make sure the makeup artist, hair stylist, or salon has your wedding date available. It's best to book your trial at least four to six weeks before the wedding date. This will leave time to make any changes or adjustments if needed.
Do you travel to the bride's location?
Yes! Near or far. It can make it easier for the artist to travel to your location. The morning of the big day, you want to remain in a relaxed and comfortable setting. No need to be rushing.
"Near, far, wherever you are." – Celine Dion.
That's not my motto, but it should be.
What does your fee entail?
My bridal day makeup includes airbrush foundation and individual lash application. The travel fee is not included and varies on the day-of makeup location.
Do you recommend or require a consultation?
I do not, but I highly recommend it. There is so much to plan and think about leading up to the wedding day. Give yourself peace of mind knowing you're in good hands and on the same page as your makeup artist.
What about the rest of the bridal party? Do you do their makeup as well?
At most weddings, I work on the bride, bridesmaids, and family members if requested to do so. The amount of makeup I do depends on timing of events. The goal is to always have someone in the makeup chair and have everyone done close to when the photographer arrives. Around that time the excitement of the big day really starts to pick up. If I or Sea Spa Salon (the salon I work with) feels like we may need a second or even third artist, we bring one on, just so the morning can run as smooth as possible. Pricing for the bride's makeup is always a set amount of $125, including airbrush and false lashes. Bridesmaids, family, or whoever would like wedding makeup starts at $90.
For more info, go to seaspasalonmv.com or follow @botanical_beauty.mv on Instagram.