In 1979, V. Jaime Hamlin was a relatively inexperienced chef working at the Edgartown restaurant Martha's Cheeses when customers began asking her if she would consider catering events. Little did she realize that would be the start of an illustrious new profession, one that would see her serve celebrities, dignitaries, even Presidents Clinton and Obama, and cement her reputation as the go-to caterer for many of the Vineyard's top-tier weddings. With some 2,000 receptions, rehearsal dinners, welcome parties, and brunches under her belt and her adult children now at her side in the business, the force behind V. Jaime Hamlin and Sons Catering & Party Design reflects on the ways the industry has changed during her forty-year tenure, the trends that have come and gone, and why food should never be the star of the wedding.
How many weddings do you cater each year?
Between twenty and thirty. Weddings, as you know, have turned into big productions. It's not just the simple backyard chicken salad with some rolls or something. It's really a production now. And then we do a lot of rehearsal dinners and brunches, although I've stopped doing the brunches because I'm getting older. After being out to 1 o'clock in the morning, we aren't too big on getting up at 5 o'clock to do a brunch, so I've tried to taper those off.
How do you define your catering style?
We do elegant, traditional, creative cuisine, beautifully presented. That is the way I approach anything. I want it to look beautiful and taste really good. Rubber chicken is not ever coming back.
You've been in business for decades. How has wedding catering on the Vineyard changed during that time?
Well, I have to credit it really to two people: Jim Eddy at Big Sky Tents and [electrician] Mark Forbus [of Event Power MV]. They have allowed us to up our game. If you can't get power out there and you don't have water at the site and a generator, you're not going to go too far. Mark has these water blasters that he brings that we can use out there. And Jim has completely upped his game. We now have crystal chandeliers and all kinds of fancy things in the middle of fields. I would say the wedding business has changed due to the fact that we have technical support from these guys. That lets us get a little more creative and fancier.
Are there any trends that you're glad have fallen by the wayside?
Family-style food. It just doesn't work. You have to have such a huge space. Not only that, they are heavy and there is a lot of waste. If they want to do something like that, I will do the first course like that, with the salads, dips, and cheese and bread on the table. But the whole family-style thing just doesn't work that well.
What about trends that you wish would make a comeback?
Nothing. No, I don't see any trends from the past that I think should be revived. Progress and change are all good things.
Sit-down, stations, or buffets – which is best?
I try to steer people toward sit-down. I just think it is more gracious, and when you're at a wedding you want to talk to people and you don't want to be interrupted by "Now it is time to get up and get this, now it is time to get up and get that." It's a more casual thing. Most weddings these days, they are paying enormous amounts of money for the rentals. I've seen rental bills as high as, like, $75,000. So yeah, they want to be sitting down and they want to be served.
I've tried stations many times. People get the plate – one plate, even though we have plates at every station – and they walk through every station. And I say, "I should have done a traditional buffet." It works in certain venues, like a country club, but not so well in the fields, which is mostly where we are. Buffets work, but I would rather do sit-down because that gives me control. I can make it look beautiful and it's just easier. And we can get 250 people out in like fifteen minutes.
Any foods you caution people to steer clear of at weddings?
Nothing too garlicky, nothing too spicy, nothing hard to eat, nothing too big. Anything like that I kind of just tend to stay away from when I'm doing menus.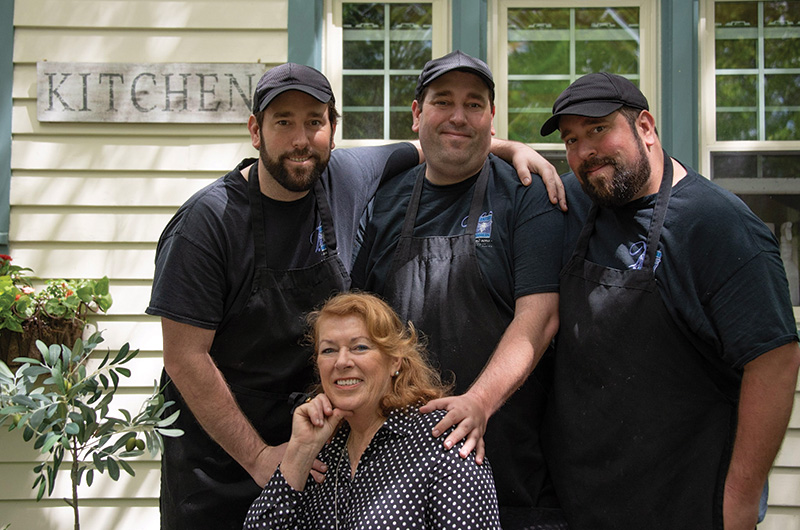 Wedding food sometimes gets a bad rap for sticking too close to the meat/fish/vegetarian formula. What do you suggest for a couple who wants to provide a more unique experience?
It's really the venue that provides the unique experience. The food, we've done all kinds of things. We've done an Indian wedding, a vegetarian wedding, gluten-free wedding. But a unique experience, that is sort of the aesthetic part. Kristen Gosselin [of KG Events & Design] has fabulous taste. So does Patrie Grace [of With Grace] and the Plan It MV ladies. They do the setting of the whole thing, which is where people will "ooh" and "aah."
I don't think that food should be the main star – that's just me. I like to have it be delicious and gorgeous and pretty. The main thing is the bride and groom and all the guests who haven't seen each other and are just meeting for the first time. For the unique experience, talk to the party planner.
How much should a couple expect to budget for catering?
Food usually comes to about between $175 and $250 a person. It's expensive. It's difficult to do an inexpensive wedding on the Vineyard – unless you do a potluck and have all of your friends bring food, which is always dicey. I did a potluck one time and people were coming up to the kitchen to drop off their stuff so we could organize it, and they were coming with bags of vegetables literally out of the garden, not even washed. I was like, huh? A twenty-pound bag of frozen shrimp, what am I supposed to do with that? So potlucks are a little risky unless you assign everybody an item – you bring a salad for twenty; you bring hors d'oeuvres for ten; something like that. That's one way to keep costs down.
Any other tips for cutting costs?
Just be conscious of your guest list and know what your budget is going into it so that you aren't freaked out half way through. You say, "I want to do this, this, this," and I say, "Well, that is going to cost x amount of dollars."
What would you say has been the highlight of your career?
I would have to say things like President Clinton's birthday. We did Brian Roberts's daughter's wedding – the guy who owns Comcast – and that was so wonderful, so spectacular, so beautiful that as I was walking away from the party at midnight and they were still raging in the barn, and it had a big heart outlined in all twinkly lights, I backed away from the whole thing and I said, "Boy, this is the best I can do." It was really a great event.
A lot of that has to do with the host and hostess. If they are confident in you and they just let you do your thing, it's so much easier to produce a great event. It's also fun for the staff when there is a celebrity.
I've loved doing this. It's my whole career – forty years. It's been insanely terrific. Doing this, working with people on one of the most important days of their lives – I would say the whole thing has been a highlight. Working with my kids has been fun. I love working with my guys. And I have an incredible crew, some of whom have been with me for thirty years. Sometimes on any given weekend we have sixty-five people working. But my core crew is about ten people – my kids, my manager, my staffing manager. Things like that. Those are the people who are just essential. I love them.