When Emily Flam and Micah Thanhauser tied the knot in West Tisbury last June, the first wedding gifts went to their guests. Micah, a professional potter who has studied at Brown University and the Rhode Island School of Design, hand-crafted ceramic cups for every one of the 120 or so friends and family members who turned out for the couple's celebration at Flat Point Farm.
"He always knew he wanted our wedding gifts to be the cups," Emily said.
In fact, the small ceramic cups were one of the only plans they initially had for their wedding. The couple knew that they wanted to marry on the Vineyard; it's where they met, where Micah grew up, and where Emily spent summers visiting her grandparents. They had some notions about the overall vibe of the day, too. "We thought, 'This should be fun and it should be easy and we don't need a lot of complicated details' and 'there needs to be good food and music in a pretty spot,'" Emily explained.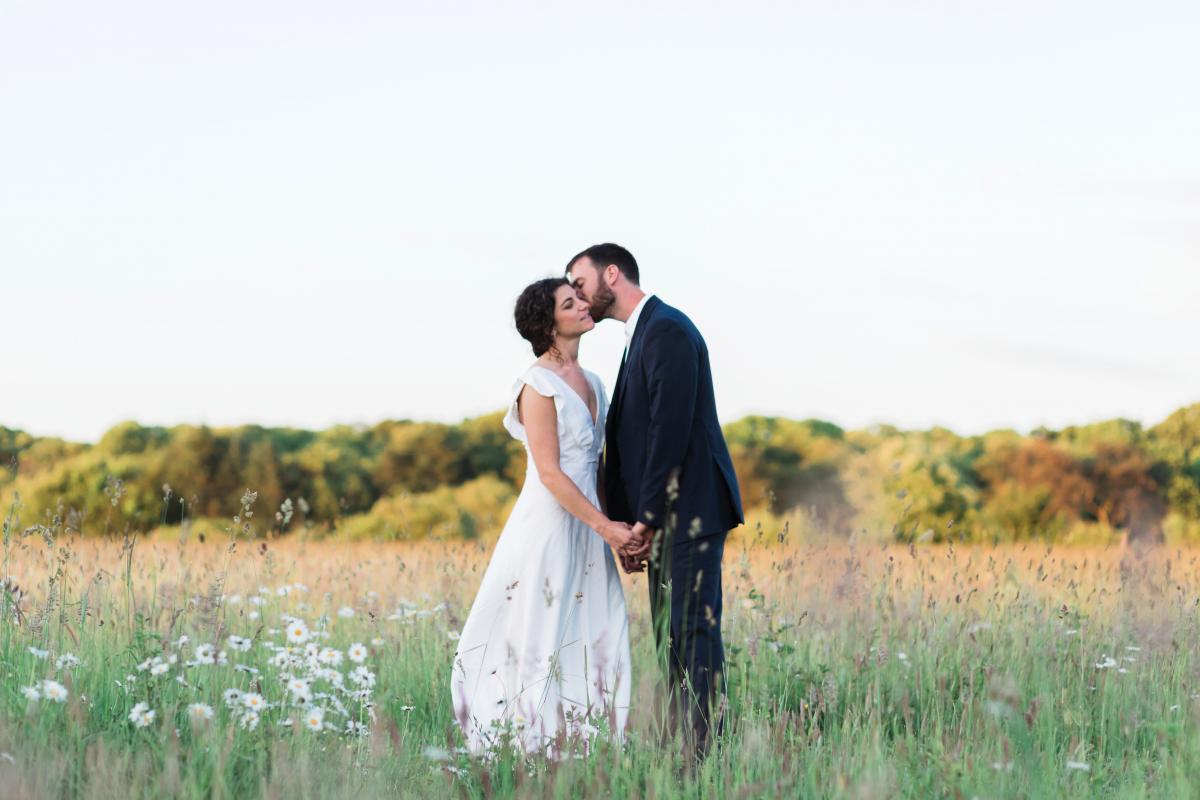 But as the couple talked more, they began to hone in on their vision. They wanted their wedding to have a laid-back, community-oriented feel. And they wanted it to reflect their own talents, and the skills and contributions of their talented family and friends. After Emily and Micah took a tour of Flat Point Farm, on the shore of Tisbury Great Pond in West Tisbury, the missing pieces began to fall into place. "Once we decided on that spot, it all came together," Emily said.
The couple began assigning themselves wedding-planning tasks. For Emily, that meant making her own wedding dress: a white Thai silk dress with a train that she crafted over the winter with the help of a dressmaker friend in Asheville, North Carolina, where the couple was then living and Emily is still finishing acupuncture school. "I felt like I was working toward something," Emily said of those busy few months. She also completed a hand-knitted Aran-stitch shawl, used in the ceremony.
Micah, meanwhile, got to work on the cups. He estimates he actually made close to 150, to ensure there were plenty to go around. In a nod to the Asheville pottery studio where he was working at the time, he crafted each from dark, iron-rich North Carolina clay covered in a thin white porcelain slip.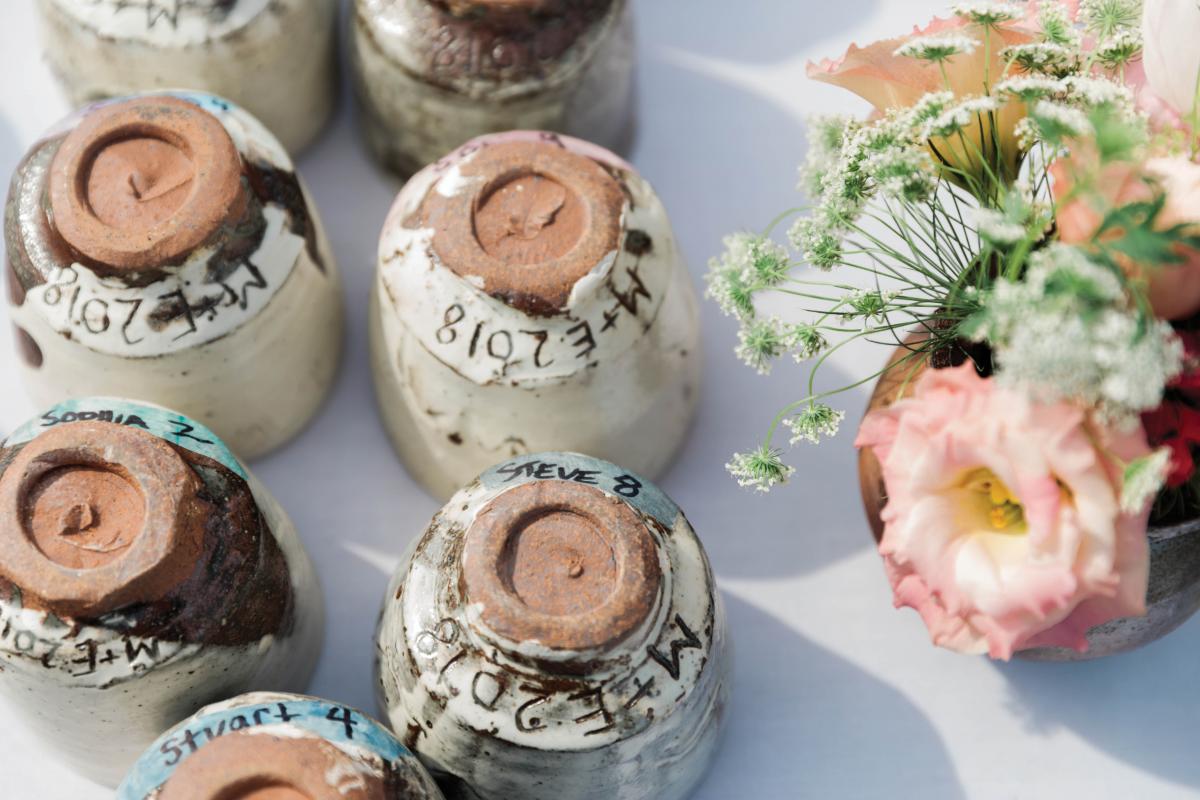 "It was the last project I did before we packed up and moved," said Micah, who is now working out of a studio at the couple's new home on Merry Farm Road in West Tisbury while Emily finishes school. Emily helped with the project too. Before each cup went into the kiln, she added a simple inscription with the couple's initials and the year of the wedding. Micah and Emily then assigned each cup to a specific guest based on the look of the cup and the guest's personaity, and added a table number. The day of the wedding, the cups were arranged on a long white table in an open field where they served as escort cards, vessels for cocktails, and take-home gifts.
For the remainder of the wedding-day preparations Micah and Emily called upon their friends, including wedding planner Patrie Grace, who served as their eyes and ears on the Vineyard while they were in North Carolina. "Patrie helped us and talked us through it and made us feel like it wasn't that hard," Emily said.
Choosing their invitations was easy because Emily's good friend and bridesmaid Emma Young is a letterpress printer. The couple also hired friends and acquaintances for the catering, including barbecue master Tim Laursen of Smoak, Moroccan-food expert Gia Winsryg-Ulmer, and her mother Marcia Winsryg, who offered to make a Moroccan-inspired rose wedding cake with petals from Vineyard roses. Friend Arno Ewing brought oysters, and his father Steve Ewing, who is Edgartown's poet laureate, helped shuck them.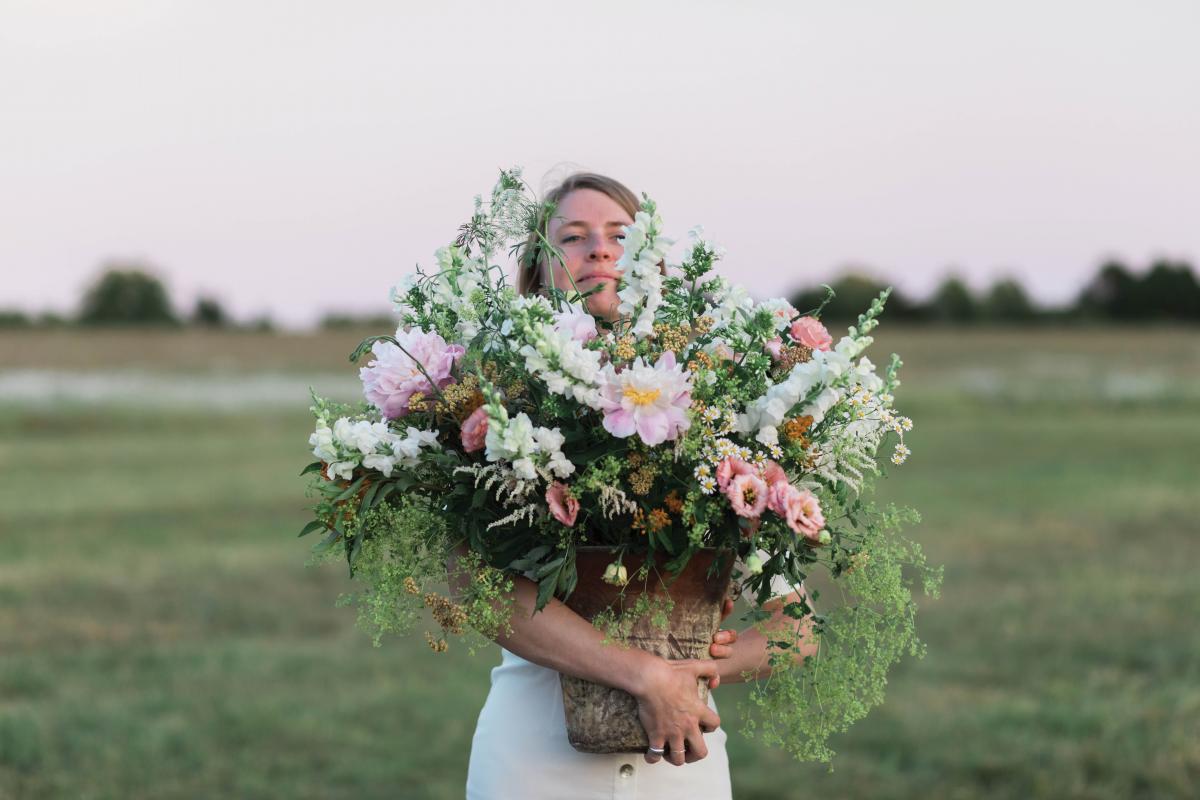 "We felt really supported by our community, having all these people we know," Micah said. "It just made it a lot easier. We didn't have to go taste a bunch of cakes."
The couple's families also shared their creative gifts: Micah's mother displayed a felted-wool banner she made for the couple featuring two trees with their roots and branches entwined.
Emily's mother created the place settings for the reception dinner.
As the day drew closer, there was a flurry of last-minute activity. Emily has wedding-flower experience from past work at Morning Glory Farm in Edgartown and a smaller operation, so she decided to arrange her own flowers with help from her sister and two friends. They ordered blooms in bulk from Morrice Florist in Vineyard Haven and set them in wood-fired vases that Micah had created for the occasion. Micah's corsage and Emily's bouquet were made by friend and bridesmaid Grace Collins, who once prepared wedding arrangements for Tea Lane Farm in Chilmark.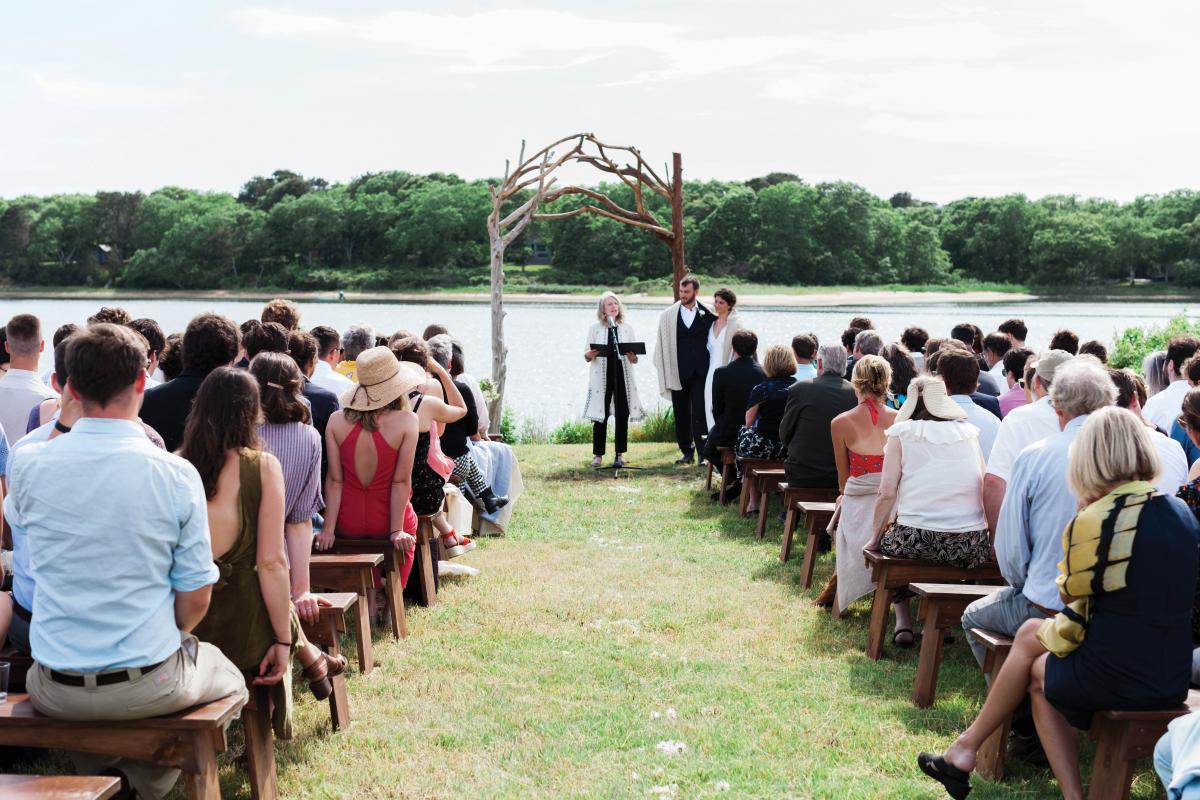 The bridesmaids' hand-picked daisy bouquets came together the morning of the wedding. "It was happenstance," said Emily. "Arnie [Fischer, whose family owns Flat Point Farm] said, 'The daisies are in bloom, help yourselves.'" In the hours before the ceremony Emily and her bridesmaids entered the fields to pick flowers for their bouquets and the flower children's baskets. Additional daisies were woven into Emily's hair.
Looking back on the day, Emily reflected on the personal touches that made it so special. On a crisp, clear mid-June afternoon, they said their vows in the midst of an open field on the banks of Tisbury Great Pond beneath a rustic arbor crafted by friend Lucas Emin. "He just gifted that the day before," Emily said. "We're going to make it our garden gate."
During the ceremony, Emily and Micah wrapped themselves in the shawl she had made, part of a blanket ceremony in which they received the good wishes of their guests and families. Some Native American wedding traditions also use blankets, but Emily found her inspiration closer to home.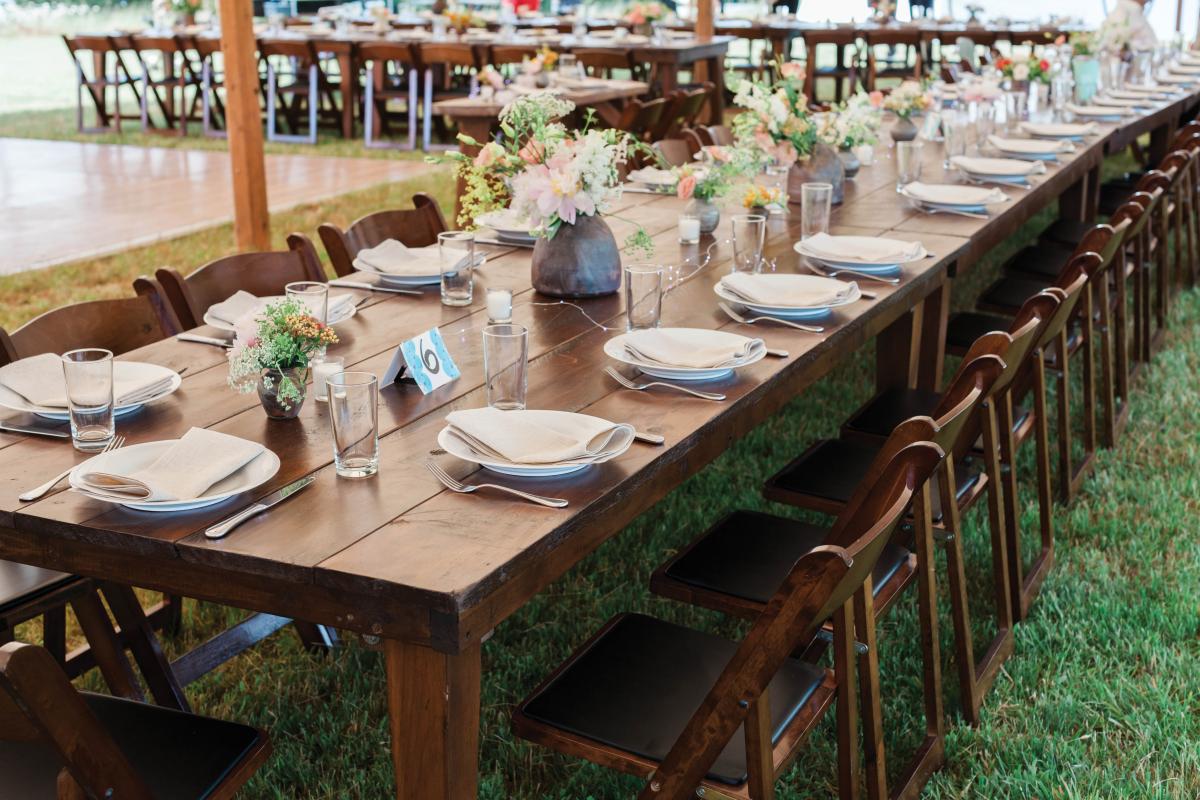 "I really like knitting, and my mom taught me to knit," she said. "It felt meaningful to have something woven. The threads of the community is what it felt like. We were wrapped up while people were blessing us and reading poems."
At that point in the ceremony, the couple recalled, the bride was close to tears of joy. That's when one of the flower children decided to make a unique contribution to the day, raising her voice in song.
"The harp music was going, it was this contemplative moment and she just started singing along to what she thought was 'Baby Beluga,'" Micah recalled with a chuckle.
All photos by Swift + Crowe.