blackberries + honey
Rosewater Wine & Spirits pairs bountiful wild blackberries with local honey syrup, ginger beer, and mint for a delicious combination that hits all the right notes: sweet, tart, bright – and a little spicy.
Senge Sazerac Smash
Serves 1-2
4-5 mint leaves
2 lime wedges
2-3 blackberries, plus more for garnish
2 ounces Sazerac rye whiskey
1/2 ounce local honey syrup (1:1 ratio of honey to water)
1 ounce ginger beer
Candied ginger (optional)
In a Boston shaker, muddle mint leaves, lime wedges, and blackberries. Add Sazerac and honey syrup. Shake vigorously with ice for ten seconds. Strain into an ice-filled rocks glass. Top with ginger beer. Garnish with fresh blackberries and candied ginger (optional).
blueberries
Rosé? Trending. Sangria? Never out of style. Kitchen Porch catering mixes them together in crowd-pleasing quantities, then tops individual portions with soda water and ripe, juicy fruit bursting with mid-summer flavor.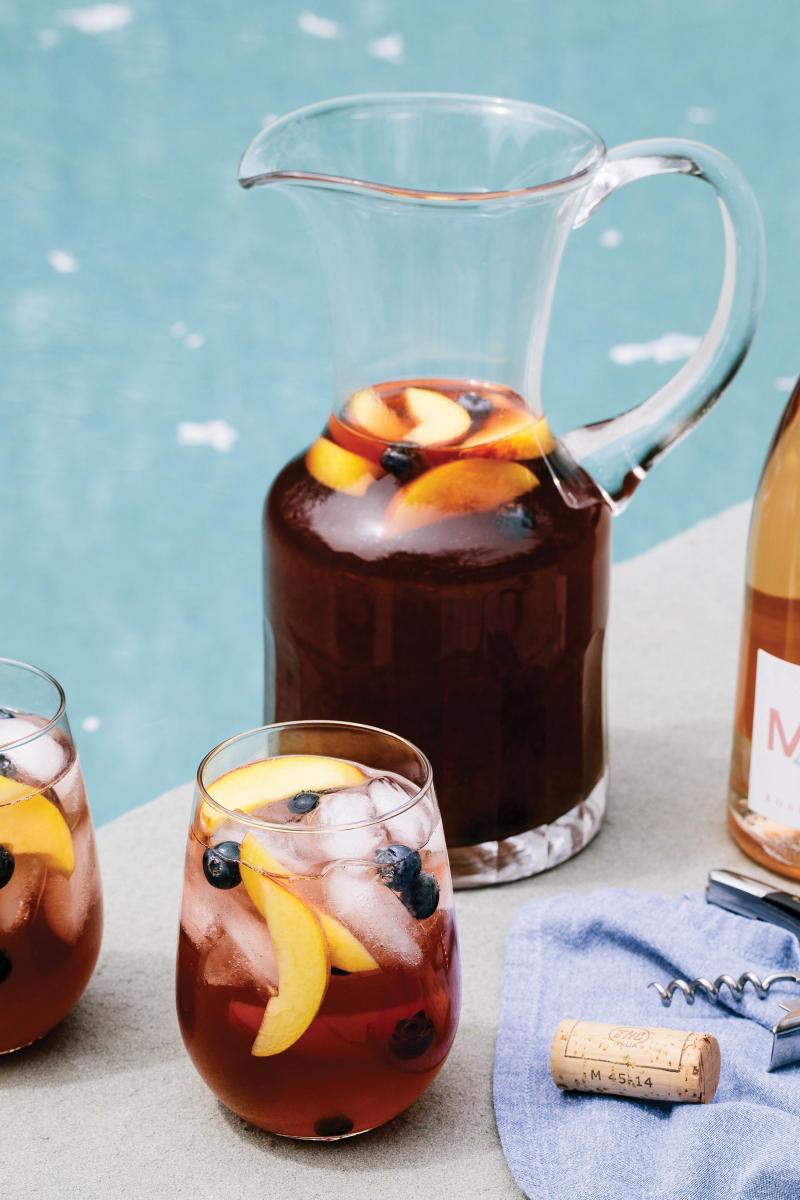 Blueberry-Peach Sangria
Serves 8-10
2 bottles of rosé or blush wine
1 1/2 cups blueberry vodka
20 ounces peach nectar
Sparkling water
3 cups peaches, sliced
2 cups blueberries
In a large container, combine wine, vodka, and peach nectar. Cover and chill to allow flavors to meld. Divide sangria among ice-filled glasses. Garnish each with two peach slices and ten blueberries.
Cucumbers + Basil
During the heat of summer, the Island's farm-fresh produce is at its finest. V. Jaime Hamlin and Sons Catering & Party Design combines crisp cucumber with earthy basil for a cocktail that looks as refreshing as it tastes.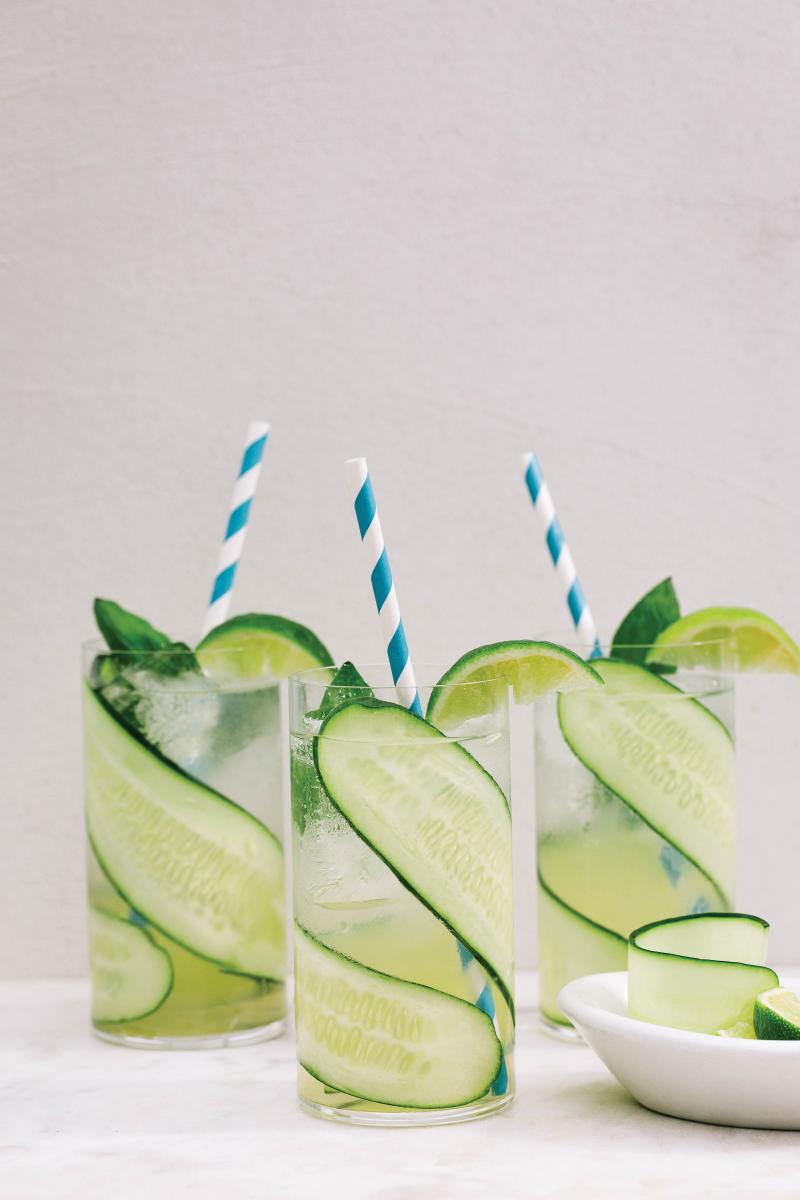 Edgartown Green
Serves 1-2
3 ounces cucumber vodka
6 ounces Minute Maid Limeade
Soda water
1 cucumber, sliced into a long, thin ribbon
Fresh-picked basil
In a tall highball glass, combine vodka and limeade. Top with soda water. Serve with lots of ice and a long slice of cucumber, either wrapped around the glass or rolled up and secured with a toothpick. Hold basil leaf between palms and smack smartly to release flavors. Add to glass.
beach plums
Beach plums aren't just for jam. Personal chef and cookbook author Cathy Walthers loves them in cocktails, where they lend a vibrant color and irresistible flavor, reminiscent of cranberries or pomegranate.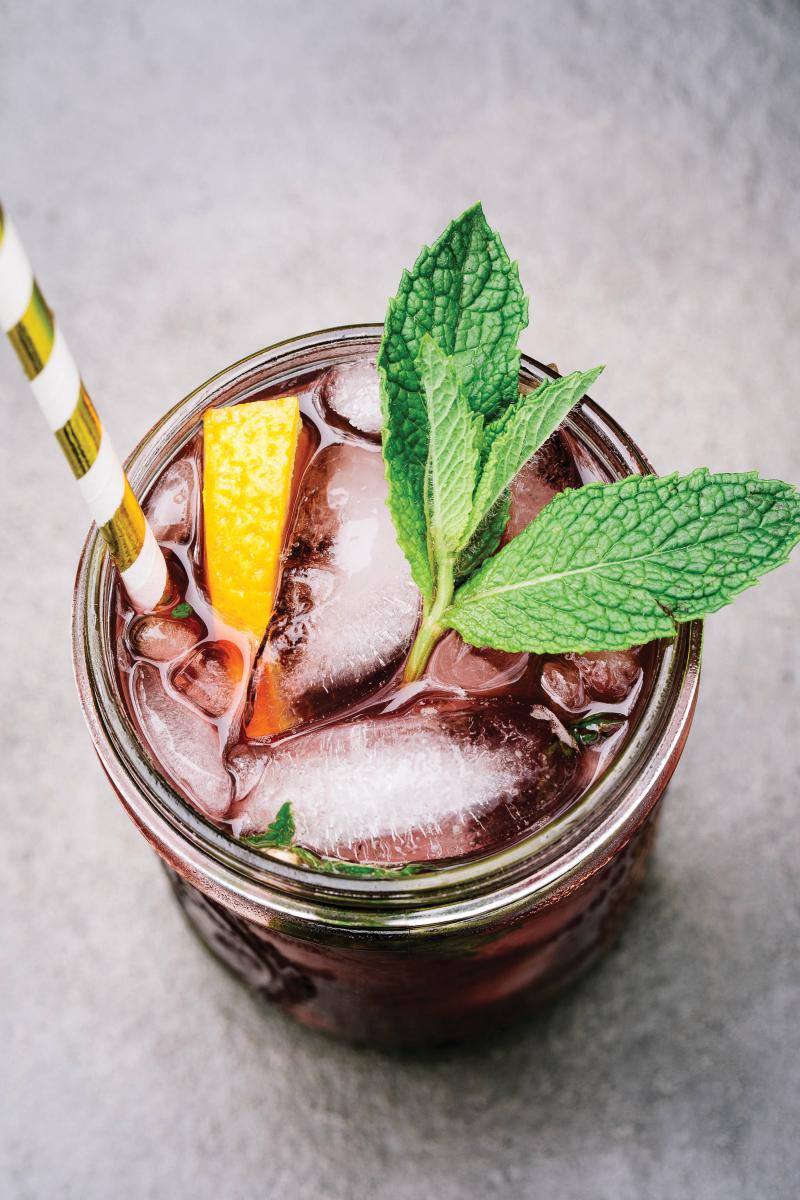 Beach Plum Mojito
Serves 1
3 mint sprigs, plus one to garnish
1 lime, rind removed and cut in half
3 tablespoons beach plum juice
3 tablespoons fresh-squeezed orange juice
2 ounces simple syrup
2 ounces rum
Club soda
Gently mash mint sprigs and lime in a tall glass with a muddler. Add the beach plum juice, orange juice, and simple syrup. Fill the glass with ice, add the rum, and top with club soda. Mix with a long spoon and garnish with a sprig of mint.
Rose hips + Mint
Cuba meets the Vineyard in Island Cocktail Company's take on the mojito, which gets its bright color and flavor from rose hips, the tomato-red fruit that ripens throughout the summer on beachside rosa rugosa shrubs.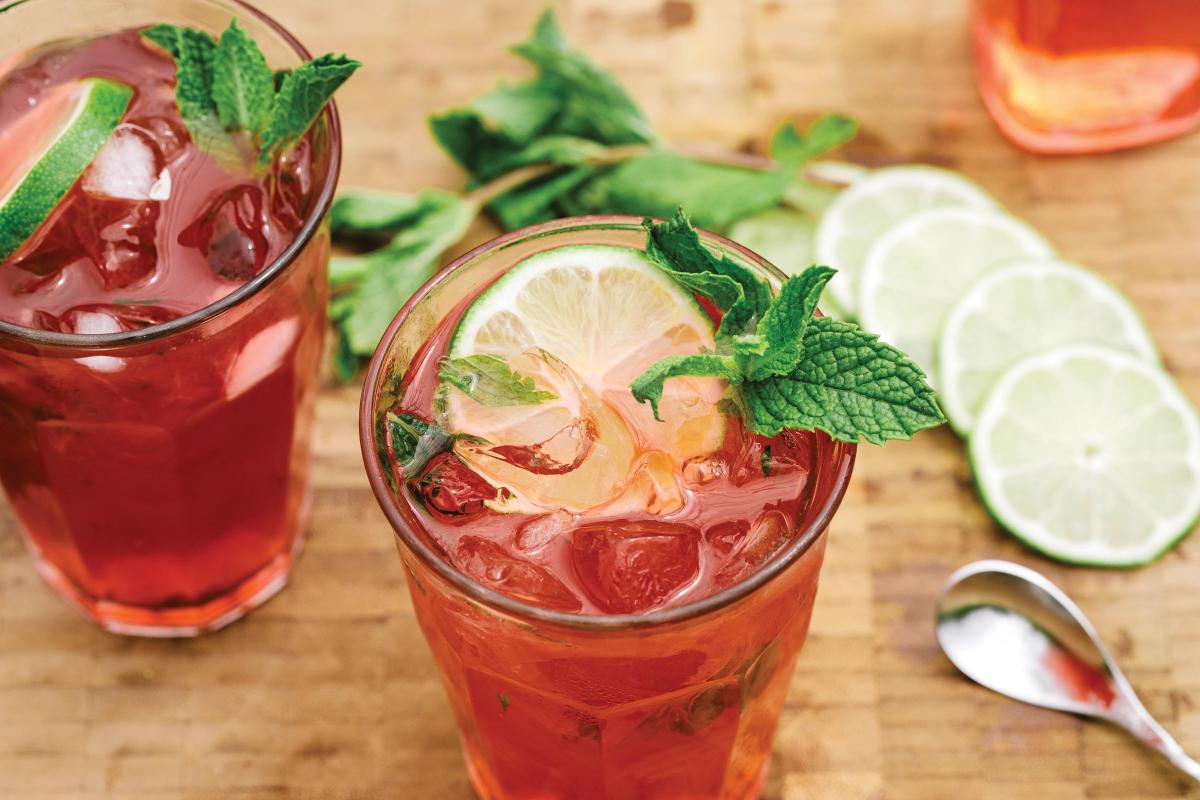 Rose Hip Mojito
Serves 1-2
Mint
2 tablespoons rose hip–infused simple syrup*
3 ounces fresh lime juice
3 ounces vodka
Soda water
Lime wheel
Muddle mint and 1 tablespoon of the rose hip simple syrup in a cocktail shaker. Add lime juice and vodka. Fill with ice and shake vigorously. Strain cocktail into an ice-filled glass. Top with soda water and extra simple syrup, if desired. Garnish with a lime wheel and/or mint.
*To make the syrup, boil rose hips until soft, strain, and boil again with sugar until reduced.
strawberries
Buckley's Gourmet Catering tempers the sweetness of mid-June strawberries with Island-made sea salt and tart grapefruit – a pink-hued combination as palliative as the start of a new Vineyard day.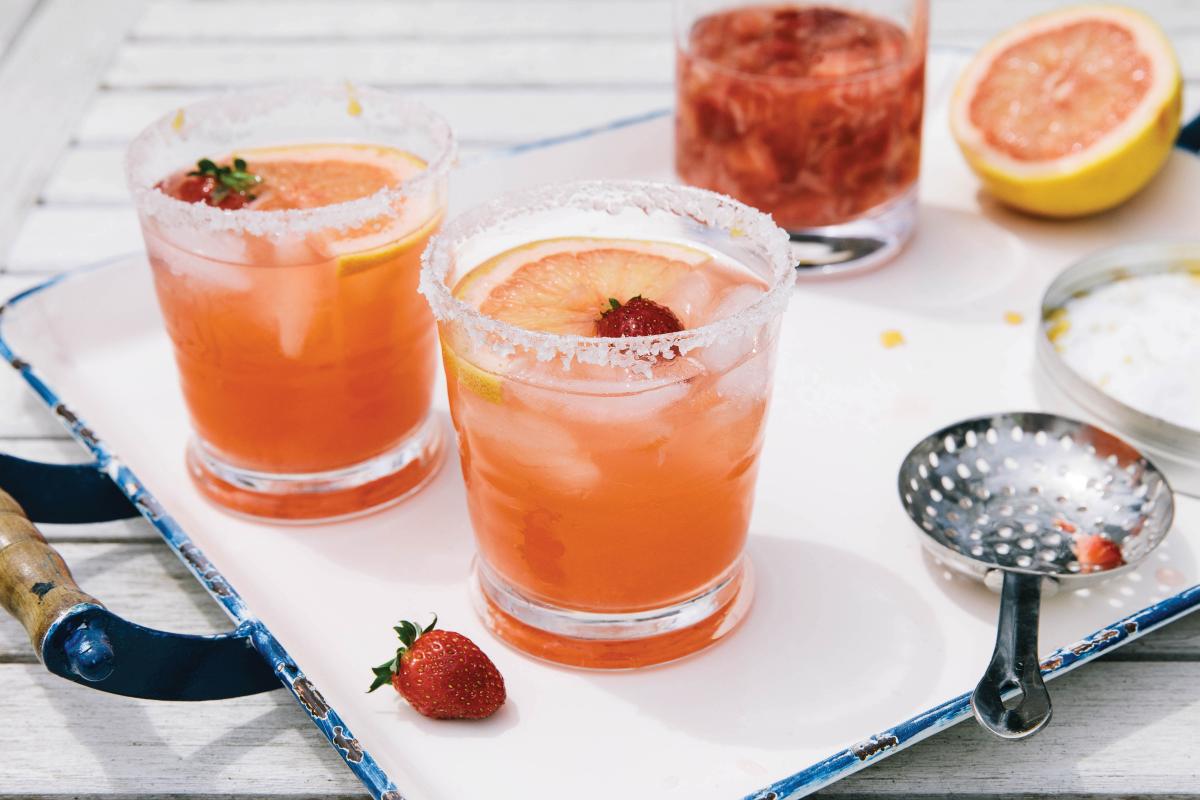 State Beach Sunrise
Serves 1-2
1 grapefruit, zested and juiced
Martha's Vineyard Sea Salt
Sugar
10 strawberries (save one for the rim)
1 1/2 ounces simple syrup
3 ounces tequila blanco
Combine grapefruit zest with equal parts salt and sugar on a small plate. Drag a strawberry across the rim and dip in salt mixture. Fill glass with ice and set aside. Muddle grapefruit juice and strawberries in a shaker. Add tequila and simple syrup. Fill shaker with ice and shake vigorously. Strain cocktail into prepared glass and garnish with a strawberry.
Photos by Elizabeth Cecil. Bartending and styling by Rosewater Wine & Spirits.