On July 7, 1990, I married Stephen Graham under a sapphire-blue cloudless sky on a hillside behind the Captain R. Flanders House in Chilmark. The Vineyard was not a wedding destination then. Nor was our wedding elaborate or expensive. It was just the best expression of who I am and who my husband and I are together, and what we love about this Island and each other. Twenty-seven years later, people who shared that day with us still talk about it as the best wedding they ever attended, and the best weather the Vineyard ever had.
Ours was a short service and a long reception under a tent overlooking sixty acres of ponds, woods, and pastureland surrounded by the classic New England farm stone walls I had grown up with in Connecticut. We had a DJ from WMVY, a great dance floor, beautiful flowers, and simple and tasty food – what people now call "farm-to-table." For everything on that day, including her optimism about the weather, and for a friendship with her family and mine that lasted for years, I remember with gratitude Patricia Ann Blanc.
In 1990, when I called, Patti was the only wedding planner registered with the Chamber of Commerce, to my knowledge. Hiring a wedding planner wasn't something I had intended to do, but my mother was recovering from an illness and I wanted someone to help me make the decisions a mother and daughter usually make together. A former nurse and a mother of six children she called her "duckins," Patti naturally and generously took me under her wing.
In addition to being a nurse, Patti was a gifted oil painter and art teacher and had creatively planned her three daughters' Vineyard weddings. They were the ones who convinced her that wedding planning was her calling and a service she could offer to others on the Island. I was her first client.
When she passed away in December 2016, I recalled her artful, very Vineyard
logo and the tag line of her brochure that said it all: "I'll be the director so you can be the star."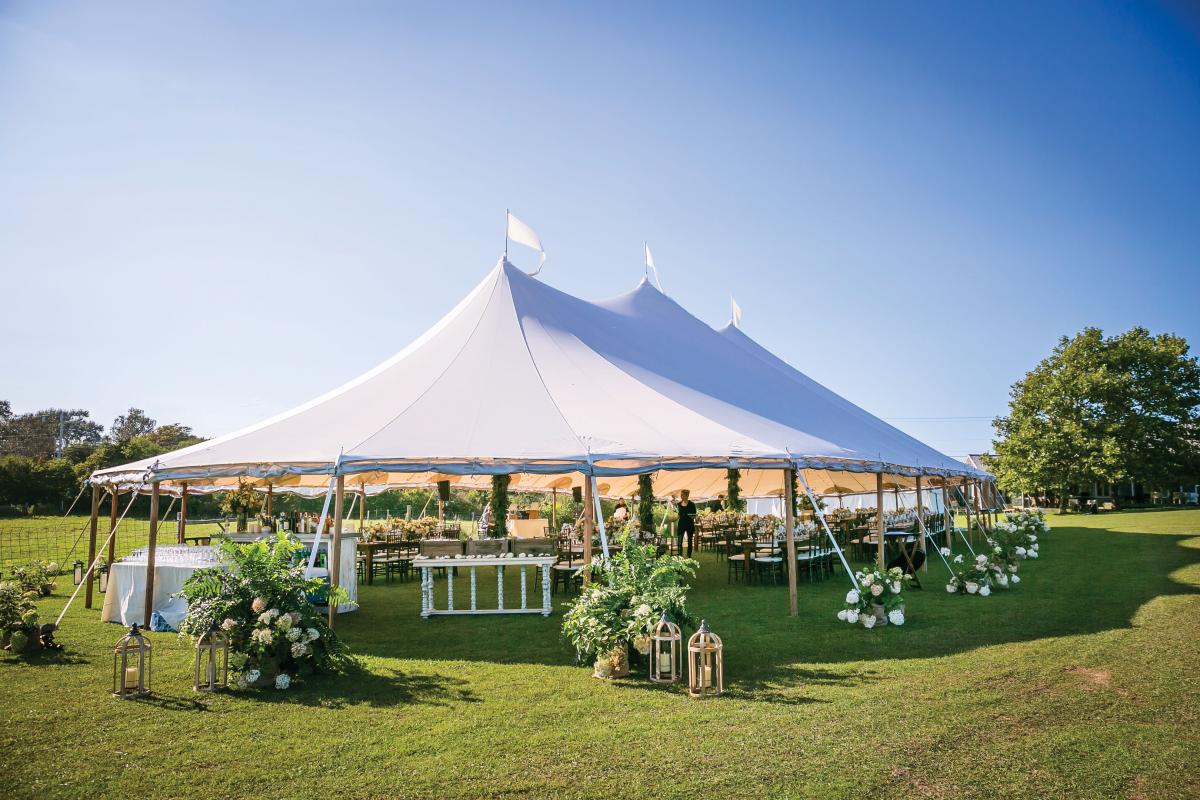 While Patti didn't take charge of my decisions, she did make me feel like I was being guided by somebody who knew better. "My mom was always a proponent of looking at the big picture," says Patti's daughter Lisa Stewart. "It happened a lot that people said they had a vision and would insist on doing things that she knew were not in their best interest."
Thankfully, for both of us, I was not one of those people.
Before Stephen and I met Patti, we had decided to hold the wedding and reception at the Harbor View Hotel in Edgartown. We'd already set the date and sent out the invitations. Our vision for our wedding was a four-day gathering of friends and family over the Fourth of July holiday. We'd picked the Harbor View because we were renting a house on Chappaquiddick for July and thought it would be a great central meeting place for everyone.
Patti talked me out of it. In March she gently insisted I come up from New York for a visit. We drove over to the Harbor View, which at the time was a disassembled mess of exposed beams and blue tarps. Then she sat me down for coffee and a reality check. It wasn't that she had anything against the Harbor View, she explained; it's just that she knew things about Island time and construction that I did not. (She turned out to be right. The hotel's re-opening, scheduled for early June, actually happened three days before my wedding; even then the building was not entirely complete.)
A better option was out there, Patti insisted, and proceeded to ask me about my likes and dislikes while matching my answers to venues. That afternoon we drove to the Chilmark farmhouse Captain Richard Flanders built in the 1700s. It was a venue I never would have known about. "I think this is the place for you," she said, taking my hand. It was a cold and gray March day, far from ideal conditions for scouting locations. But even as I stood there shivering and watching the fog roll across the field, I knew Patti was right: I had found my venue, and my guide.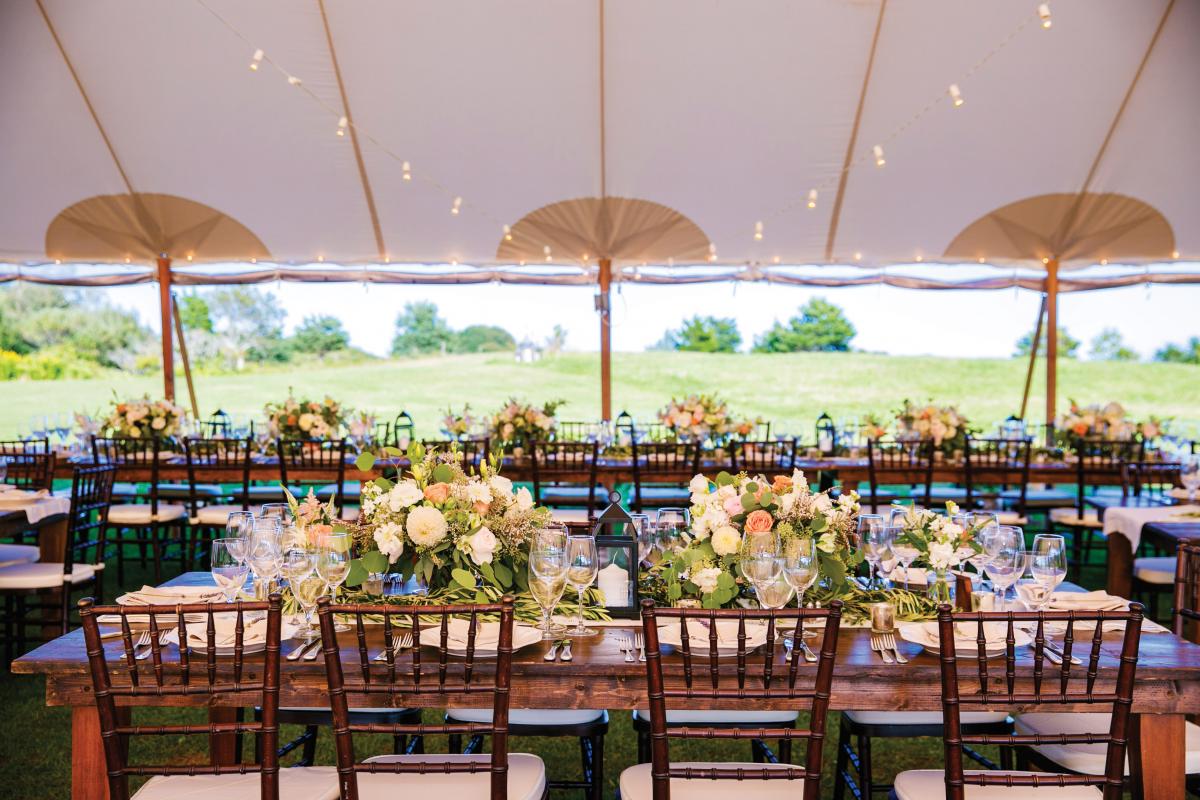 Wedding planning on the Island has changed a lot in the decades since Patti helped me visualize a bright July wedding on that dank March day. Whereas she was a cottage industry entrepreneur, and one of the only planners on the Vineyard, today there are some twenty Island-based wedding planners, day-of coordinators, and planning teams with backgrounds in public relations, hospitality services, and event planning.
The scope of the job has changed too. As the Vineyard's cachet as a wedding destination has increased, receptions have become more elaborate and the planner's role more expansive and hands-on. "The weddings themselves have evolved and there are so many more details," says Doriana Klumick, who started Plan It Martha's Vineyard in 2006 with her business partner Kate Conde. No longer do planners simply scout locations, guide vendor selection, and manage contracts; they also create or advise on customized invitations, schedules, maps, tablescapes, and social media experiences; book guest accommodations; and coordinate ferries. The work isn't confined to rehearsal dinners and ceremonies, either: planners increasingly coordinate related events like welcome parties, athletic contests, sails around the Island, and day-after brunches.
In this way the role of a wedding planner has come to resemble that of a general contractor or conductor, tasked with assembling and overseeing teams of specialists that might include farm-to-table caterers, flower grower-designers, signature cocktail specialists, special occasion bakers, calligraphers, photographers and videographers, ceremony musicians and reception bands, private car services, even henna artists.
Plan It Martha's Vineyard recently created the beverage catering service Island Cocktail Company to keep up with the increasing number of specialized demands. "The bar and beverage section of the event was becoming so big that some of the caterers were backing off," says Klumick. "But we still wanted to give the client what they wanted, which was to design signature bar-service offerings like specialty cocktails, welcome drinks, frozen drinks, some served at multiple events."
One planner I recently spoke with helped a couple put on a "Welcome to the Vineyard Party" clambake. Some of their friends and family attended a daylong fishing charter and a caterer cooked the catch. Another couple, whose passion was running, scheduled a 5K for the wedding party and friends and family. The planner produced a brunch on the beach, which also served as the finish line – all before the actual wedding took place.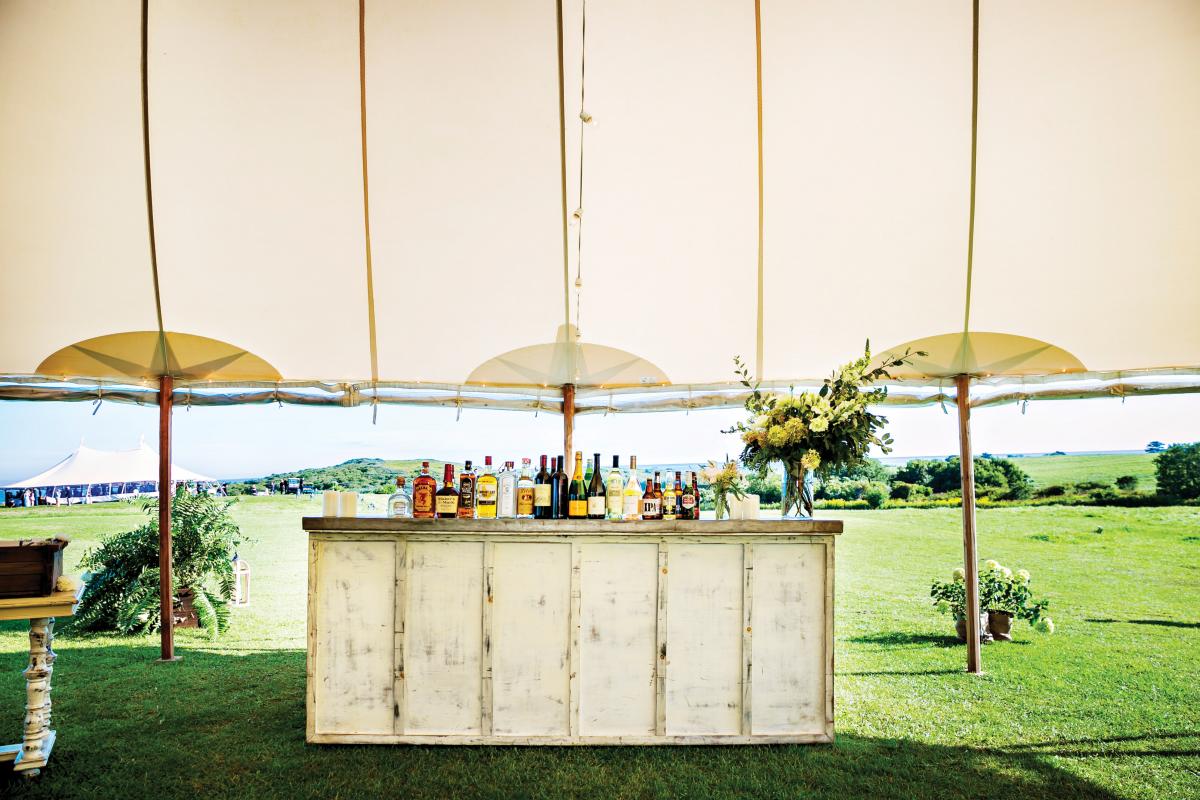 This booming wedding industry isn't unique to the Vineyard. It almost certainly coincides with a nationwide uptick in matrimonial spending, and is likely fueled by the proliferation of websites like Pinterest and The Knot, as well as hundreds of blogs and magazines that influence imaginations and change expectations. According to The Knot's 2016 annual Real Weddings Study, the average cost of a wedding in the United States is $35,329 – up 20 percent since 2008, one of the first years the study was conducted. (And that figure is low for the Island; the average cost of a Cape Cod wedding – the most precise data available – is now $58,508.) "With to-be-weds now shelling out more money per guest," the study says, "they're more excited than ever to create the ultimate guest experience complete with out-of-the-box entertainment and exceptional amenities."
Still, the Vineyard has a reputation for attracting couples with big dreams and bigger budgets. And the unique attributes of the Island make it especially helpful to employ someone with local knowledge to make those dreams come true. All of which might explain why so many couples that marry on the Vineyard elect to have some sort of professional help. As it stands, the majority of couples featured in this magazine employ a full-time wedding planner or day-of coordinator. (For a breakdown of services offered and how the process works, see "Day-of Coordinator vs. Planner: Which Is Right for You?," and "Here Comes the Guide.")
"We always recommend hiring a wedding planner, and hiring one of the Island wedding planners makes a whole lot more sense because they know all of the vendors and venues," says Jim Eddy, founder of Big Sky Tent & Party Rentals. "It works more smoothly for everybody."
Eddy would know. Big Sky is one of the Island's largest rental companies, tasked with bringing chairs, tables, dance floors, tents, chandeliers, and the like to tented receptions – many of which are located on remote conservation and private properties at the end of long, narrow roads.
Tented weddings in far-flung locations are undeniably beautiful and classically Vineyard. According to KG Events & Design, approximately 70 to 75 percent of their weddings now take place outdoors. (Plan It Martha's Vineyard puts the number even higher: at "almost all" of the weddings they coordinate.) But planning an outdoor wedding can pose a unique set of hassles.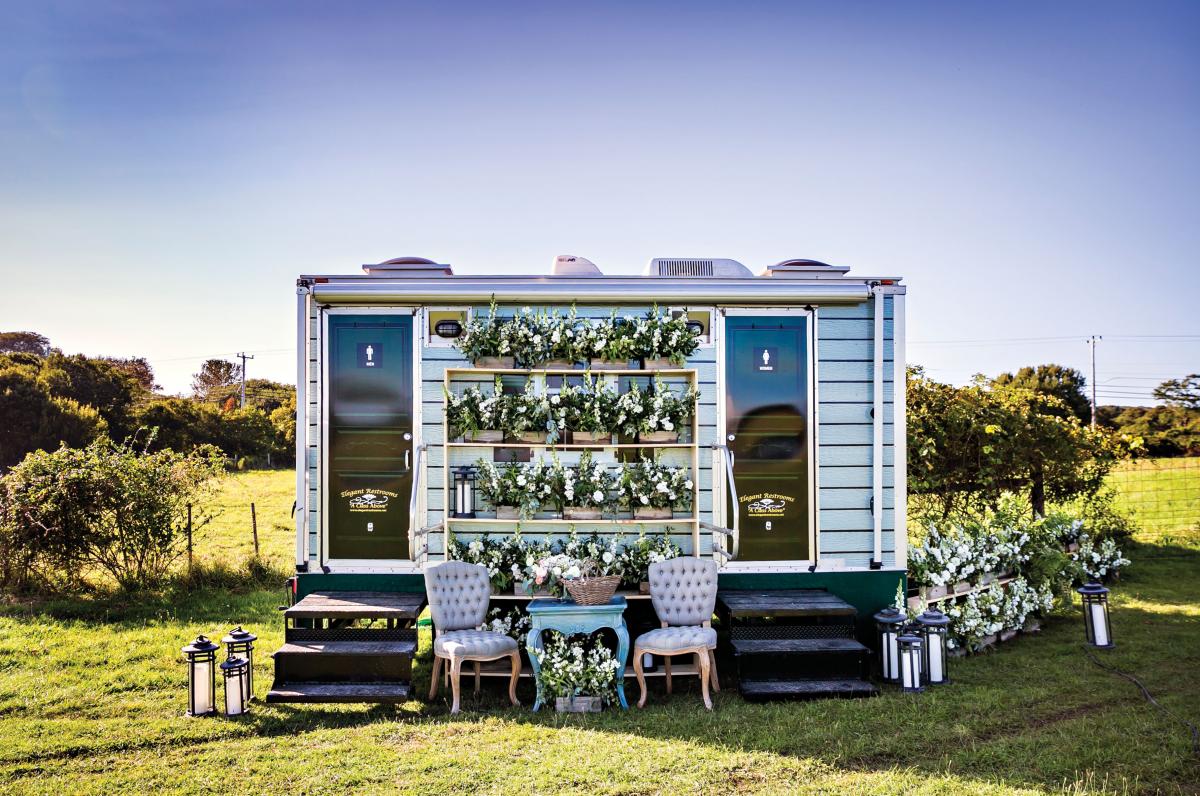 Consider, for comparison, a bride planning a wedding at a New Jersey banquet hall. While she has all the typical worries – Will the flowers arrive on time? Will the dress fit? – she doesn't need to worry about bringing an oven, bathrooms, or electricity to the venue site. That's already in place.
Nor does she need to worry about booking ferries nearly a year in advance, or where to put 200 guests on an Island where large hotels that can accommodate rental blocks are in short supply.
In short, when planning a wedding on the Vineyard, keeping organized is an essential task. That's where a wedding planner's local expertise comes into play.
"Every bride has a vision," says Klumick, but it might be because they've seen something in a magazine or Googled a vendor. A local planner will show you the real people and the places, and what's really possible. They know how to organize a team of vendors that works well together, or how to reach a certain company when their phone goes off the hook in the middle of winter, or whom to call when, at the last minute, the ferries and planes are cancelled due to weather. "It's those people who will show up in a pinch or do last-minute things that make all the difference," says Klumick.
"We are working with the same group of people all the time," says Kristen Gosselin, owner of KG Events & Design. "When you hire a wedding planner on this Island you are not just hiring a planner, you are hiring a connector to a community."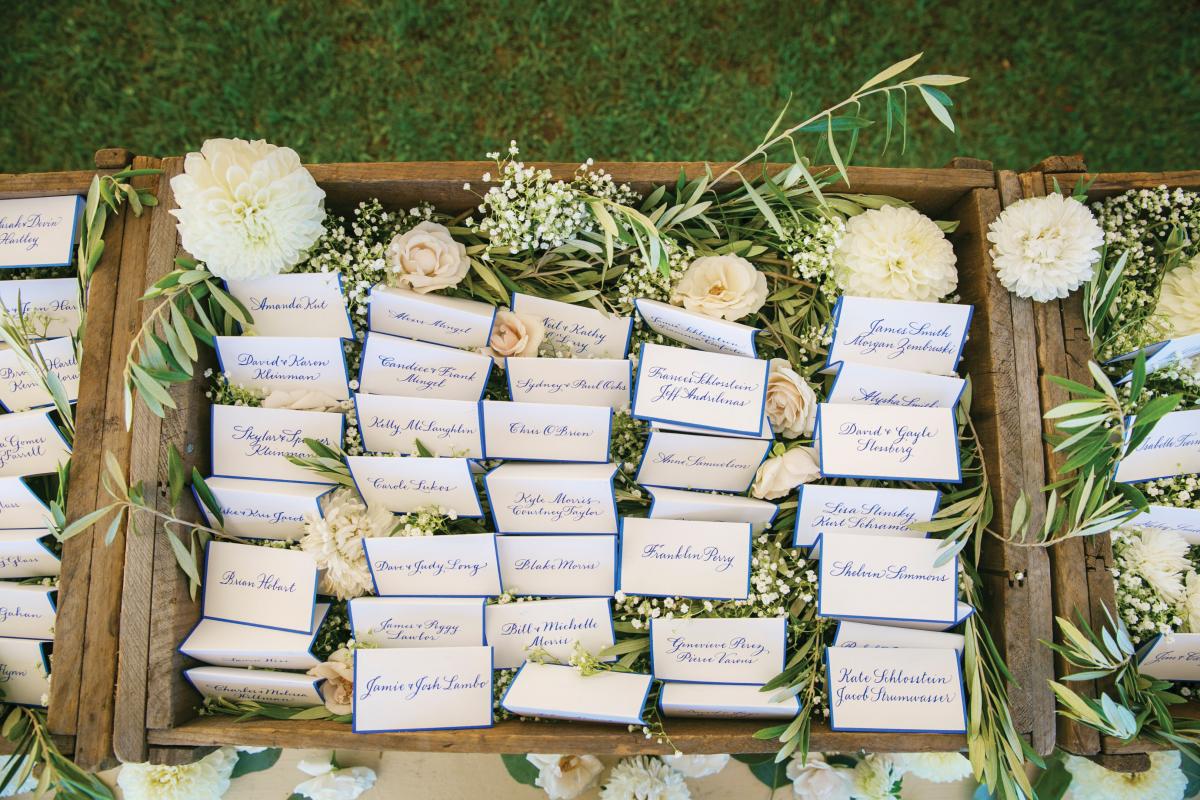 In that way, at least, the job of a wedding planner remains the same as many years ago when Patti explained to me the concept of Island time and put me in touch with a roster of trusted vendors and associates. Now, as it was then, the role of a wedding planner is to make one's wedding day as stress-free, seamless, and unique to the couple as possible. Or as longtime Vineyard event planner Joanna Fairchild puts it: "We try to make a meaningful Vineyard memory, not just a wedding."
To get a sense of just how much work goes into weddings these days and what the job entails, this summer I helped out behind the scenes as an extra on "day-of" teams at two different weddings. I hauled, unwrapped, and arranged tables, chairs, and cushions, and then arranged each place setting down to small floral finishes in each napkin. I filled baskets with bags of lavender and sand, and one by one
stuck 125 table-seating cards in the basket, upright and perfectly spaced. I escorted elderly relatives and handed out programs. Best of all, I watched the smiles and relief on the faces of planners – to say nothing of the smile on the face of the bride who didn't have to align the escort cards herself. I now appreciate so much more what Patti, always the perfectionist, put in to every celebration, and how lucky I was to be one of her stars.
Photos by Randi Baird.