Laura Stone and James Hale had planned the perfect Martha's Vineyard wedding. Both lovers of the outdoors, they would exchange their vows in the open Island air, on a family property overlooking the sea, with sweeping views of Stonewall Beach and as far as Edgartown on a clear day.
Except it wasn't going to be a clear day. An autumn nor'easter was on its way, bringing high winds and rain that would force a radical change in plans.
The stormy forecast didn't faze the couple at first – "We prepared for a rainy weekend," Laura said – but the day before their October 1 wedding, their rental contractor, Seaside Celebrations, informed them it was already too windy to set up the party tent in Chilmark. Then the rain began.
"It was heartbreaking," Laura recalled. "We had planned for a whole year to have it at this one place. In ten minutes, everything got flipped upside down."
Fortunately, she and James had talked about a backup plan. The welcome and rehearsal dinner was already set to take place in one of the boat-building sheds at his family's business, Martha's Vineyard Shipyard in Vineyard Haven.
The boat shed, on the shore of Lagoon Pond, wasn't as big as the tent they had ordered for Saturday's wedding, but it would have to do. They amped up their plan for their rehearsal dinner decorations in order to prepare the space for its new purpose. They could fill the shed with twinkling lights and paper lanterns, plus a small dance floor and a bar. The decorating crew said they could repurpose the remaining decorations from the other site. Seaside Celebrations could provide catering tents, which could be set up alongside the shed.
Agonizing as the decision was, once the couple agreed to switch venues
"we stuck to it and didn't look back," Laura said. "It was stressful, but everybody we worked with was great – super flexible, really accommodating."
There was just one compromise she wasn't willing to accept, said Laura, who as manager of Vineyard Gardens is used to being outside in all weather. "I didn't want to get married inside," even during a gale.
So when the weather forecast indicated the rain was tapering off, she pulled on a pair of rain boots ("instead of my little cute sparkly flats") and put her waterproof foot down: she would marry James under the Vineyard sky, storm or no storm.
Their wedding arbor, originally destined for Chilmark, had been set up that morning under a tent on the beach by the boat shed. But with ten minutes to go before the afternoon ceremony, Laura decided she wanted to relocate it across the street to the end of the shipyard's dock overlooking Vineyard Haven Harbor so the couple could tie the knot in the open air.
"We thought that there was no way that was going to happen," said Emily Coulter, owner of Morrice Florist in Vineyard Haven and the floral designer for Laura and James's wedding and rehearsal dinner. "It was a solid wood arbor with garland and flowers" that took six or eight people to lug it all the way from the pond to the harbor.
Heavy as it was, the arbor held up to the storm as James and Laura exchanged their vows beneath its arch, while guests in foul-weather gear lined the shipyard dock.
"The rain kind of held off," recalled Laura. "It was definitely a mild nor'easter, but it was windy and I felt like I had mascara just running off my face. And I was totally freaking out that someone was going to get blown off the dock." (Nobody was.)
After the vows and the first kiss, it was back to the boat shed for a reception with their signature drink, the appropriately named Dark and Stormy, barbecue from Smoak, and dancing to live music by the Boston band Brothers Walk. "It ended up being incredible, absolutely incredible – better than any of us could have imagined," Laura said. Her husband agreed.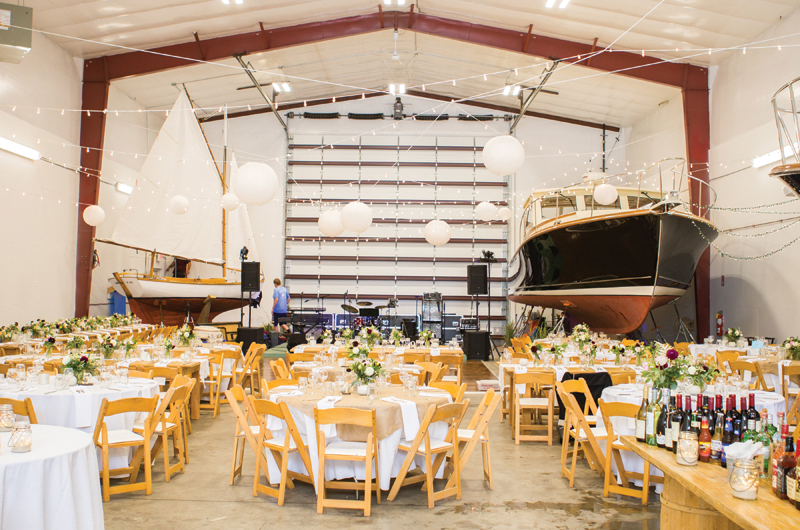 "I would love to have gotten married where we planned, but everything happens for a reason," James said. "It worked out great for a windy, rainy night – to have a heated building was pretty lucky." Plus, he added, "I'm addicted to boats and getting married in the boat yard really worked."
In fact, James added, "One of my cousins is going to get married there next year."
Coulter also praised the boat-shed setting. "It was actually phenomenal," she said. "It was a beautiful venue, and it was easier than setting up in the middle of a field."
James and Laura were fortunate enough to have a solid alternative for their wedding day, but not everyone has an empty boat shed available on short notice. Laura suggests that couples planning outdoor nuptials should call around to see which indoor facilities are available as a backup. "Plan everything early," she said. And when booking portable restrooms, "the trailers are the way to go."
Coulter also advises couples who want an outdoor wedding during September and October to develop a Plan B. "It's hurricane season," she said. "Anything can happen." And, she added, "prepare to be happy with your Plan B; don't let your Plan A be the be-all and end-all of your happiness."
Or, as James put it, "The good news is, it's about the people who are there, not necessarily about the day or the location.
"We had a good time because all our family and friends were there. It didn't really matter where we were."
Photos by Gene Bergeron.