Emily Galligan didn't formally study calligraphy, though she may have lettering in her blood. "My grandfather was a sign painter and I always felt this connection to him, even though I never met him," she said.
After years of "playing around" with calligraphy and making signs for friends and family members' weddings, Galligan has now joined the family business, so to speak. Her nascent company, Maidenwood Designs, offers customized items of all kinds for Martha's Vineyard weddings, from chalkboard signs and cornhole boards to programs and seating charts.
"Signage is so important for a wedding," said Galligan, a self-described creative type who studied fine arts in college. "It really is helpful for the flow of the event. When you're planning a wedding, you have a vision. But if people don't know where to go or what to do, it doesn't feel like this seamless, perfect, magical wedding."
Each event Galligan works on is different, she said. "Some people want to incorporate the Vineyard town signs with the grapes on top, and others want hand-lettered seating charts." Often brides and grooms bring something of themselves to the design. "I had a bride whose family had this 200-year-old barn on their property and they had to tear it down. We used the slate tile from the roof for all the table numbers and [various] things."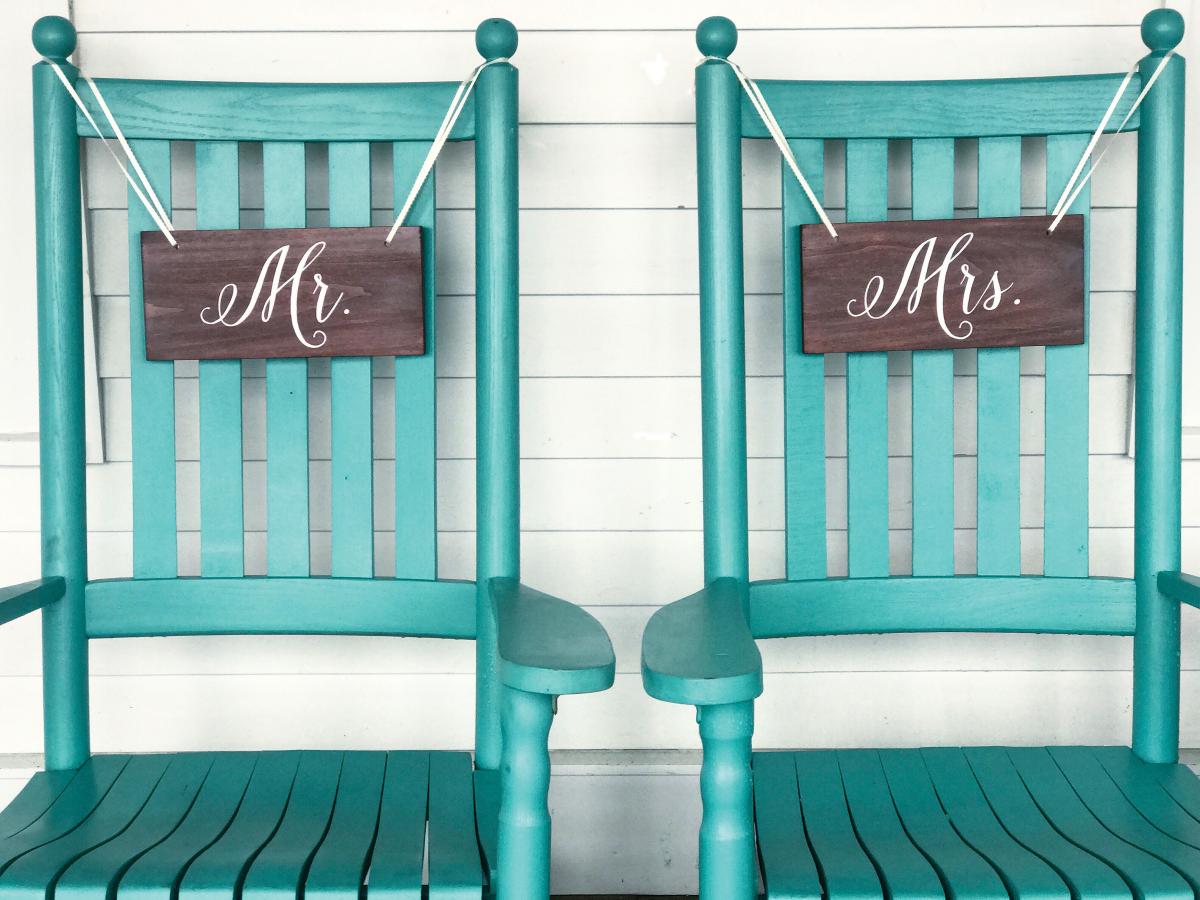 For Nina and Dana Kiendzior's Chilmark celebration, Galligan matched the lettering from their invitations onto a special sign with the couple's names and the wedding date above a painted starfish. "It was a small element in some respects, but she made it so beautiful and special," said Nina Kiendzior. The sign was placed on a table at the reception with seating arrangements and wedding favors, and now has pride of place in their home. "It's not tucked away on our shelf; it's in our stairwell and is still a very special part of our lives."
Galligan also created a series of roadside signs to point the way to the ceremony. "She was really great to work with," said Kiendzior. "Her attention to detail and thoughtfulness in the process was unique."
Adding grace notes to weddings came naturally to Galligan, who grew up in a large Pennsylvania family. "We're all people who pitch in and help each other," she said. "I always loved making signs for things." She came to Martha's Vineyard in 2009 by way of Green Mountain College in Poultney, Vermont, where she met lifelong Islander Paul Galligan. Married since 2010, the Galligans live in West Tisbury with their two sons, five-year-old Aiden and 10-month-old Ever. Today, she and her husband often collaborate on projects: "He cuts all the wood for me to make signs," she said.
Her work for engaged couples often begins with an initial consultation, which "usually evolves over a few calls and emails." Many people collect ideas on Pinterest, which she calls "an amazing tool" for communicating what her clients are looking for in wedding design. "Once we nail down what they're actually doing, I do a project estimate and a timeline of work," she said. A deposit is required to hold the date, and she generally needs two weeks' lead time to create, deliver, and install the completed pieces. But, it all depends on her availability and the couple's needs, she said. "I've pulled it together in a day."
In addition to keepsake signs, Galligan also offers a selection of sign rentals, including chalkboards, wooden signs, and a large stock of antique windows with glass that she custom-letters for the occasion. Since each project is personalized to some extent, prices vary depending on the order. Still, she said, of all the options, wooden signs tend to be the most expensive. "You can't just clean it off and do it again."
To see Emily Galligan's work, go to maidenwoodmv.com. She can be reached at maidenwoodmv@gmail.com.