Bethany deBettencourt and Stephen Hammond wanted their wedding to feel a bit like a semi-formal party, a bit like a backyard barbecue. They wanted to keep it low-key and collaborative. And they wanted to do most of the work themselves. Or, at least, with a little help from their family and friends.
Having recently attended several weddings, the couple had seen how the bills could pile up. "We knew we didn't need all these big frills," said Bethany. And yet they didn't want to scrimp so much that they sacrificed their vision for their wedding day – namely, a beautiful, rustic celebration for nearly 100 people on the Island where they grew up and still live.
Luckily, Stephen and Bethany are handy people. He works as an electrician; she's an administrative assistant at the Up-Island Council on Aging. Both are avid gardeners and have completed minor upgrades and renovations to their home themselves. Even luckier, they have a large network of friends and family on the Vineyard who were willing to pull their resources and pitch in.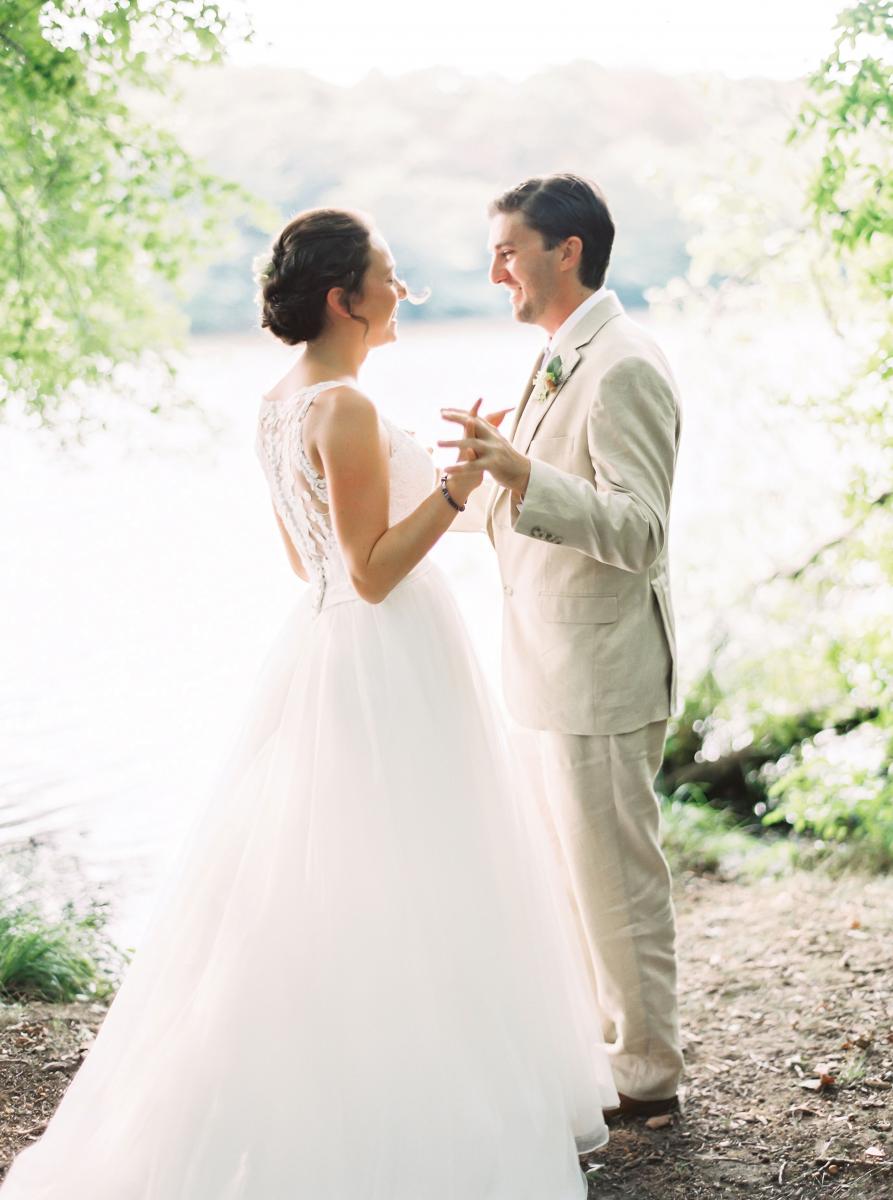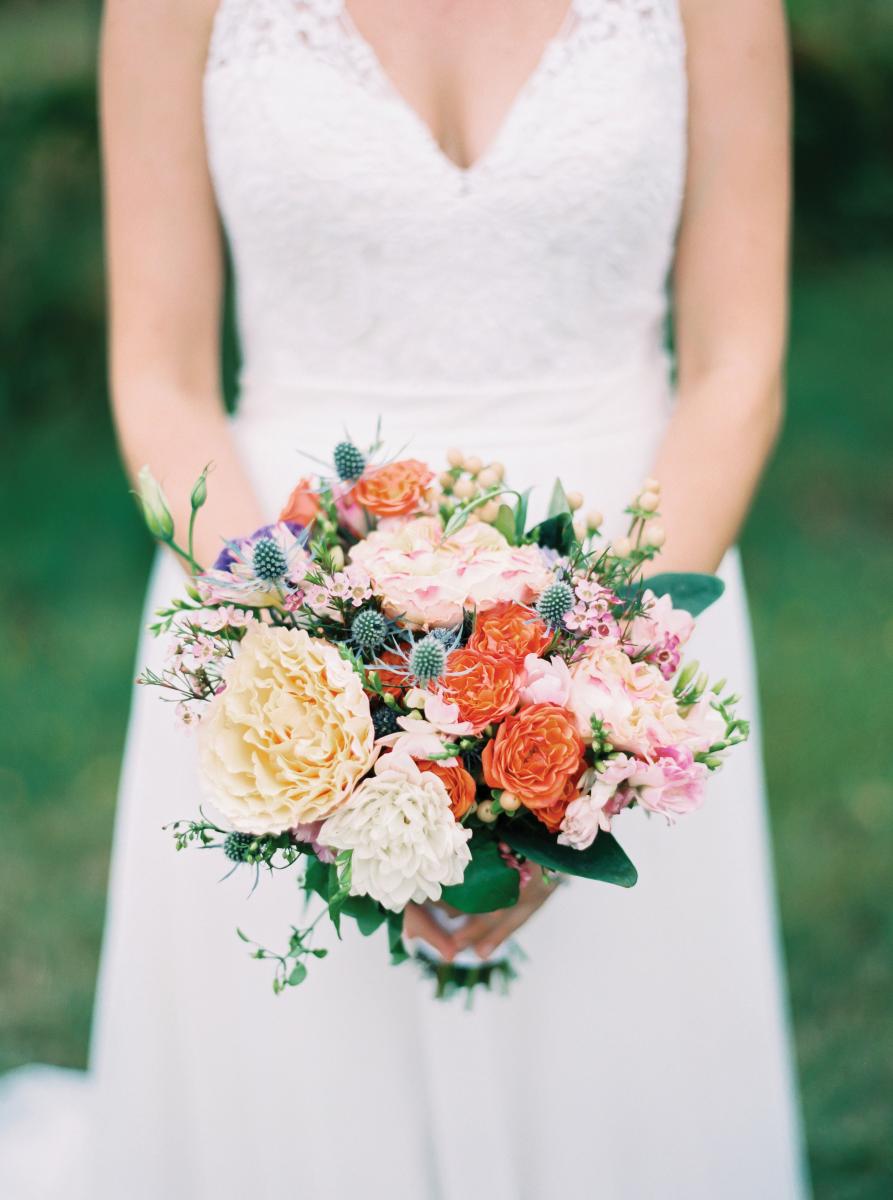 The only problem: they didn't have a lot of time. Engaged in November and with the date set for the following September, the pair had less than a year to turn their vision into a reality. They had to get moving fast.
From the outset, Bethany and Stephen took stock of the resources at their disposal – an admittedly long list that put them ahead of most contemplating the DIY route. For one, there was Bethany's great-aunt's property, the Tiasquin Orchard in West Tisbury. They could marry there, among the fruiting apple trees, and set up a tent in the backyard of Stephen's childhood home next door.
Then there was Bethany's father, Will, owner of Bink's Auto in Oak Bluffs, who offered to transport his daughter to the ceremony in his prized 1908 Ford. Stephen's brother, Evan, one half of the deejay group Filet of Soul, agreed to spin forty-fives at the reception. And bridesmaid Althea Freeman-Miller, a local artist known for her woodblock designs, jumped at the opportunity to create custom blue-and-white save the dates, invitations, and favor labels. Even their photographer, Kaylan Robinson, a friend from Colorado, said she would shoot their wedding for the cost of a plane ticket and photo development.
While there's no way to know exactly how much money they saved, reception and ceremony sites, photography, and entertainment can easily run to several thousand dollars each. Bethany and Stephen knew they were off to a good start.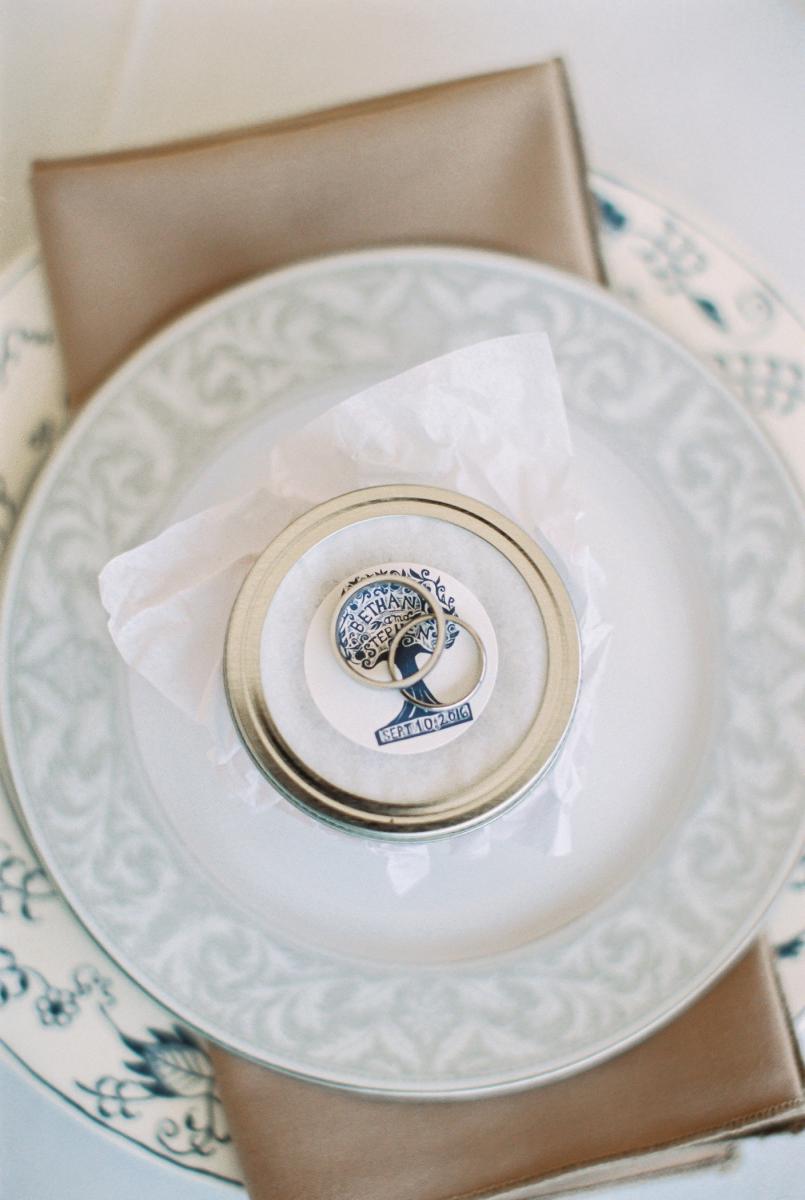 Having secured so many big-ticket items, the couple next turned their attention to the food, normally another major expense. In keeping with the barbecue theme, they enlisted family friend Alan Northcott to roast a whole pig on-site, as well as a few chickens that Bethany's parents had raised. Instead of hiring a caterer for the sides, they opted for the Vineyard tradition of potlucks, asking certain Island-based friends and family members to bring trays of vegetables, salads, and macaroni and cheese – lots of macaroni and cheese. (They might have overdone it, they admit. In the end, there was a whopping eighteen trays.)
As any potluck attendee knows, the more care you put into organizing it, the better it will turn out. This being their wedding meal, Stephen and Bethany took no chances. They carefully doled out assignments to their friends based on their skills, choosing fishermen (for lobster mac), as well as a number of chefs and gluten-free friends. "Just people I thought would make good mac 'n' cheese," said Stephen. "Play to your friends' strengths."
While the couple set the menu and did much of the advance planning themselves, they knew they'd need an expert on hand on the day of the wedding. Enter Gina deBettencourt, a relative of Bethany's, president of the Portuguese-American Club in Oak Bluffs, and head cook and manager of the Edgartown School's cafeteria. She coordinated deliveries and made sure everything was ready at the same time, allowing the bride and groom to relax and enjoy the reception. (You know the old adage that most brides and grooms never get to eat on their wedding day? It's especially true if they're busy reheating the food.)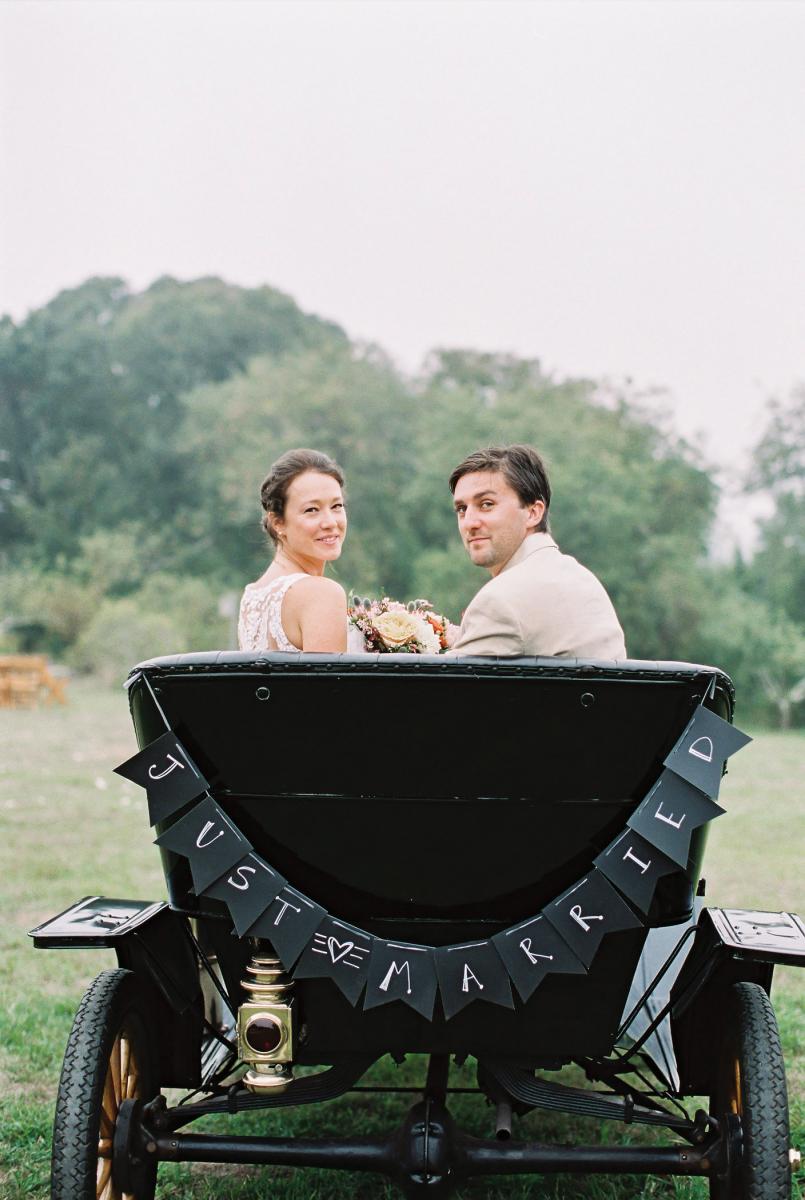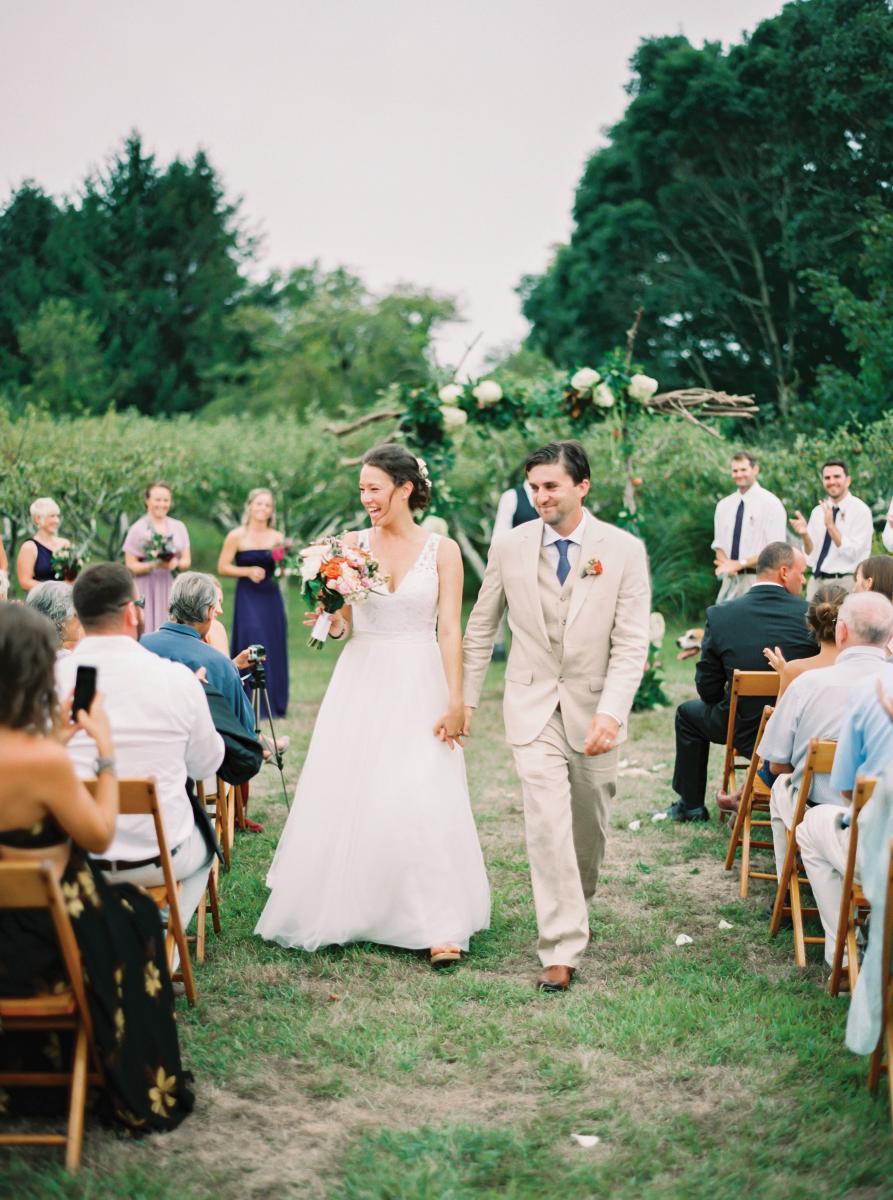 Although the meal was designed with savings in mind, Bethany and Stephen still wanted it to feel upscale. After diving into the world of online DIY ideas, Bethany decided to set the reception tables with mismatched vintage china, which would add an elegant yet eclectic element. She spent months scouring her family's china collections and the Dumptique in West Tisbury, but eventually had to purchase some remaining items at the thrift stores, sometimes spending $2 to $3 apiece. Atop each plate they placed a jar of homemade habanero jelly, a family recipe made from peppers in Bethany's mother's garden, which she and her bridesmaids prepared as favors.
With no set color scheme in mind for the flowers, Bethany looked to the outdoors for inspiration. She reached out to Rusty Gordon, owner of the Ghost Island Farm CSA in West Tisbury, who is as famed for his tomatoes as he is for his fields of zinnias and cosmos. For a nominal fee he agreed to let Bethany pick buckets of blooms, which she and several friends arranged into centerpieces the day before the wedding.
But she drew the line on making her own bouquet. That job went to florist Louise Sweet, owner of Flowers on the Vineyard. "I wanted the wedding to be simple, but I still wanted it to feel pretty and special, and I still wanted to feel pretty and special," she said. She also enlisted friend Tara Gayle of Hunter's Bend to make the bridesmaid bouquets, groomsmen boutonnieres, and to help decorate the arbor using apple tree accents.
During every aspect of planning, Bethany and Stephen considered what they could and couldn't do themselves, and came up with clever solutions for saving money. They rented a tent, tables, chairs, and silverware from Big Sky Tent and Party Rentals, for instance, but borrowed additional tables and chairs from the Island Cohousing community in West Tisbury, where they live. And while they provided the main course, they hired the Black Dog to make their wedding cake. In lieu of a videographer, they set out three GoPros so people could film themselves. They also asked friend Dylan Greene to officiate the ceremony and tipped him with a bottle of booze.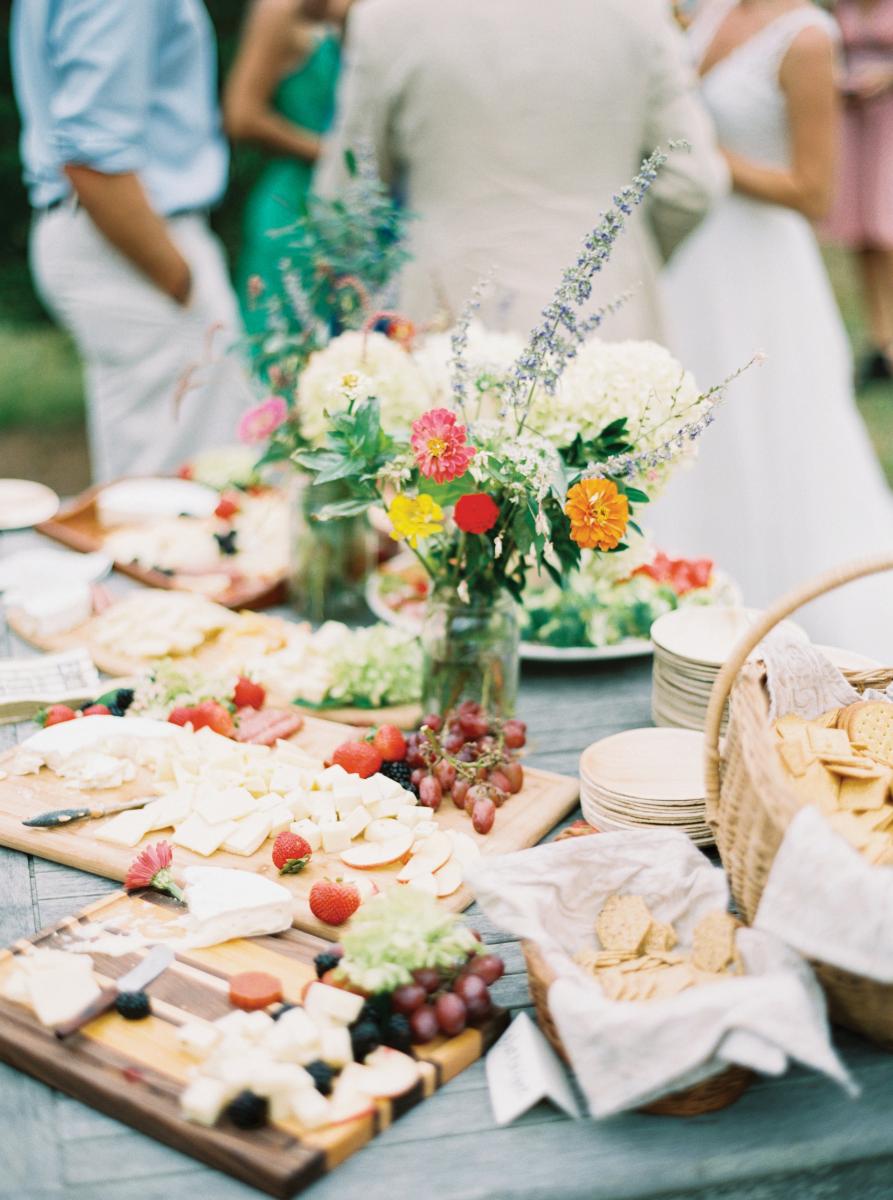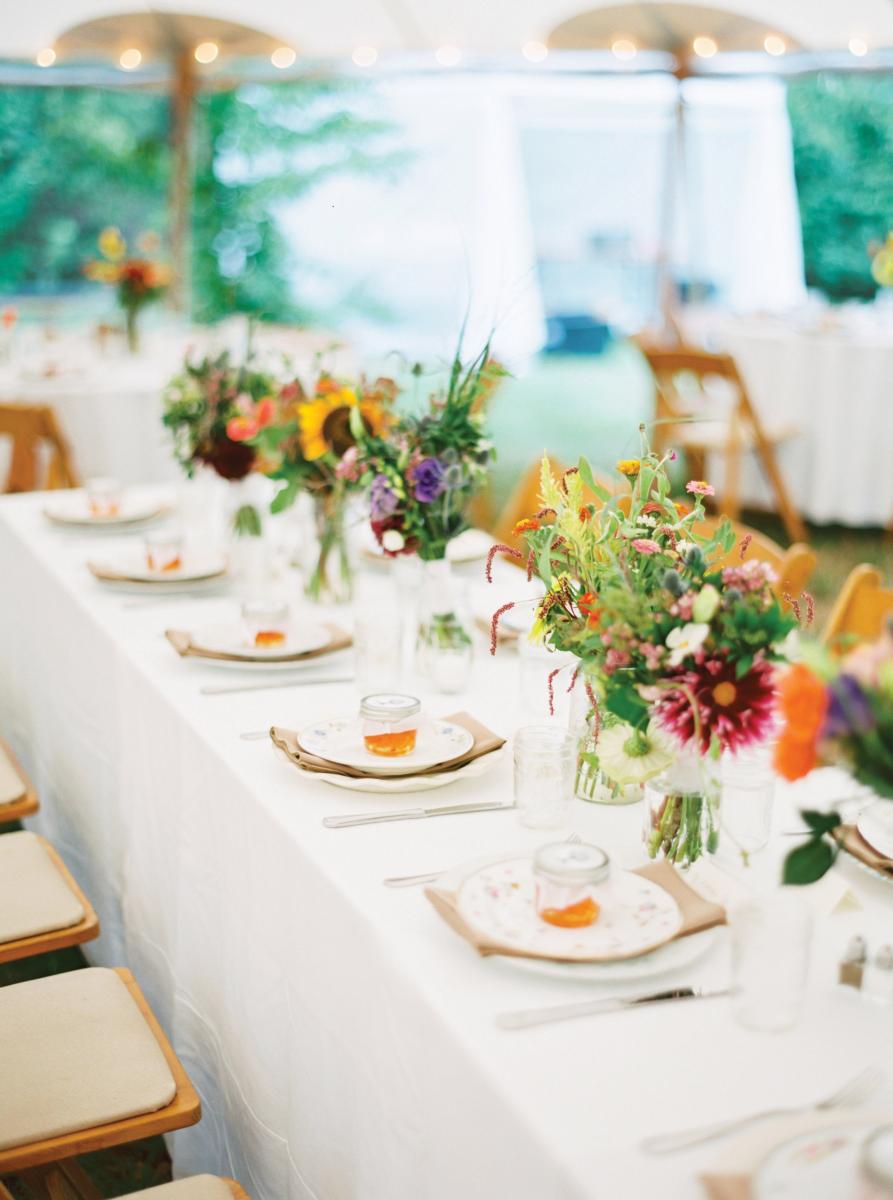 In the days leading up to the wedding, there was a lot of hard work and plenty of last-minute adjustments. Bethany recalled chopping habaneros in the summer heat with windows open and fans blowing. "Because of the juices in the air, we were all crying. It was hot, it was August, we were all so sweaty," she said. And she got more than she bargained for when out picking flowers for the centerpieces two days before her wedding: "We had bee stings on our arms. My arms were all swollen."
At one point Bethany wasn't even sure what she was going to wear. A plan to repurpose her mother's wedding dress fell apart when the seamstress wasn't on Island. Instead, Bethany purchased a gown from Alexandra's Boutique in Fall River, only to find out the dress would arrive three weeks too late. Out of options, she bought the floor model, "complete with holes." Thankfully, a talented seamstress was able to bring it back to life with a bit of matching lace.
Throughout each up and down, she and Stephen called on friends to lighten the load, and edited down their wish list as needed. "I did know my limits," she said, "and I certainly outsourced to friends who were skilled in certain areas."
In the end, their go-with-the-flow approach paid off. After months of preparation, their wedding day unfolded exactly as they hoped it would. The weather was clear and crisp, the potluck was delicious, and Filet of Soul kept people dancing past midnight.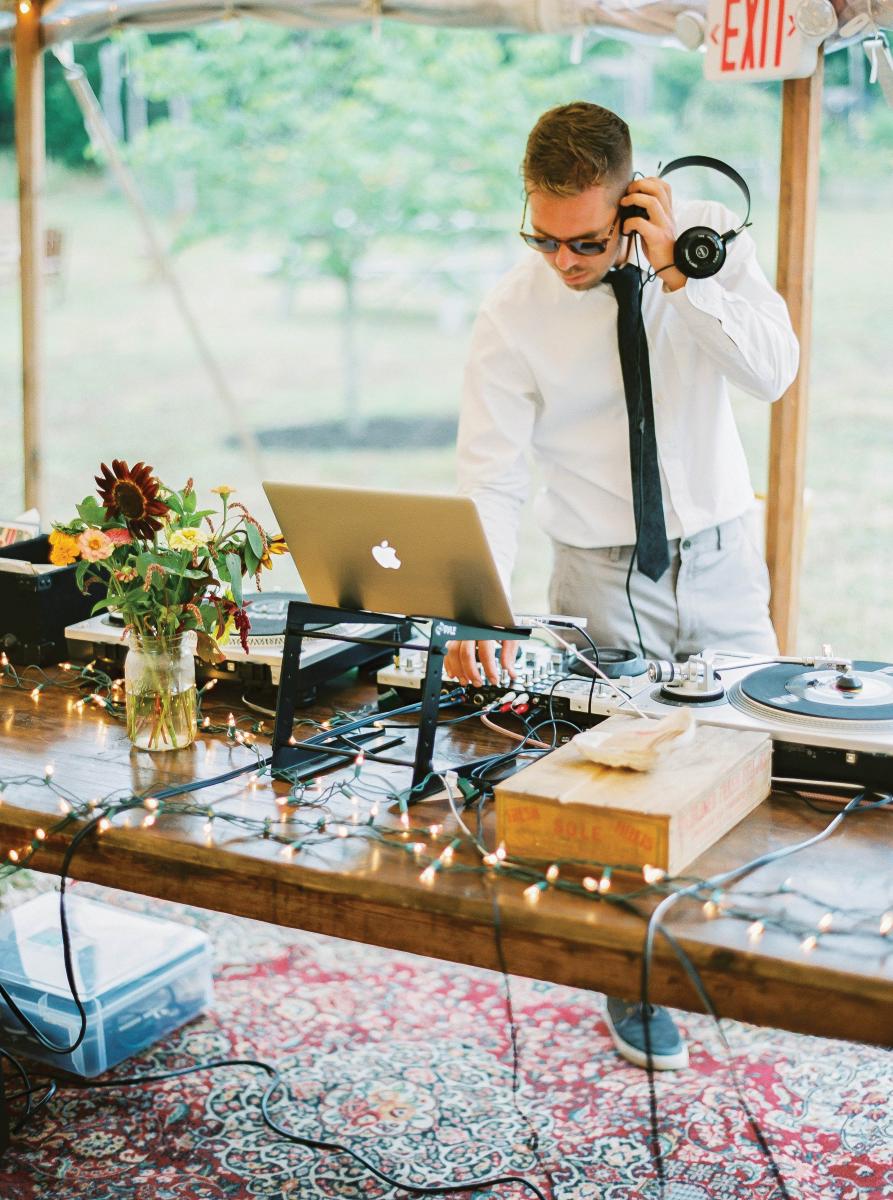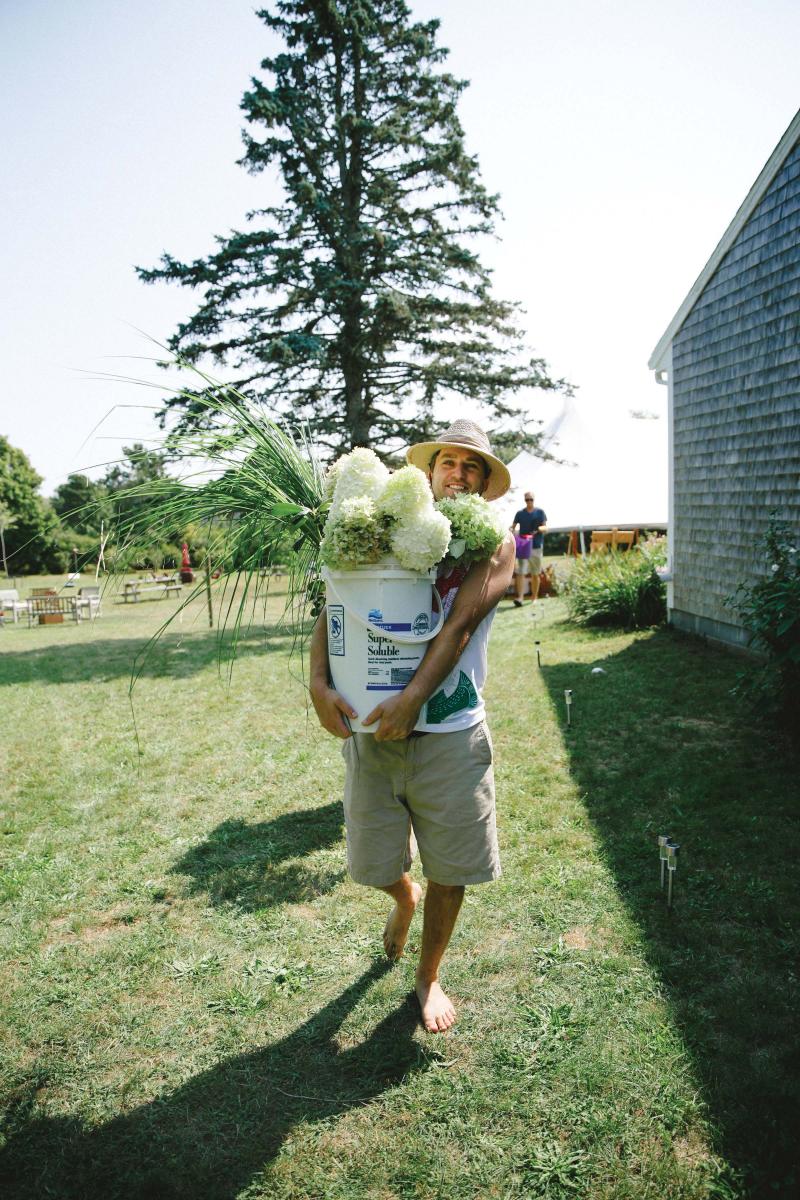 Even the moment Bethany worried about most went well. "I thought I was going to not enjoy the ceremony as much as I did," she confessed. "I was like, there are going to be people watching us; it's going to be really awkward. And as cheesy as it sounds, I did feel like a lot of the people disappeared, and it was so nice."
Looking back, she said she doesn't regret tackling any of the big DIY projects, even if it did leave her with stacks of vintage plates or a freezer full of macaroni and cheese. "There's nothing that I wish we hadn't done. My list of things I wanted to do was so big, I ended up doing the things that were the most important."
Besides, she said, including so many friends and family members in the process turned the celebration into something bigger than just the two of them. "Between friends and family and trades and calling on favors...I think that's what our wedding was all about. It had that feel of having a big family reunion barbecue with a little wedding flair."
Which, of course, is what they wanted from the start.