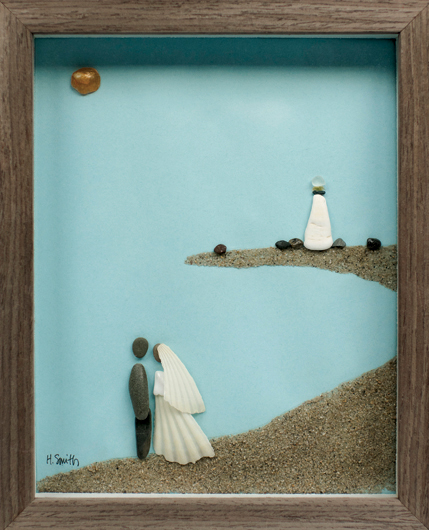 Heather Smith walks the beaches she's known all her life, her eyes scanning the ground for bits of scallop shells, sea glass, and rounded stones. Each piece she collects, she'll sort according to size and color, then turn them into something extraordinary – a bride's veil, a lighthouse beacon, the moon.
Though some say this ability to transform an everyday object makes her an artist, Smith, who also works as a paralegal and restaurant hostess on the Island, doesn't see herself that way. "People tell me I'm a great artist. It's still sort of odd to me," she says. "I'm self-taught. I hated art in school." Instead, she considers herself the lucky beneficiary of a bout of inspiration, and then later learned she had the talent to back it up.
While shopping off-Island a few years ago, Smith recalls, she spotted an American flag made of sea glass. "My best friend loves flags. It was a small 5x7 and it was $175 and it was gorgeous. But I thought, 'I can make that myself for her.'" So she did.
From there, Smith began turning her seaside finds into other scenes: a bride and groom on the beach, a lobster, a mermaid, a campfire. "I posted a picture [on Facebook], not even intending to make these things and sell them, and people were like, 'Is that for sale? Can I buy it?'" she says. "It just sort of overnight became
this thing."
Today, Smith operates a thriving side business, Sea & Stone Designs, and creates one-of-a-kind gifts for everything from weddings to birthdays and graduations. Her work is available at Driftwood Jewelry in Oak Bluffs. She also takes custom orders, each of which range in size from 4x4 to 11x11 inches and typically take about one month to complete and ship.
Smith collects all materials herself and allows creativity to guide her until the parts fit together just right, a process that itself can take several weeks. "I use everything just as I find it, except the scallop shells for the bride's dresses, which need to be shaped a little," she says. "But otherwise I don't use any tools."
The bride and groom scenes are her favorite to construct, and make perfect off-the-registry gifts for couples who have gotten engaged or married on the Island.
"I try not to do the same exact one," she says. "For the bride and groom, they will be on the beach, on a jetty, on a dock. I try to do different scenes. I like them simple and people tell me that's why they like my work."
Recently, Smith heard from a bride-to-be who was having a winter wedding and wanted a snowy scene to commemorate the event. Having never made a piece with snow, she did some brainstorming. She decided to smash white shells with a hammer for the snow and use tiny pieces of clear sea glass for the stars.
"I was so happy with how that came out. [The bride] absolutely loved it," she says. "I have it in my head and I wonder if it will look that way on paper. And when they love it, I think, 'Ah, yes, I did it.'"
As for where she sources her materials, like any good Island salt, she says she'll never tell.
Sea & Stone Designs by Heather Smith are available at Driftwood Jewelry (42 Circuit Avenue, Oak Bluffs, driftwoodmv.com). For custom orders, email mvseaglass@yahoo.com or visit Heather's Sea & Stone Designs Facebook page.