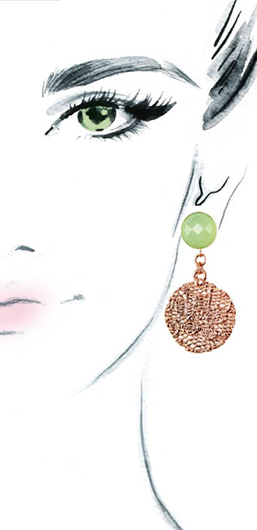 The wedding dress of a woman Monika Knutsson has never met lies on a rose-colored chaise lounge in her Manhattan apartment overlooking the Hudson River. Some of the lace on the antique dress is discolored. "For my work the yellowing doesn't matter," she is quick and a little bit excited to point out.

It doesn't matter, because soon Knutsson will take a pair of scissors to the garment and painstakingly remove a small piece of lace to shape and stiffen with lacquer. The lace will then be dipped into 24-karat gold, rose gold, or sterling silver. At the end of the process, the gown will essentially become a custom, one-of-a-kind accessory.

"It's a really nice way to repurpose family lace. Or even to incorporate an old dress, maybe a mother or grandmother's, that might be out of style now," she said.

Knutsson, who divides her time between New York and Chilmark, started the high-end jewelry company The Gilded Lace Collection in 2010. Her goal was to add value to beautiful old lace that might otherwise be forgotten. Her inspiration came from years living in France, where she worked for designer Isabel Marant and, in her spare time, would scour Parisian flea markets.

Knutsson creates two jewelry collections each year and sells them online and in fine boutiques across the country. A couple of years ago Beyoncé, her mother Tina Knowles, and daughter Blue Ivy had the famed Henri Bendel boutique on 5th Avenue in Manhattan stay open late so they could shop in private. Beyoncé purchased a pair of Knutsson's earrings and was later photographed wearing them on The Mrs. Carter Show world tour. In 2015 Tina Knowles appeared on the cover of Ebony wearing one of Knutsson's lace cuffs. That same year actress Rosario Dawson modeled a pair of earrings in O, The Oprah Magazine. Knutsson's designs have also appeared in Elle, Lucky, Nylon, and Vogue.

Each piece that Knutsson creates comes with a small swatch of lace in its original condition and a note on its history. Beyoncé's gold teardrop earrings, for instance, were made from 1920s French Calais lace used in brassieres. But Knutsson suspected there was a market for custom pieces using lace already personal to the customer. A family member's faded dress could find new life as an earring, a bracelet, or a cufflink, perhaps. A bride's own gown could be transformed into a keepsake for herself or members of her bridal party.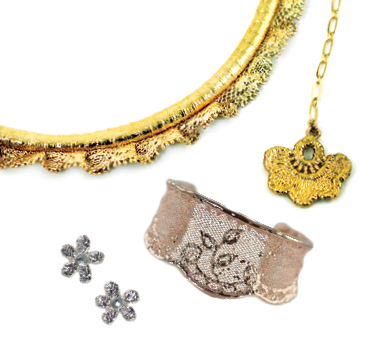 Her customers liked the idea, as attested by the photos and personal accounts on her website, monikaknutsson.com. Since launching the custom component of her business, Knutsson has been asked to create cuffs, buttons, bangles, chain bracelets, hair ornaments, and earrings from heirloom dresses dating back to the early 1900s. Because she's done little advertising, she suspects most clients have found her by searching online for "lace wedding jewelry." "No one else is doing this," Knutsson said.

To date, the designer has worked with brides across the country, engaging in a long-distance collaboration to determine how best to rework a vintage piece of lace. Often a client will send samples, or occasionally an entire dress. Next, Knutsson gauges a bride's style and sensibility via photos. Once the bride has agreed to the details of the piece, she will cut and lacquer the lace at either her New York or Chilmark workspaces, and then send it to a gilding plant in New York, where it will be plated in high-quality silver or gold.

"I feel very much at home on the Island," said Knutsson. "It's the perfect antidote to New York City." Occasionally she finds great lace at Vineyard estate sales, but mostly she comes to work and relax. And in the future, she said, she hopes to see her designs on Island brides. "The Vineyard is such a multi-generational place. There are families that could really connect to what I'm doing."