September 19, 2015
Ceremony and Reception: The Vanderhoop Homestead

Philbin Beach has always been special to Sarah Shriber and Taylor Ives, who met when they were one and grew up next door to each other. As kids they splashed in the surf; as teens they played catch on the sand; and two years ago Taylor dropped to one knee on the dunes and popped the question. So when planning their wedding, Sarah and Taylor knew that Philbin had to have a role.

At first they wanted to get married on the beach, but the logistics were overwhelming. They opted instead for the Vanderhoop Homestead, which overlooks the ocean.

Sarah, an interior designer, and Taylor, a carpenter, took inspiration from the colors of the sea, the cliffs, and the nearby plant life. They wanted their wedding to blend elegance with casualness, and above all feel like a comfortable gathering for family and friends. And they wanted to do most of the work themselves. Sarah is a designer, after all.

"It is definitely a second job," Sarah said of the planning process. "But you make it what you want it to be. I wanted to have my hand in everything and I knew it was going to be a lot of work, because I wanted to design every detail."

The DIY spirit apparently runs in Sarah's family. Her father made the invitations, complete with a watercolor rendering of the Gay Head Cliffs. Her mother sewed cushions and pillows for the outdoor furniture. Friends chipped in too. One provided the water and soft drinks, another the beer; another lent hay bales for guests to sit on during the ceremony; another donated a golf cart. Sarah and Taylor married beneath a chuppah made by Taylor's father with wood from both families' land.

"We were so lucky to have amazing friends and family that helped us on our wedding day," Sarah said.

Kelsey Berry, their day-of coordinator, oversaw logistics and made sure the happy couple had a minute to themselves following the ceremony. "It gave us a moment to just be together and think, 'Oh my God, we did it,'" Sarah said. It was one of her favorite memories of the day.
At the reception, guests slurped Katama Bay oysters and grabbed beer from a dinghy full of ice (both donated by friends). After dancing, the wedding party headed to the beach for a bonfire and s'mores, ending the evening where their story began.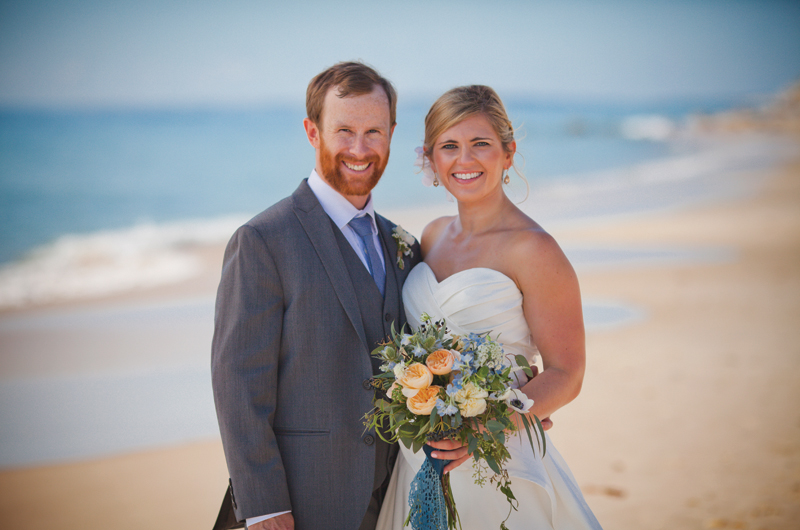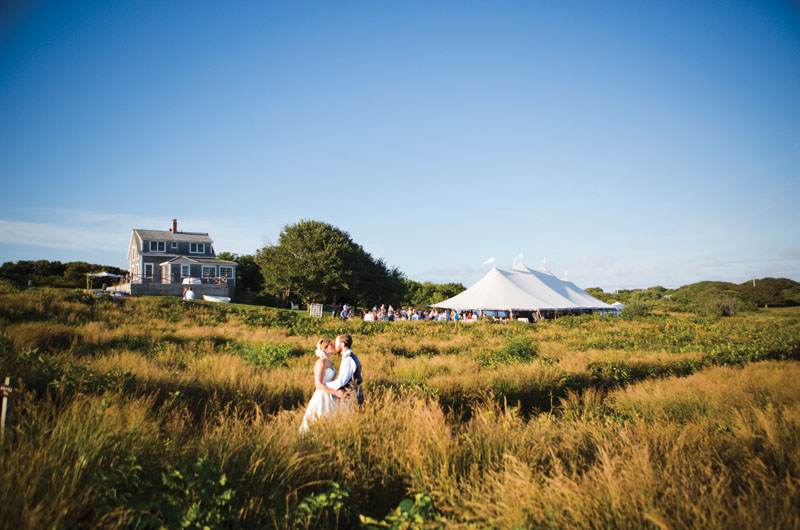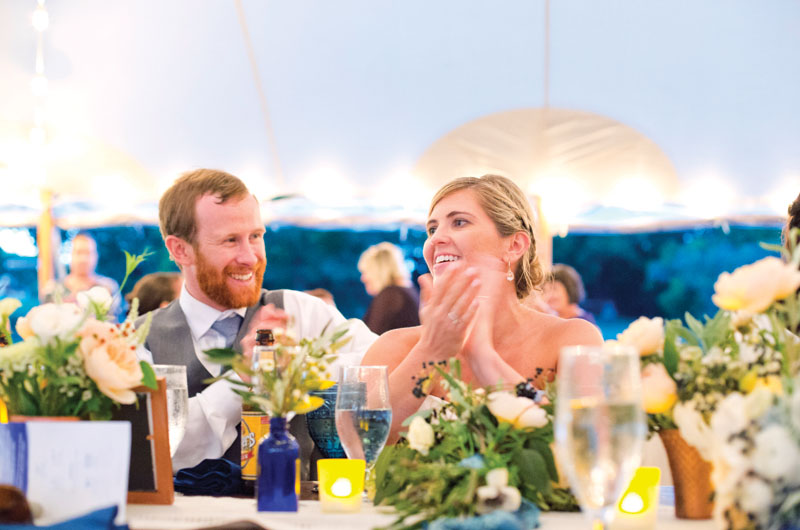 Details
Day-of Coordinator: Kelsey Berry Event Company
Photographer: Kristen Leigh Conklin
Caterer: Kitchen Porch + Martha's Vineyard Spearpoint Oysters
Cake: Val Cakes
Music: Island Thunder
Flowers: Tea Lane Farm
Tent + Party Supplies: The Allen Farm Sheep & Wool Company + Big Sky Tent & Party Rentals
Transportation: Bluefish Taxi
Hair + Makeup: Lizzy Kent
Gifts + Favors: Chilmark Chocolates + Martha's Vineyard maps + Good Night Martha's Vineyard book
Libations: Island Source + Jim's Package Store + Island Market
Guest Accommodations: Beachcombers of Martha's Vineyard + The Duck Inn + The Outermost Inn + Totem Pole Inn
Rehearsal Dinner: Aquinnah Shop Restaurant
Honeymoon: Maine + Puerto Rico