If it were up to Molly Ryan alone, she would have eloped and married Brendan Reich somewhere intimate, or at least private – Italy or even city hall. But Brendan is a social kind of guy, "never one to shy away from a celebration," according to his now-wife. Their relationship began at one of the most raucous tailgate parties in the country, the Grove at the University of Mississippi, so Brendan had some compelling reasons for wanting to commence their marriage with a jam-packed, multi-venue, weekend-long celebration.
In the end, it wasn't too difficult to persuade Molly, who spoke sentimentally about having Brendan's aging grandparents in attendance. And once she was in for a big bash, she was all the way in. "I figured if we were going to go big, we'd go really big," she said.
Besides, the couple had spent much of their two-year engagement trekking between Houston, Texas, where Brendan works as a commodities trader, and New York City, where Molly was working on her master's degree in marketing. Because of their hectic schedules, they knew that when the wedding finally arrived they would be almost as excited to reconnect with friends and family as they were to tie the knot.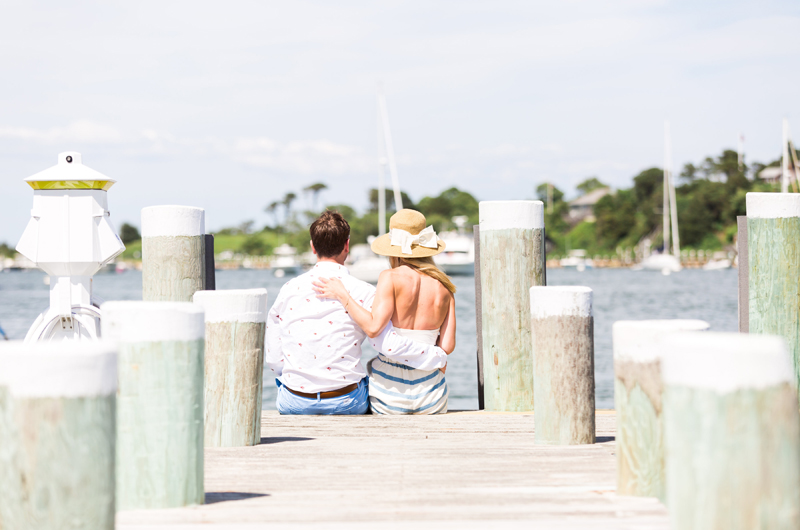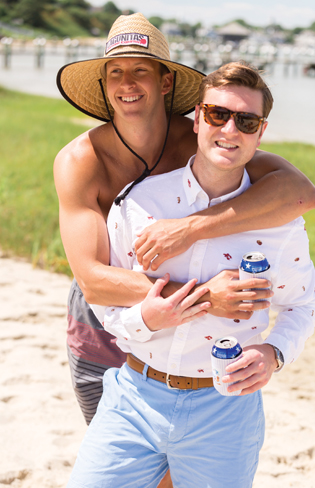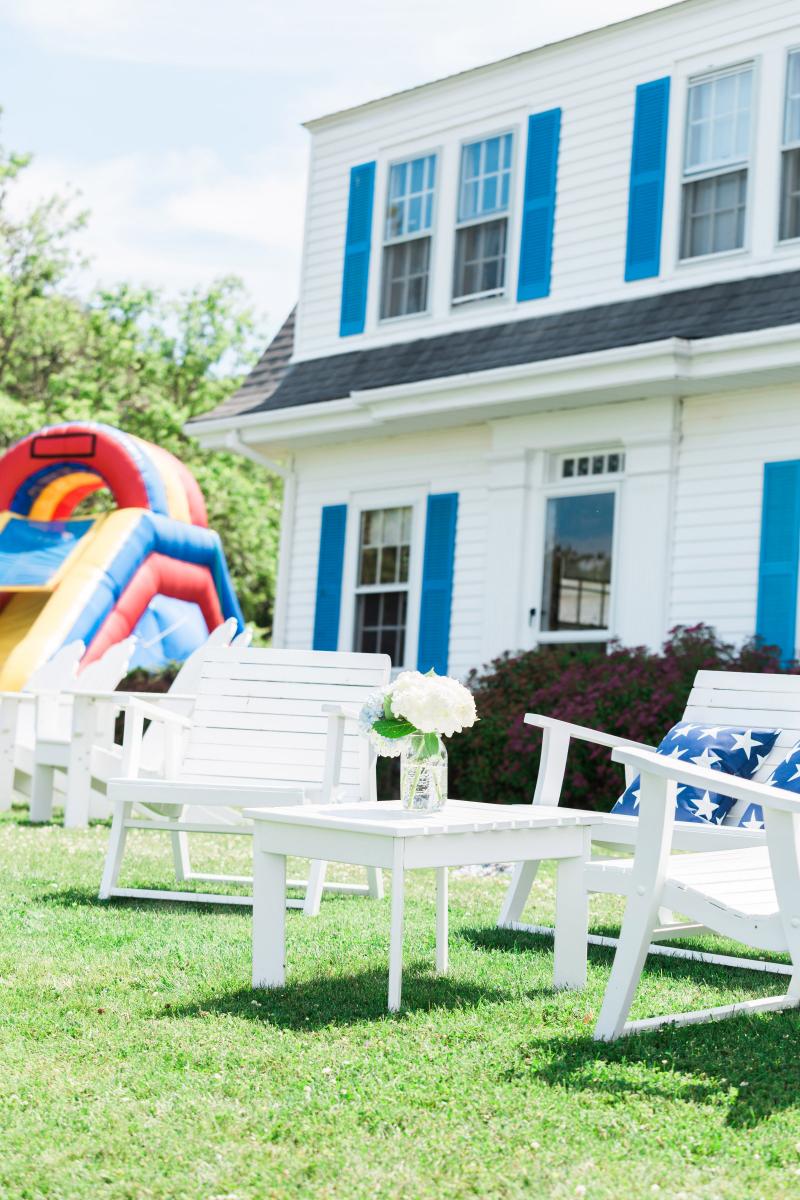 With that in mind, they set the wedding date for Sunday, July 3, 2016, knowing that their guests would have the Fourth of July off from work, giving them four full days to eat, drink, and celebrate. Setting the wedding on the Vineyard was also an easy choice. "It was the perfect location for us to make it intimate and tailor the celebration in ways that were meaningful to us," said Molly. The Island was the first vacation the pair took as a couple, and though they've spent time on Nantucket as well, Molly finds this island to be the "friendlier" one. "Martha's Vineyard's spirit is more in line with ours," she said. "Relaxed and happy."
Their vision for the mini-getaway took shape around their favorite Island memories – lazy days at the beach, pit stops at the Katama General Store – and thenotion of endless summer days with no shortage of downtime. But in reality, the schedule for the extended wedding weekend would be jam-packed, with events starting on Thursday and wrapping up Monday morning. Veteran Island wedding planner Joanna Fairchild was brought onboard to put the many moving pieces into place.
It was a big undertaking, said Fairchild, but not a unique one. She has fielded requests for multi-day events more frequently in recent years, and has seen an increase in requests for add-ons to the traditional one-day wedding celebration, from welcome parties to farewell brunches, plus any number of variables in between. "Couples are definitely looking to extend the entertainment piece," she said.
And Fairchild isn't alone. "The business has definitely evolved," said Jackie Kane, a wedding planner and officiant who specializes in intimate gatherings and elopements. Despite concentrating on the smaller end of the Vineyardwedding industry, she's also noticed an uptick in requests to turn a wedding day into a wedding weekend. "I might organize a bike tour, a sailboat rental, or dinner reservations," Kane said.
Fairchild sees the extra activities as a sort of reward for guests making the trek to the Island, frequently for the first time. "It can be so hard to get here!" she said. "Often people are booking the hotel and the ferry a year in advance, so it's nice to treat them to the Island when they arrive."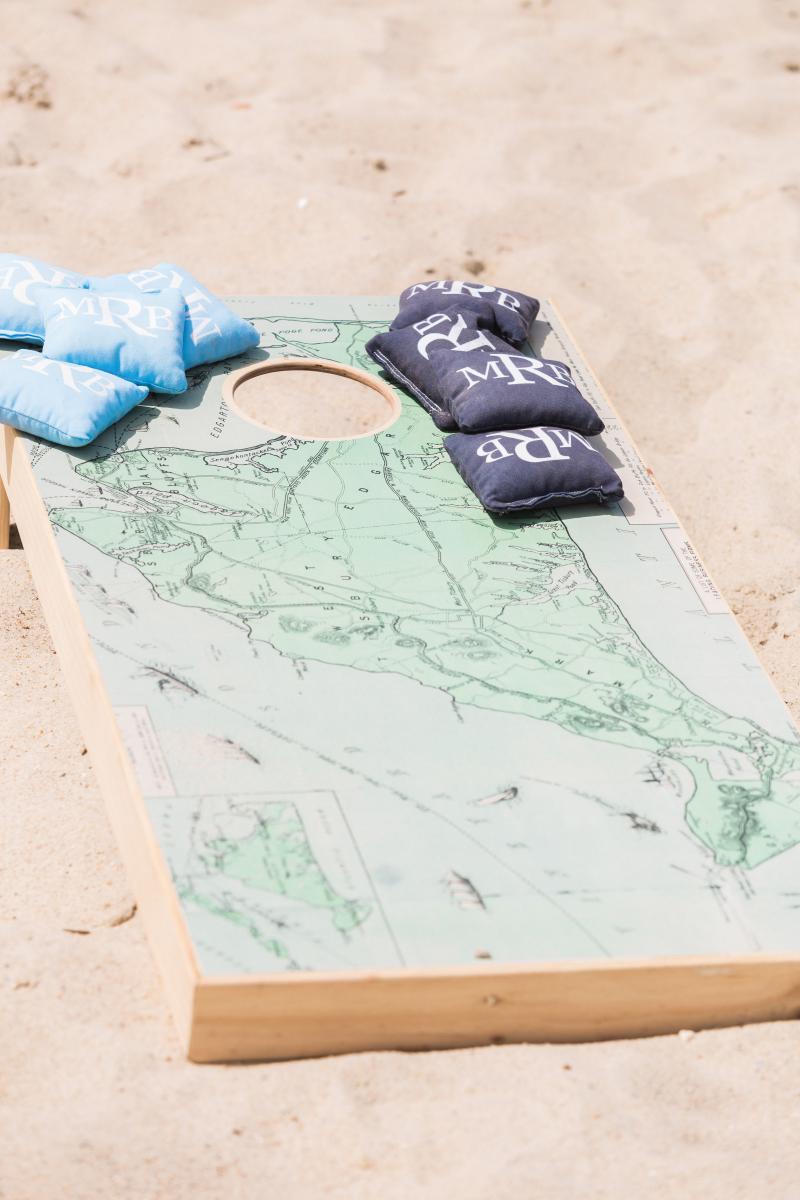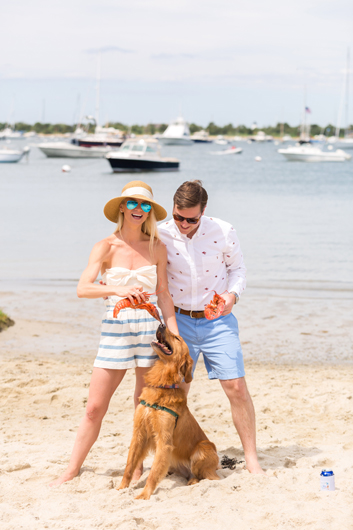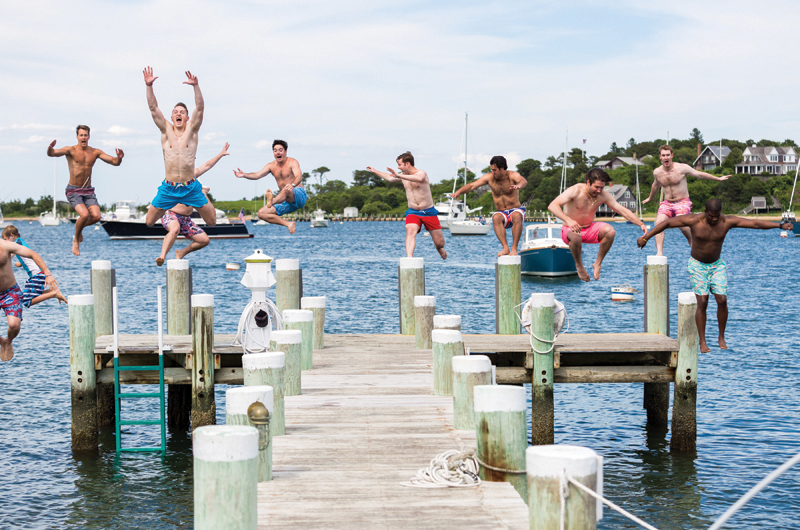 Which is just what Molly and Brendan did. Their celebration began on Thursday night with a fully catered sunset sail aboard the catamaran Mad Max for anyone who was already in town for the wedding. "It was foretelling of the laid-back party vibe the weekend would bring," Molly said. On Friday the groom's family hosted a combined welcome party and rehearsal dinner at Atria, one of the couple's favorite Island restaurants.
Saturday was meant to be mellow and relaxing before the big event, with a traditional New England–style clambake at Chapeda Hill, a spectacular Edgartown harborfront property that Molly and Brendan rented along with her brother and sister-in-law. "It was so nice to have a day in between," said Molly. After the clambake there was an understood open-door policy. Guests were free to come and go, to lounge in the water on oversized pool floats, play a game of corn hole, or bounce in the rented bouncy house.
On Sunday came the main event: an intimate wedding ceremony at the Federated Church, followed by a tented reception at a private Edgartown residence.
In keeping with the friends-and-family theme of the weekend, Molly and Brendan's wedding was full of personal touches. In their hotels and rental houses, guests were greeted with Fourth of July–themed welcome boxes containing red, white, and blue Skittles; MV Sea Salt; and La Croix sparkling water. At the church, Molly and Brendan's beloved dog, Tessie, escorted by Molly's nephew, laid at the couple's feet. Tessie also made an appearance on a custom crest – the work of three separate designers – which was reprinted on koozies and coasters.
After the ceremony Molly surprised her groom and guests with Edgartown's first-ever "Third of July Parade." Led by the Joanne Cassidy Band, guests marched a half-mile down the road to the reception site. There, they found escort cards created by Molly's nieces, the flower girls, and dined on foods reminiscent of all the places Molly and Brendan have lived together – spicy Southern fried chicken was a favorite, she said.
They finished off the evening with an ice cream bar, Back Door Donuts, and a homemade lemon blueberry cake made by the maid of honor's father. Plus, a little raucous fun. By the end of the night, the champagne was flowing and many of the guests had changed into their bathing suits, creating a scene to rival the tailgate party where Molly and Brendan met.
The following morning, the newlyweds said goodbye to their guests with a much needed recovery brunch on South Beach in Edgartown. Blue Crab Kitchen pulled a trailer beachside and served guests lemonade, iced coffee, lobster rolls, and breakfast sandwiches. And, because the newlyweds couldn't resist yet another celebration, they had cupcakes to celebrate Brendan's birthday.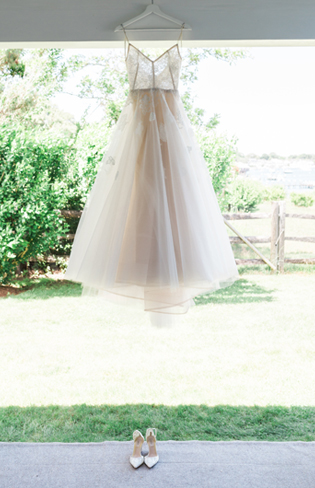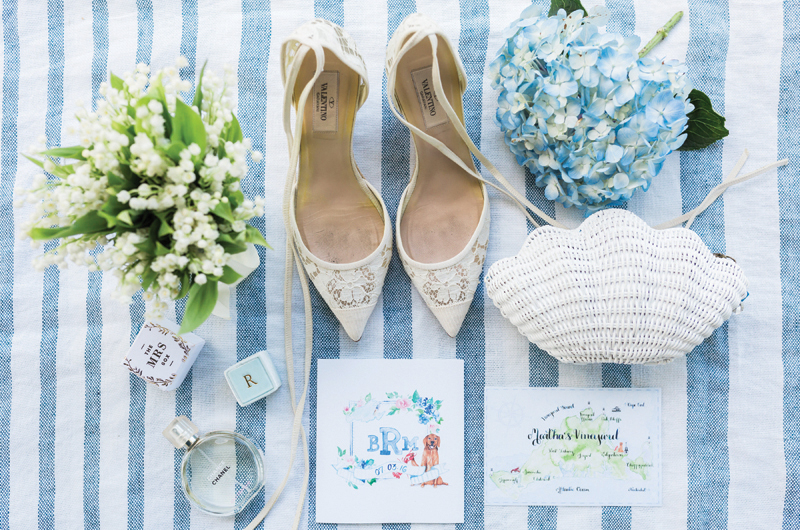 ​____
The trend of expanding one's wedding into a multi-day event isn't a new one, nor is it unique to the Island. But in many ways, experts say, the Island is particularly suited to keeping guests maximally entertained, with plentiful options for lodging, sailing, beaches, and games of golf. Sometimes the guests may be unfamiliar with the Vineyard, and the bride and groom want the chance to show off their favorite activities. Frequent Island visitors, on the other hand, might use the time to revisit their favorite spots.
No matter what the situation, spreading out the celebration over several days can have the added benefit of maximizing time with guests – as Molly and Brendan found out – which helps to overcome the often-repeated complaint that, after months of planning, a wedding day goes by in a flash. "Saturday was one of my favorite days," said Molly of their day-before clambake and beach party. "It didn't go by as fast as it could have."
While couples have long made their Martha's Vineyard weddings into mini-vacations, the difference now is that couples are planning and budgeting for it, said Patrie Grace, who has been coordinating weddings on Martha's Vineyard for thirty years. Grace understands the desire to entertain – and maybe show off the Island to the guests who have never been here before. "It's lovely when people want to go that route," she said, "and it can be done in many ways. The Island is so hospitable."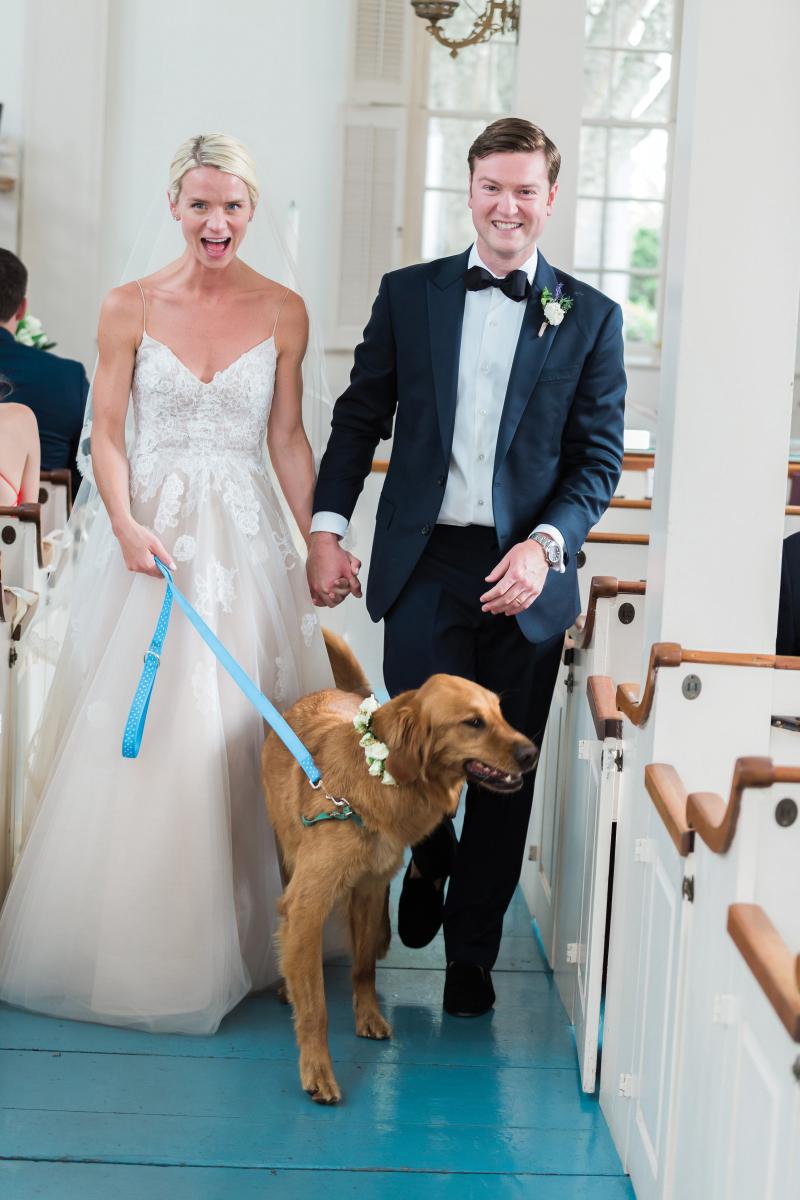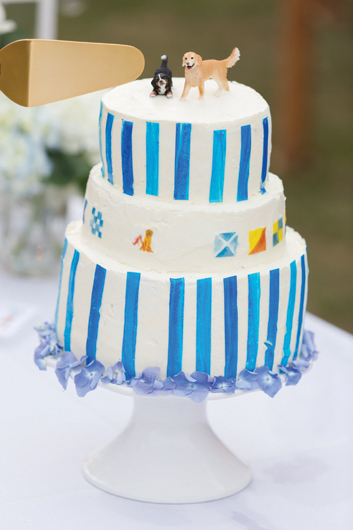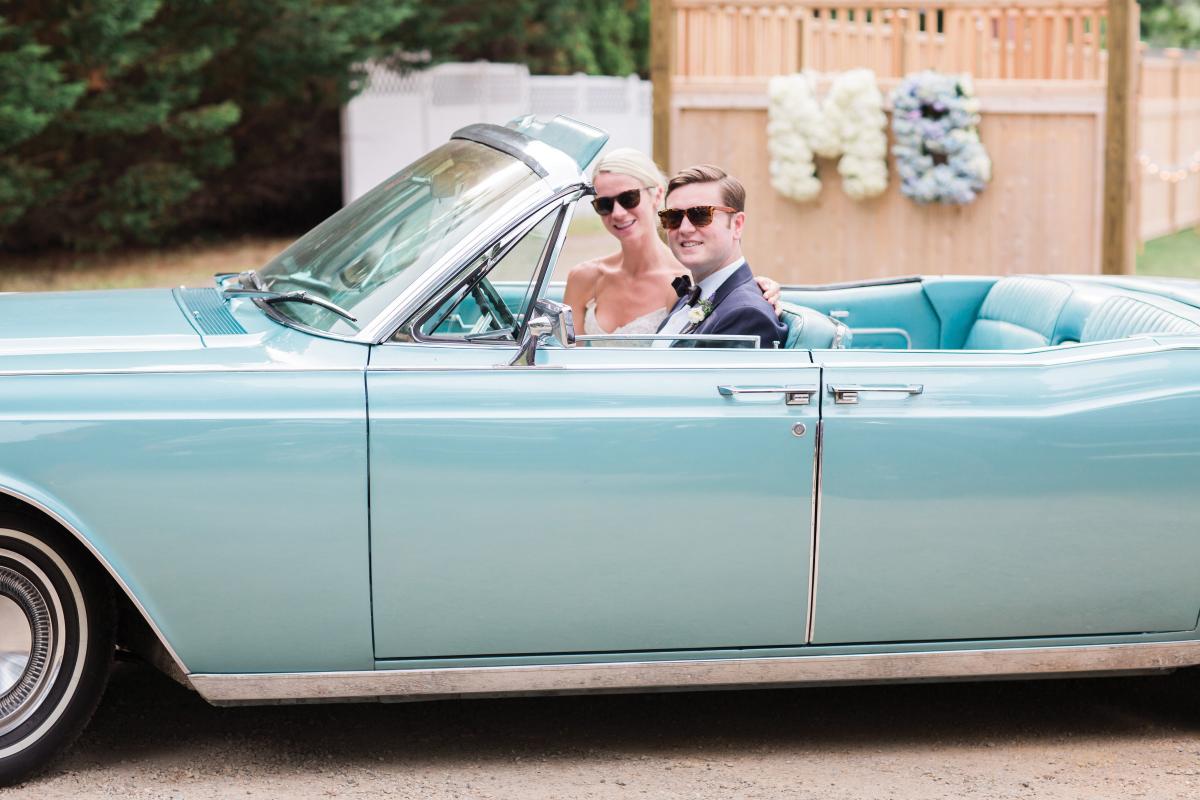 This year Grace said she pared back on coordinating day-of events, instead focusing on multi-day celebrations. "They're multi-layered," she said, "and it's a lot of coordination with transportation and who gets invited to what, but these events are fun, with different menus and venues all weekend." Event planning has also helped her hone a very particular skill set. "I've gotten really good at figuring out who is going to actually show up to which events."
Wedding photographer Jocelyn Filley has also seen a professional benefit to multi-day itineraries. In the past five years she has been hired more frequently to photograph welcome parties, rehearsal dinners, and brunches in addition to the main event, which she finds helpful in documenting a couple's wedding. "It gives the backstory," she said, "and it helps me intuit important relationships." She's found that brides, grooms, and their guests are more comfortable with her presence at the wedding when she has already been snapping photos at events leading up to the big day. "It helps me be more invisible," she said.
Filley was so taken with the idea of a weekend-long event that, for her own Island wedding in 2014, she and her husband, Graham Houghton, hosted a three-day celebration with events spanning the Island from Chappaquiddick to Chilmark. In the days leading up to their wedding at a farm on Middle Road, there were cocktails at the Dr. Daniel Fisher House in Edgartown and a rehearsal dinner in the greenhouse at Slip Away Farm on Chappaquiddick. After the wedding, brunch was served at a family home on Chappy. "It's a good way to see more of your guests, given the effort it takes to get here," she said. "And it's probably the only time in your life that all of these people will be together."
Filley's wedding followed what Grace describes as the most common weekend-long schedule: a Friday night welcome/rehearsal dinner, Saturday wedding, and Sunday brunch. "People love the Sunday brunch," said Grace. "They love talking about the night before and getting a chance to say goodbye before traveling."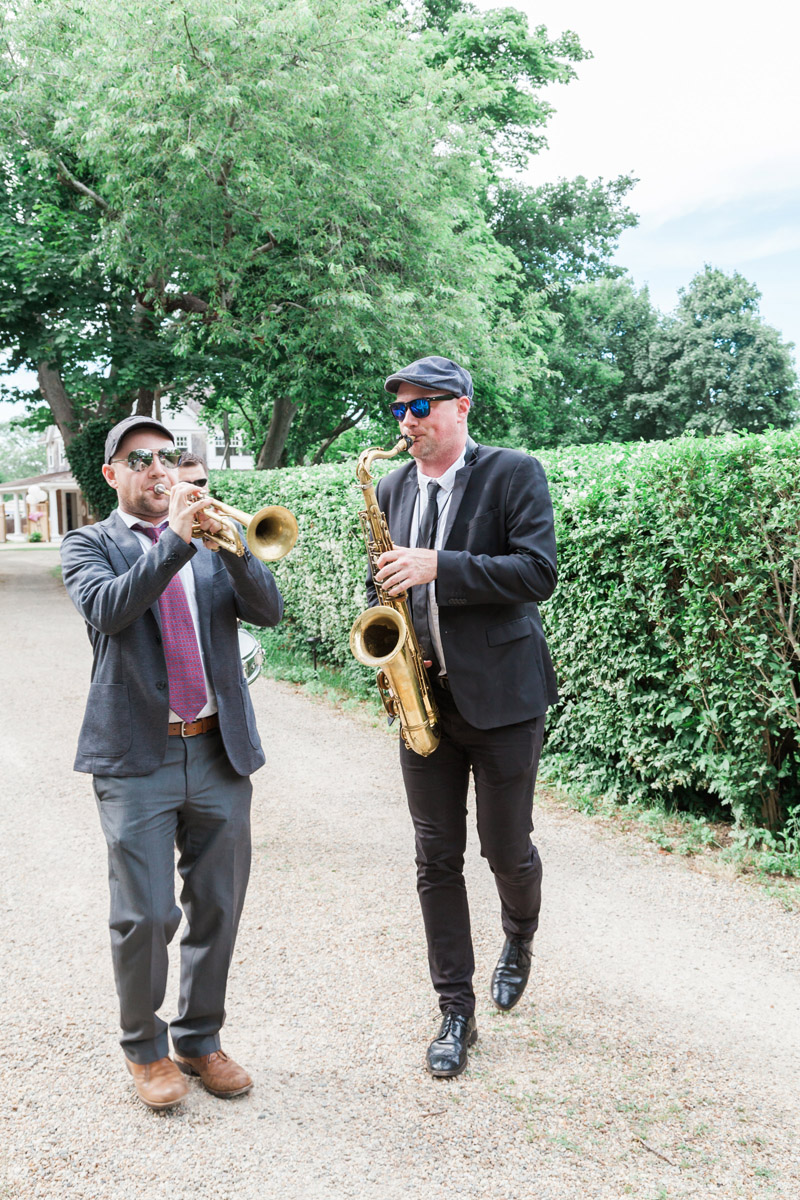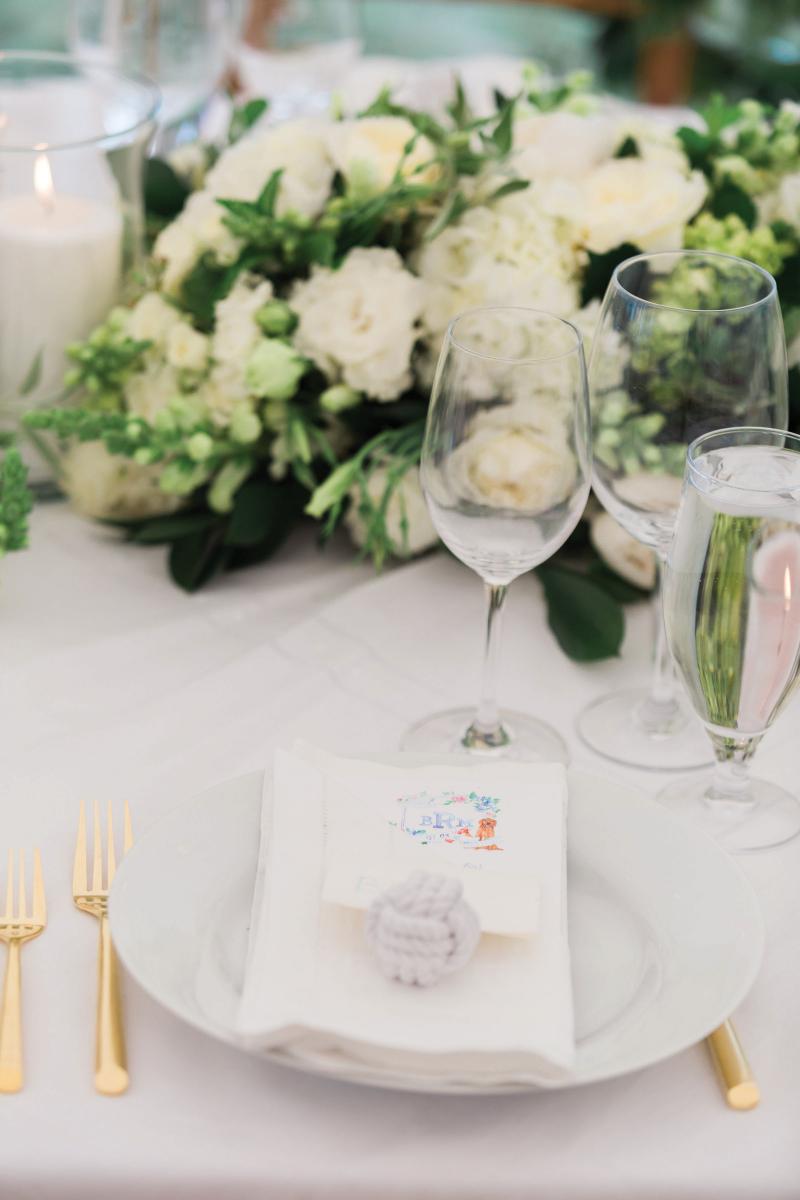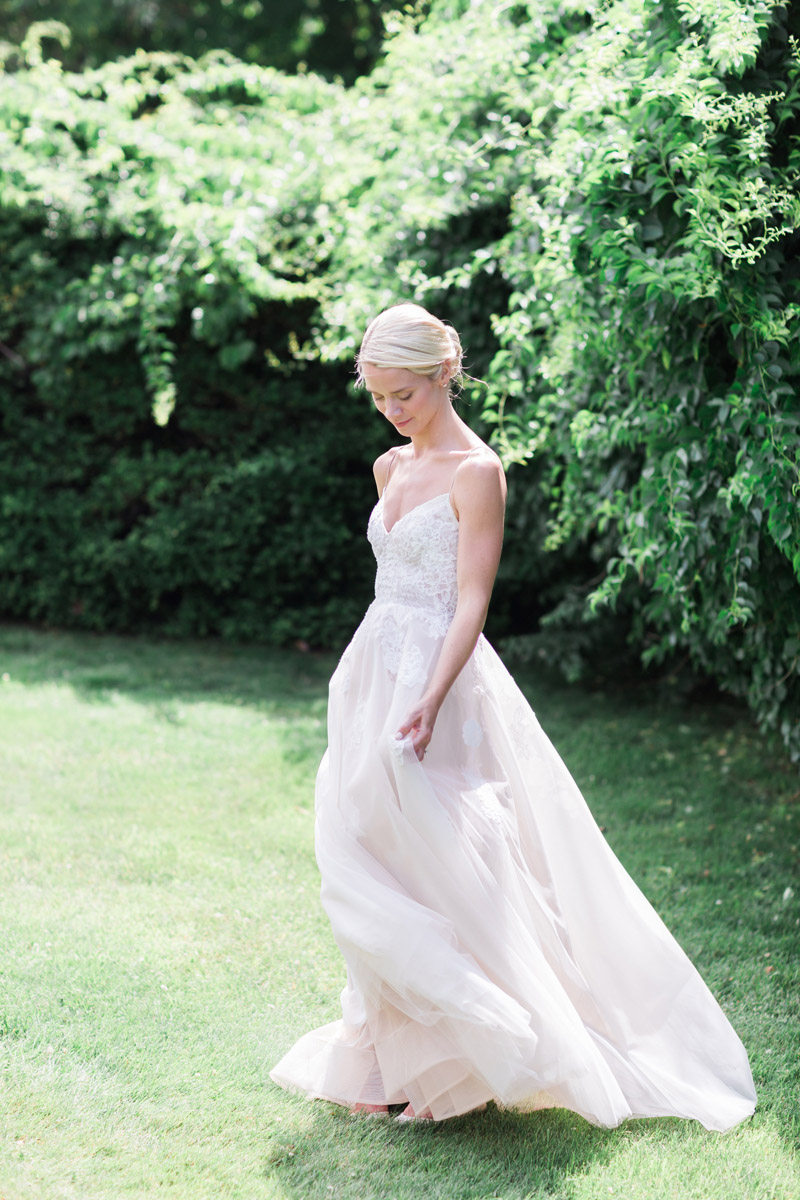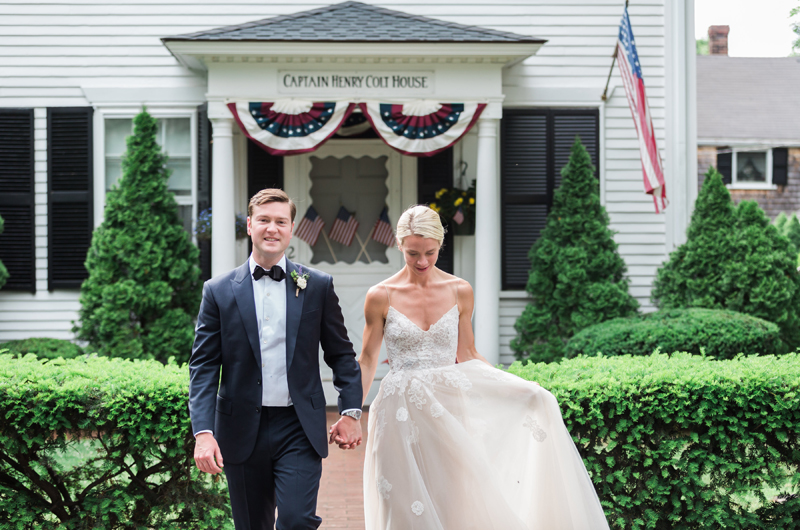 But occasionally, Grace said, couples with a grander vision for their celebration – and a bigger budget – opt for more: Jeep rentals, bus tours, fishing charters, tee times, and in the case of Molly and Brendan, a New Orleans–style march down Main Street, plus a sailing charter, a welcome party, a clambake beach day, and a brunch.
Grace has organized cocktail parties aboard sailboats, a tapas dinner at an art gallery, picnic lunches on the beach, and for one active couple, a three-mile run on State Beach followed by coffee, juice, and snacks, complete with custom T-shirts featuring a logo of the couple.
"I just try to really listen," she said of her method for bringing all the pieces together, "then come up with an idea to reflect the couple, make it personal so it's not just another wedding."
For Molly and Brendan, who wanted to maximize their time with family and friends, an extended wedding weekend did the trick. But so much excitement in such a short time has its drawbacks. "We were lonely when everyone left," Molly said with a laugh. Still, a quiet week at Chapeda Hill with Tessie the Golden Retriever and nothing to do but reminisce about the best party of their lives was a solid way to ring in forever.