Late-April flowers on the Vineyard will always bring a smile to Robyn Athearn's face. The tulips she planted bloomed early the year she married Simon Athearn at his family's Morning Glory Farm in Edgartown. The forsythia brightened the farm stand and the fragrance of hyacinth hung in the air.

"Now every year I can't help but look forward to seeing those flowers dot the landscape and have the memories of that moment fill my heart," she said.

For Athearn, wedding flowers grown in Vineyard fields can act as a time capsule. "They keep notes for you about what time of year you got married. One year you can have a perfect, slow lilac season, watching them bloom from town to town over several weeks. Other years they seem to all fry up in the heat over a single weekend. It's never exactly the same."

Since taking over Morning Glory Farm's flower program five years ago, Athearn has helped some thirty couples achieve that same fresh-from-the-field, time-capsule effect at their own weddings. And she's not alone. Across the Island, a small group of florist-farmers is crafting bouquets from almost entirely Island-grown blooms.

Call it an extension of the farm-to-table concept so popular at weddings right now, or just a celebration of all that the Island has to offer. Whatever the motivation, locally grown flowers can lend your wedding a signature "Vineyard" style, said Krishana Collins, owner of Tea Lane Farm in Chilmark.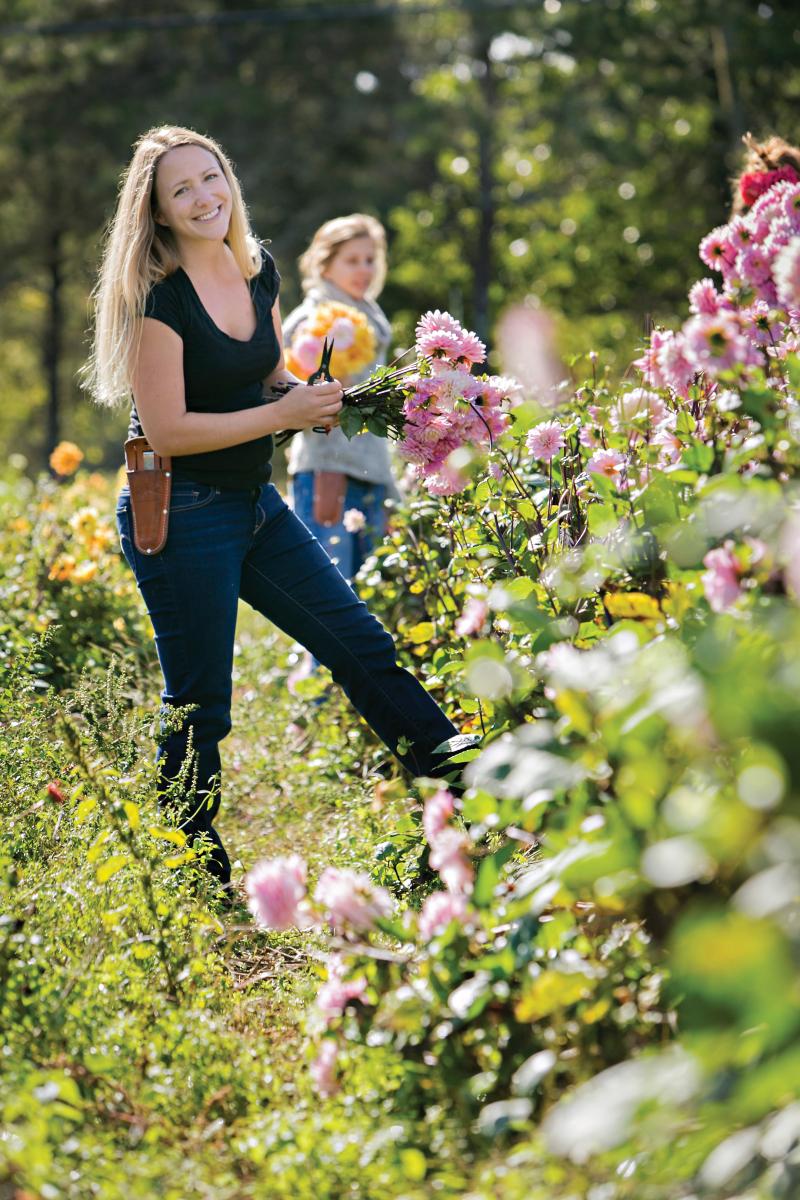 A leading florist and flower grower on the Island, Collins provided the flowers for an estimated thirty to forty weddings this past year. Her work included everything from full-scale disco ball–inspired centerpieces and fruit garlands to single stems, all in her signature loose, organic style. (For examples, see the real wedding on page 20.) In recent years, her arrangements have twice been featured in Vogue.
"When you're designing your bouquet, it starts when you order the seeds," said Collins. "You see all the different stages of life. You're not just thinking about the flower, but the stems, the leaves, the structure, and how it grows." Industrial flowers don't have that effect. "You're going to get all straight stems that are absolutely perfect, and what you don't get are the beautiful things that happen in nature when they curve and twist and lean and all those things that create structure."

"We love the challenge of brides coming to us and saying, 'Can you put disco balls on the table?'" said Collins. "I love working in collaboration with brides and other people on their ideas."

Just up the road from Collins at North Tabor Farm, the brides are fewer in number but equally desirous of a Vineyard-specific look, with all its idiosyncrasies and twists and turns. North Tabor co-owner Rebecca Miller said couples seek her out for her "very loose and textural" colorful bouquets, which she also offers for sale at her roadside farm stand, the West Tisbury Farmers' Market, and Cronig's Markets. Her designs, she said, draw inspiration from the farm and surrounding woods. "I have a lot of things growing on the property that add to that, like twisted hazelnut trees, grasses. Just having a farm by nature gives me a lot of interesting textures to work with."

"If they're getting married on the Vineyard, they want this Vineyard feel – the seasonal colors and flowers, especially if they're coming to me."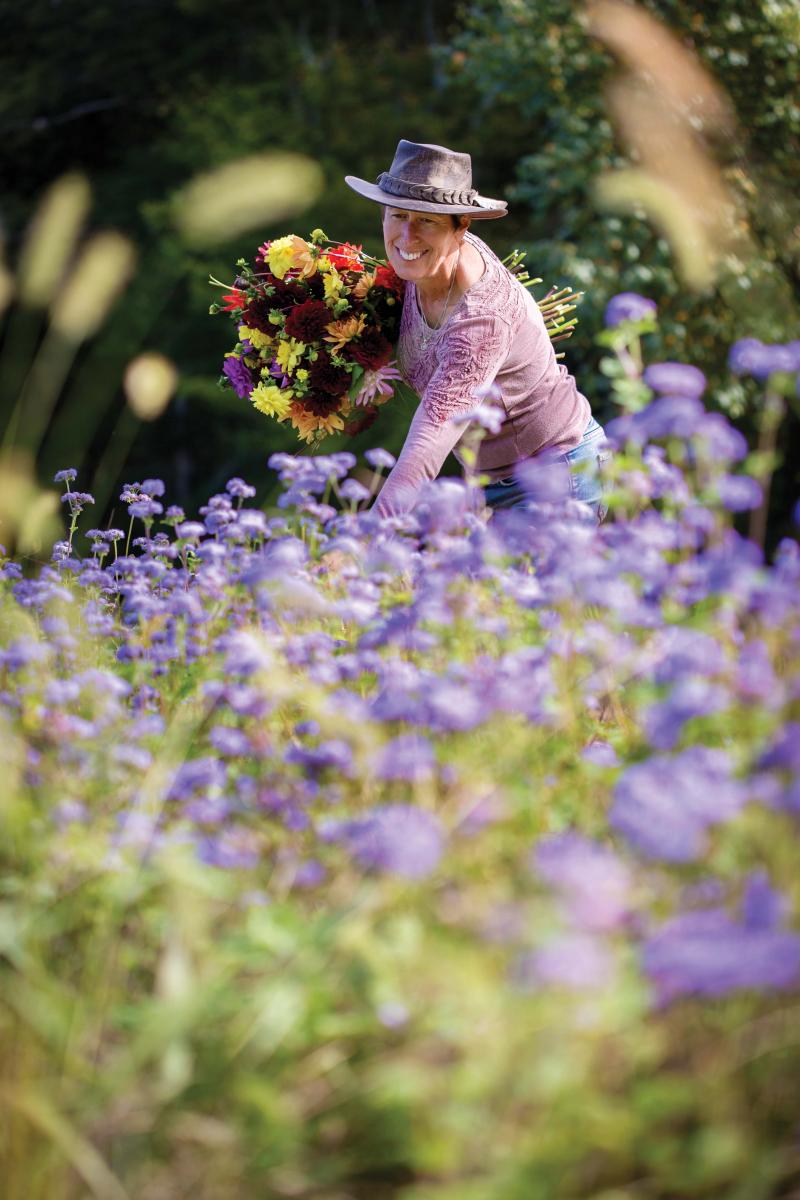 Most every wedding bouquet is the product of time and attention to detail. First, you need to find a florist whose style and budget matches your own. Next, you need to convey the style of bouquet you'd like, the colors that you plan to feature at your wedding, and possibly the specific blooms you'd like your florist to use. In all, the process can take several months, allowing the professionals plenty of time to plan and procure the flowers. (Booking further in advance is advisable since vendors' schedules can fill up fast.) But if you're in the market for a farm-fresh bouquet, the process can take even longer, as planning often must begin before the seeds are in the ground.
For Collins, the busy wedding season kicks off in March, when she begins seeding plants with help from her team of growers/arrangers. Each of her helpers does double duty in the studio and the fields, allowing them to gain a full understanding of the farm's operations and the flowers' origins. It can be an all-consuming job. Collins currently grows zinnias, cosmos, lilies, and hundreds of varieties of different specialty flowers on four acres, including seventeen varieties of clematis. Recently she's also been experimenting with unconventional cut flowers like begonias. Every flower variety requires special attention, from light needed for germination, temperatures, and watering techniques. By late spring the seedlings are transferred to the fields and planted in multiple successions to ensure a variety of flowers throughout the blooming season. But the work has only just begun.

At North Tabor Farm bouquet selection typically begins a year in advance, with a walk through Miller and husband Matthew Dix's six-acre property. "Couples can come and walk around the farm and really see and be a part of that," she said of her fields that light up each year with vivid zinnias, scabiosa, nigella, lilies, dahlias, grasses, lilacs, celosia, and lisianthus. (The latter is "a great flower because it's a dressed-down rose and you can use it in so many forms.") Nearby, rows of fruits and vegetables, and even some shiitake mushrooms, also grow.

The initial visit allows Miller to gauge a couple's preferences, and to showcase her own style. "I want them to be happy and I put a lot of energy into what it is that they want. I always say we'd like to grow as much as we can," said Miller. In fact, if you ask ahead, she may even grow special requests. "That's really nice as long as we can grow it in our area."

In addition to full-scale arrangements, Miller offers buckets of flowers for couples who want to take a DIY approach. Stems are harvested just before the wedding day by a small crew of experienced pickers and arrangers, including her daughters.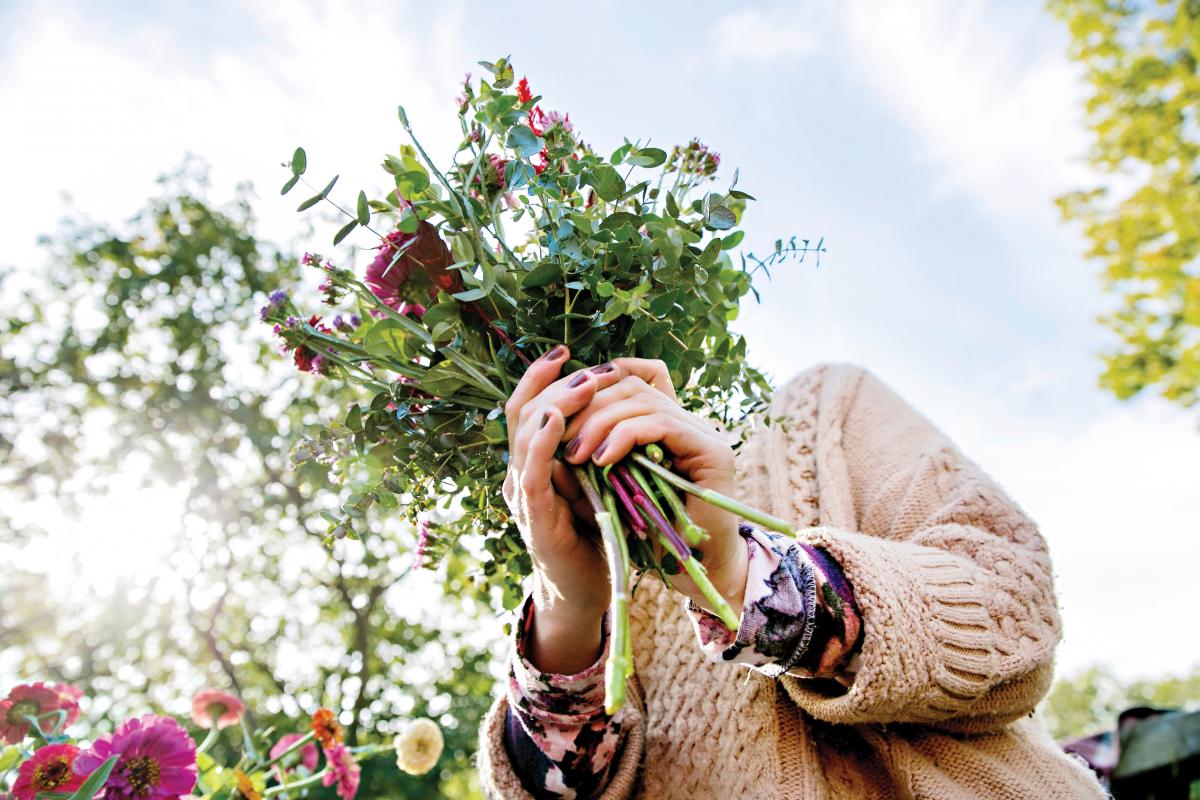 Like Collins, she emphasizes the importance of collaboration. Though vessels are included in the price of her bouquets, for instance, she's open to couples' participation. "Often they might find vessels and they'll drop them off," she said, "that way they'll be a part of putting it together."

Recently, Miller said, she's seeing more grooms coming to the table, bouquets in lieu of corsages for moms, and more color. She's also been making petal cones, hung along the aisle at the end of the rows and filled with flower petals. "There's a lot of color in there so guests can pass them down and throw them at the couple when they're walking down the aisle. That seems to be popular right now."

With all things, planning is key. Pinterest makes planning and coordination much easier, she said, allowing both the couple and the farmer to share interests. "I say, send me pictures of things you like – and it doesn't even have to be flowers, just so I get the essence of who you are. They might be intimidated because they don't know the name of the flowers, but they shouldn't be afraid to share things they like. Even if they are photographs of things in nature that are beautiful to you, be clear about getting what you want."

On a warm late September afternoon, long after the lilacs and tulips had disappeared, Molly Flam, who manages the Morning Glory flower crew with Athearn, stood outside the farm stand bunching flowers of all shapes and sizes. Some were whimsical, others fierce with bright oranges and reds, even more sunflowers bouncing their heads.

The Edgartown farm grows about three acres of flowers, with 177 different varieties. These are "happy flowers," said Flam; they receive plenty of love in sprawling fields.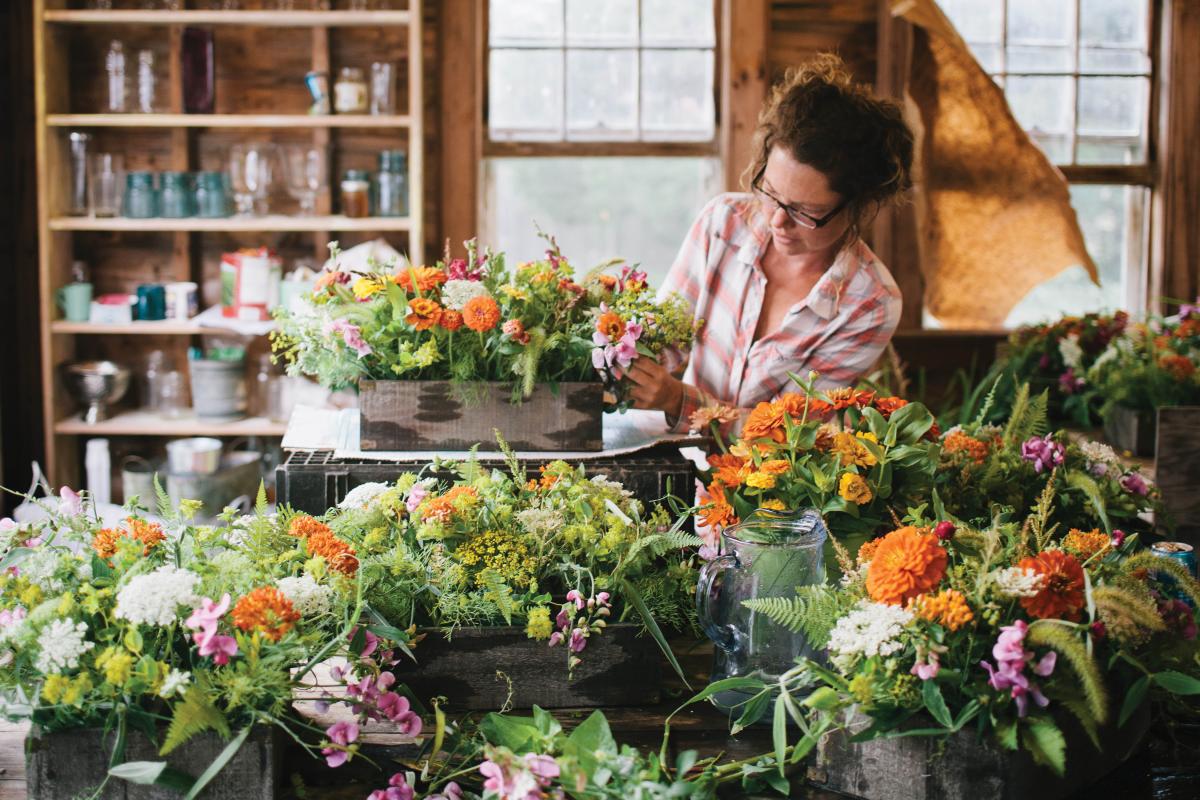 Flam and Athearn take on a handful of weddings each year, but primarily offer buckets of flowers for couples who want to arrange them themselves. (For examples of their flowers, see the real wedding on page 16.) In the future, said Flam, they hope to increase the number of weddings they work on. "I would love for all of the weddings on the Island to be local flowers in September."

Couples can ask Flam for certain colors or specific flowers, as well as categories of flowers for different uses – filler flowers, show flowers, accent flowers, spiky, and the like, she said. The key to a good bouquet is getting "the right texture. I always say you want your bouquet to be balanced, not symmetrical, and composition over color. Color doesn't really matter as long as the shape and composition looks good, because everybody likes different colors."

That's a good thing, because as Athearn has learned in her observation of lilacs, exactly what's in bloom can vary from year to year, or even week to week. May and June can be especially difficult months for all-local bouquets, since most Vineyard flowers don't fully produce until the warmer weather sticks around for good – usually in July.

Collins, for one, staves off problems of unpredictable weather patterns by regularly supplementing her bouquets with picks from the weekly Boston Flower Market, a giant vendors-only resource where most local florists buy their flowers. There she can also purchase flowers that are unable to be grown on the Island. Collins leaves the Vineyard Tuesday in order to arrive at the market by 5 a.m. the following day to hand-select the flowers, match colors, and "make sure they're the healthiest and the best."

Miller also makes occasional Boston Flower Market trips, but Flam and Athearn do not. That means that if a particular flower isn't available at Morning Glory Farm when your wedding day rolls around, a substitution may be necessary. Flam recommends calling the farm a week or two before the wedding to see what's available, making it an especially suitable choice for brides who court spontaneity.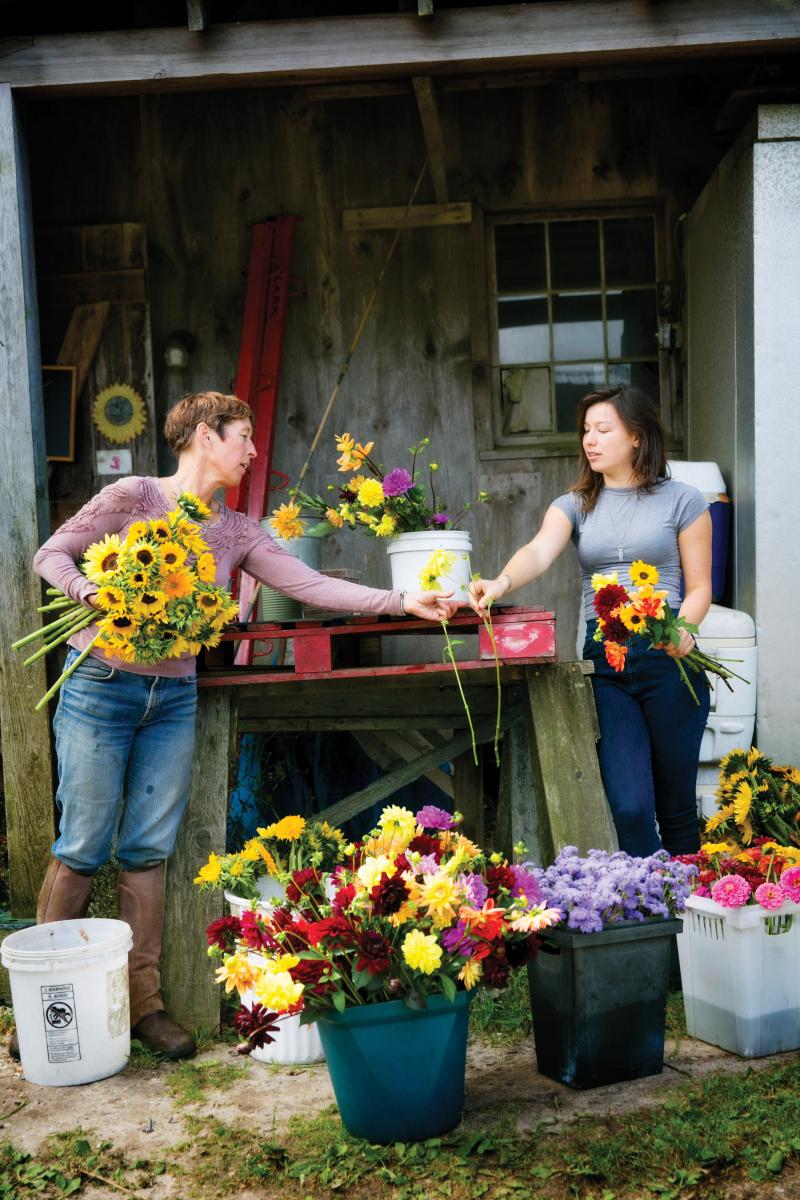 For those who prefer not to live on the wild side, any of the Island florists can handle your needs. Not only are they able to recreate a Vineyard meadow look using their traditional stock, but whenever possible many florists are happy to fill their bouquets with flowers from their own gardens or to source from another Island grower. Some even do so as a matter of routine.

Whatever the preference, whatever the method, Collins tells her brides to relax and trust that the experts have everything under control. "This is a process of you and your fiancé presenting to your guests who you are. Inviting them to the Island to have this wonderful experience – that's a beautiful thing. It's a process and a ritual," she said.

In other words, take some time to smell the roses on your special day – or the tulips, or lilacs, or whatever else happens to be in bloom and in your bouquet.

"We really know flowers; we know them so well inside and out and it's very specific to the Island because of that," said Collins. "We're paying attention to everything else that is happening at the same time. If you get married in Aquinnah, we can use rose hips and viburnum and it looks like Aquinnah on the table.

"When someone gets married and, say, the autumn clematis is blooming, then every year that they are here and see the autumn clematis bloom, they think: 'that was part of my time.'"