August 30, 2014
Ceremony + Reception: Menemsha Inn & Cottages + The Beach Plum Inn & Restaurant

Elizabeth McGuinness and Colin Porter spent a lot of time on the Vineyard during fifteen years of dating. They live in Brookline, Massachusetts, but had no doubt they would be married on the Island. "Colin and I knew exactly what we wanted, from the big things to the tiny details," says Elizabeth. They created a website for guests with information about the all-in-one celebration that would have the ceremony, reception, and accommodations in one locale: Menemsha, "the heart of our Martha's Vineyard."

For their wedding theme, Elizabeth and Colin wanted to draw from the colors and landscapes of the Island, and to convey an old-fashioned charm. Colin designed the invitations, and they used vintage stamps on the envelopes. Antique doors formed the entrance to the outdoor cathedral, ladders were adorned with flowers, and guests were given packets with lavender seeds to throw in lieu of rice. "It was the whole tableau, all the parasols up, and walking through the doors and down the aisle," Elizabeth says of the setting. "Colin standing there in front of the archway. It just blew me away."
The couple's dog Shrimp carried the rings (passed down from Elizabeth's maternal grandparents) in an English-style fascinator made by her brother Trevor. He also made Elizabeth an origami bouquet for the rehearsal from shower-gift wrapping paper. More DIY elements were driftwood table cards, a groom's cake made of Coca-Cola bottles with Coke-bottle cake toppers, hand-painted favor tags, king and queen chairs, and "getaway" balloon lanterns with trails of cans. Farm tables for the reception were set with mismatched vintage china, quahaug-shell candleholders, and flowers in mason jars. As a surprise for Elizabeth, Colin commissioned a friend to create a large, paper half-moon and secretly set it up outside the reception tent.
Dessert was held on the lawn, to the sound of old 78-rpm records playing on an antique Victrola – also the bride's maternal grandparents', transported to the Island from her brother's Brooklyn apartment. The perfect end to a perfect Vineyard wedding day. "It's like everything you hope in your mind will happen, and then it happens," Elizabeth says. "It was so beautiful."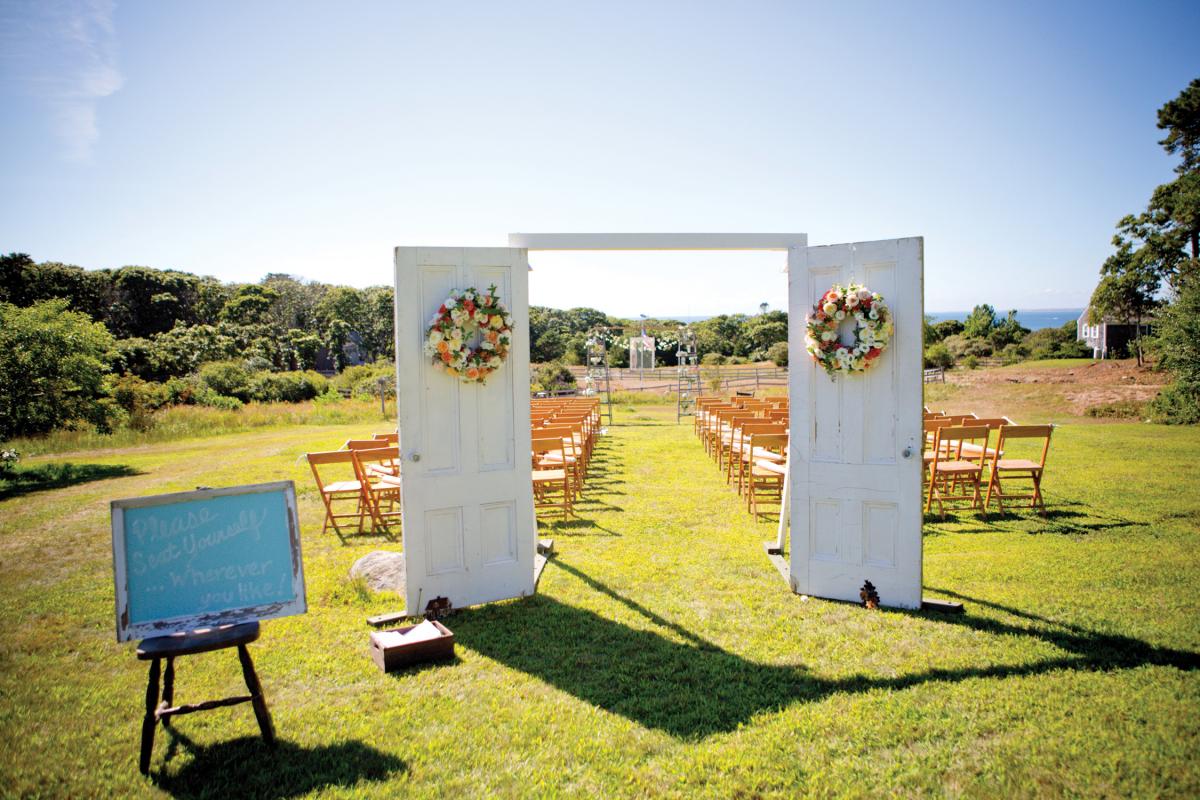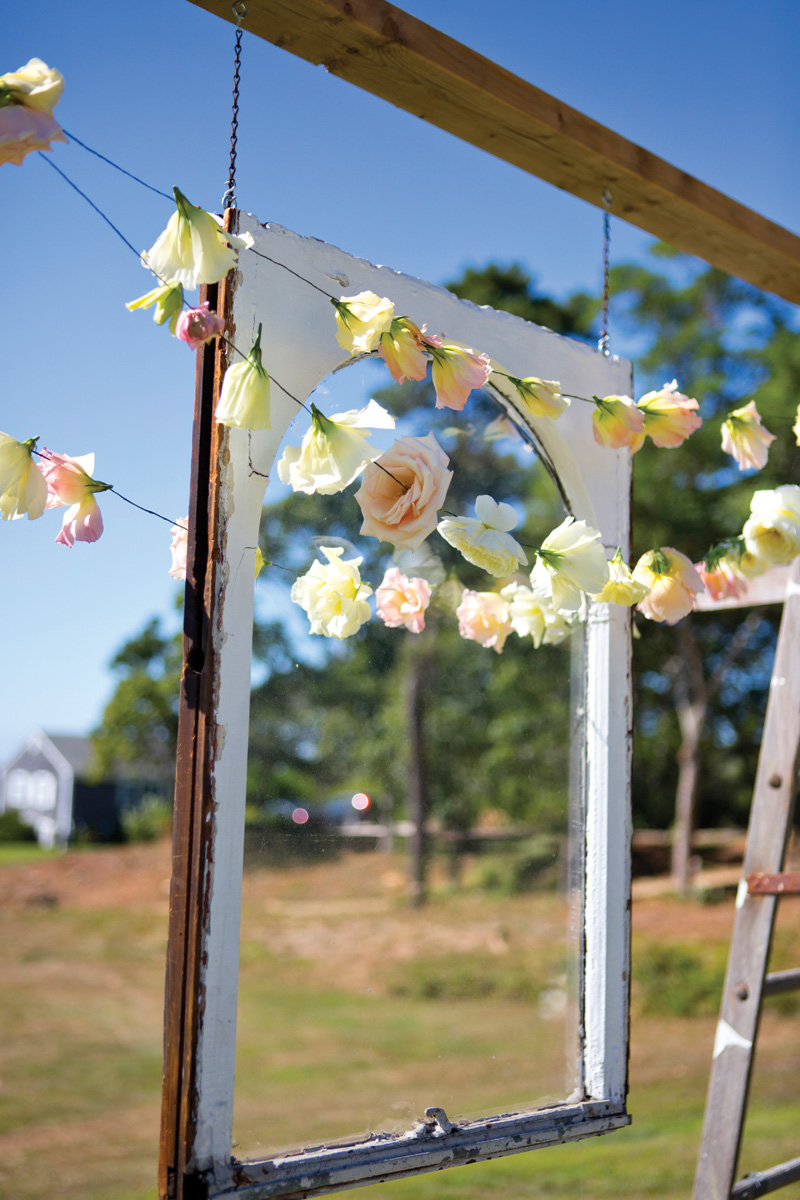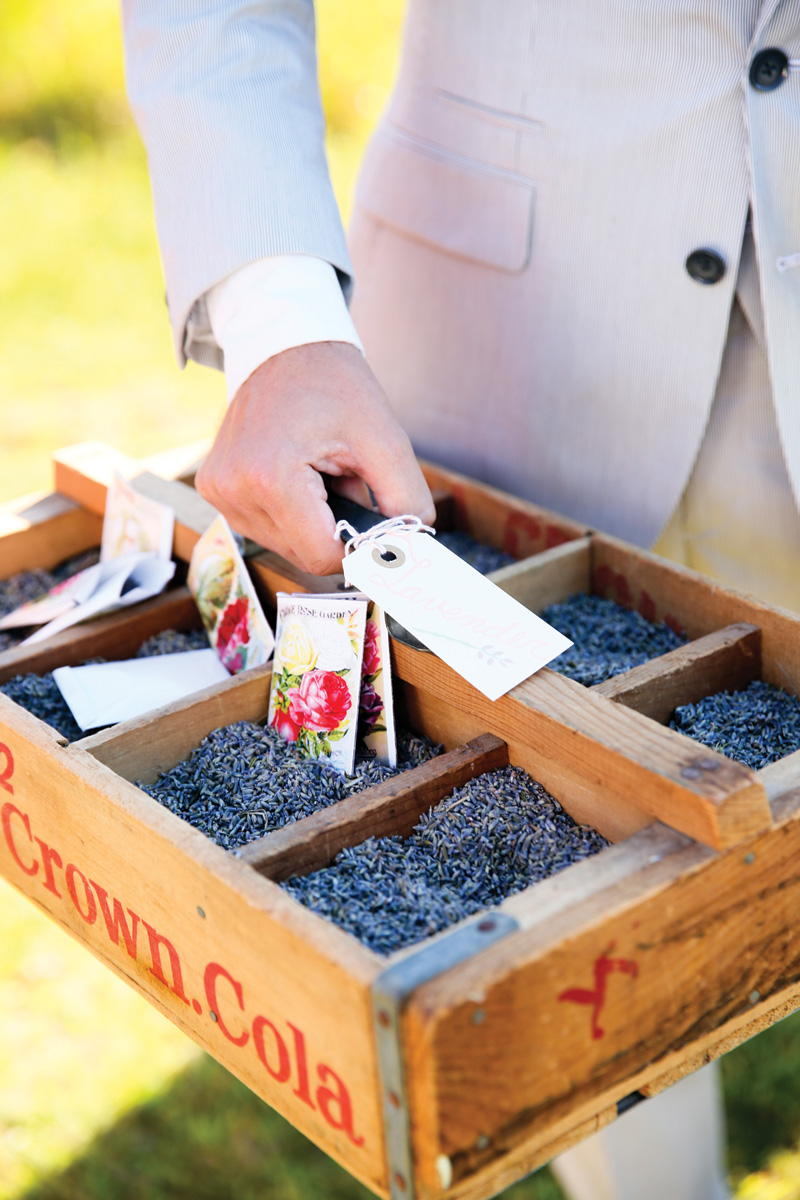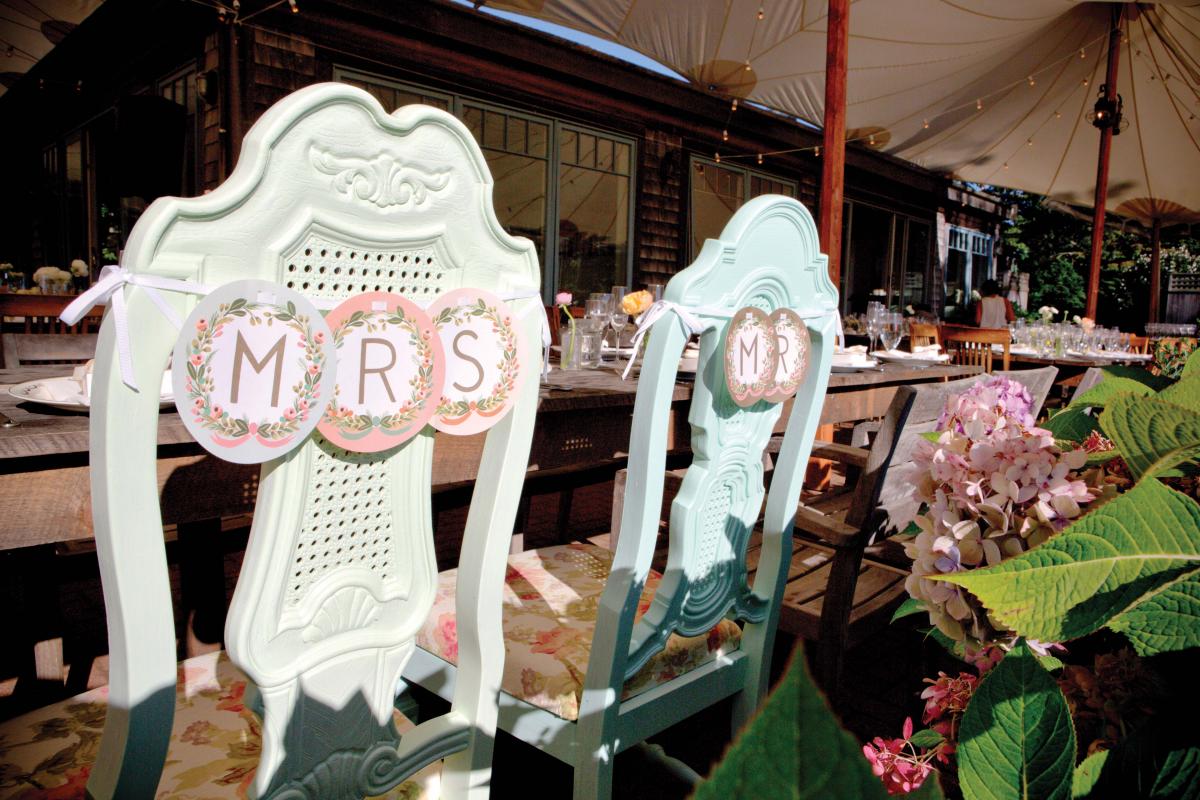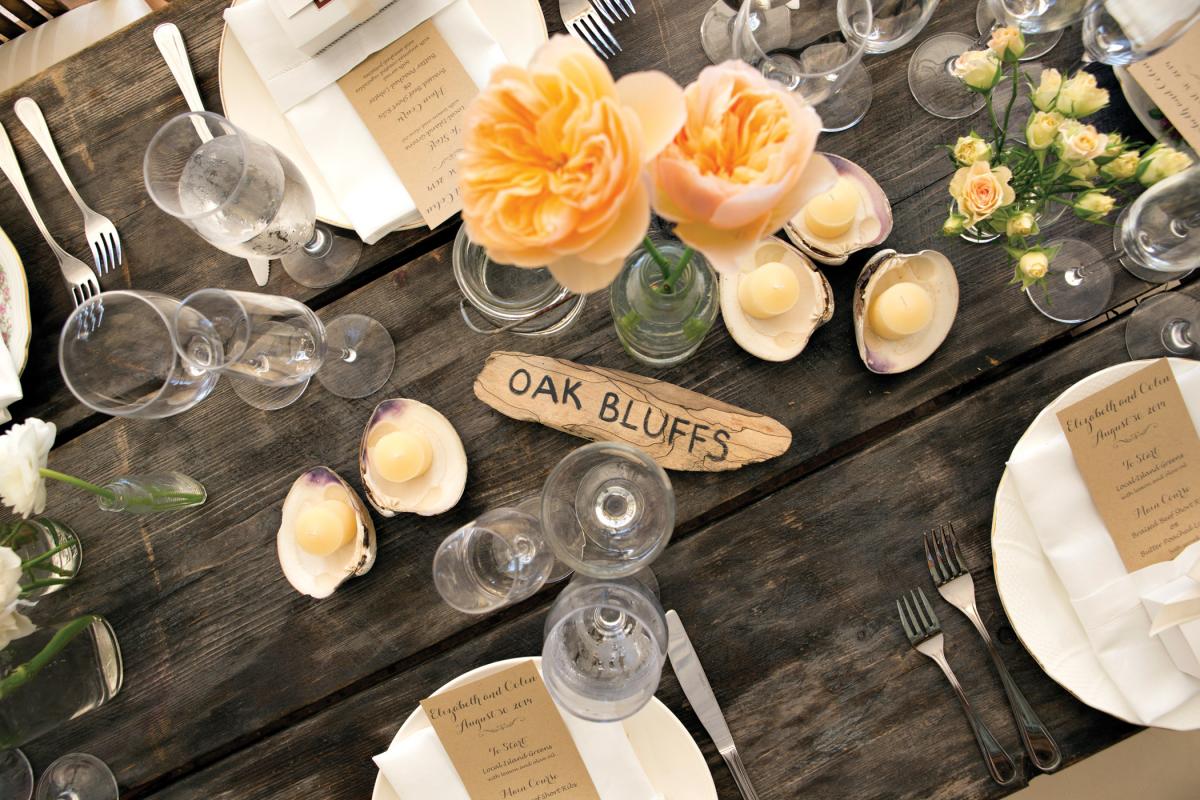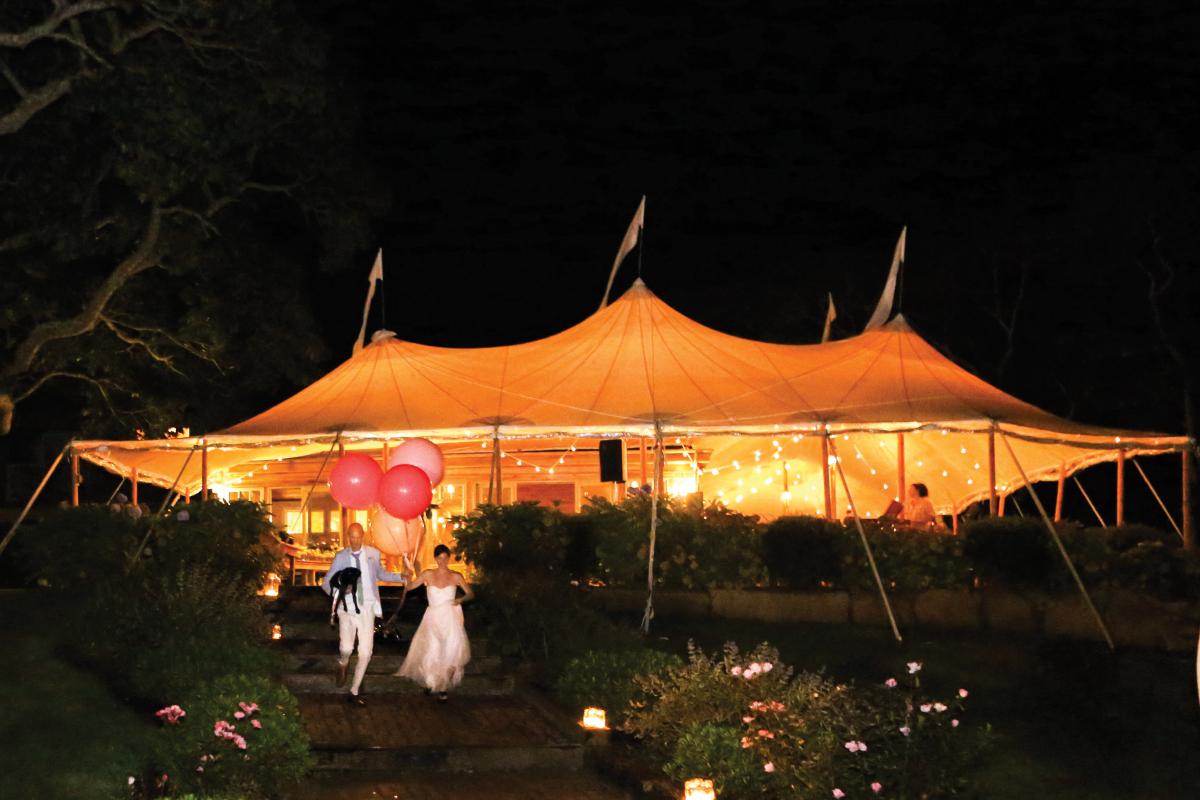 Details
Day-Of Coordinator: Vineyard Weddings
Photographer: Kristen Leigh Conklin
Rehearsal: Home Port Restaurant + Menemsha Galley
Celebrant: Merrily Fenner
Bridal Lunch: Chilmark General Store
Cake + Dessert: MV Gourmet Café & Bakery + Eileen Blake's Pies and Otherwise
Tent + Party Supply: Big Sky Tent and Party Rentals + Seaside Celebrations Tent & Party Rentals
Flowers: Krishana Collins
Hair: Panache Salon
Music: Phil DaRosa
Favors + Gifts: Chilmark Chocolates + Slight Indulgence
Libations: Jim's Package Store & Island Market + Offshore Ale Company
Transportation: Bluefish Taxi & Livery + Aquinnah Taxi
Videographer: Esposito Productions