May 17, 2014
Ceremony + Reception: The Allen Farm Sheep and Wool Company
Spring is by nature a time for new beginnings. For Yvonne Leclair and Ryan Fisher, a springtime wedding in pastoral Chilmark was perfect to mark the beginning of the life they wish to share with one another. Ryan moved from Gilford, New Hampshire, to Martha's Vineyard in 2006, after spending some summers driving taxis on the Island. On Labor Day Weekend in 2007, Yvonne came to the Vineyard with a mutual friend. Ryan treated them to dinner and he and Yvonne instantly connected. "We began dating long distance," says Yvonne, who grew up in Westboro, Massachusetts. She moved to the Vineyard a year later.
That family is a priority for the couple was reflected in their bridal party of family members. Ryan's niece Brynn was Yvonne's flower girl, and his nephew Asher was the ring bearer. To signify Asher's importance, Ryan gave him a BM (Best Man) patch from the movie You, Me, and Dupree.

Yvonne and Ryan wanted the celebration to be in a location that resonated with both of them. Yvonne has visited Scotland many times, as that's where her grandmother is from. "There's a depth and comfort to the landscape that makes me want to go back over and over," says Yvonne. With its rolling hills, grazing sheep, and stonewalls, the Vineyard's Allen Farm evokes the feeling she would always get when visiting Scotland.

In harmony with her theme of 'over-grown elegance,' Yvonne worked with Krishana Collins to come up with floral arrangements that were exciting and different. "All of the arrangements, including my bouquet, were more wild looking," she says. The centerpieces were set on tall silver candelabras so that the vines could cascade down to the table. Napkin holders handmade by Yvonne's mother and sister were fashioned together using silver-netted material with crystals interlaced into the fabric, and Velcro to secure it around the silverware. Throughout the cocktail area, porcelain sheep were placed on moss-covered rocks, with the appearance of grazing. The gift tote-bags also reflected the pastoral feel of the celebration, with a custom logo of two sheep and the outline of
the Island.

As the pristine spring day faded into night, the new couple's myriad family members came together for the Cousins' Shot – a tradition on Yvonne's side of the family where all the cousins and significant others come together to toast the bride and groom: Cheers to you, Yvonne and Ryan!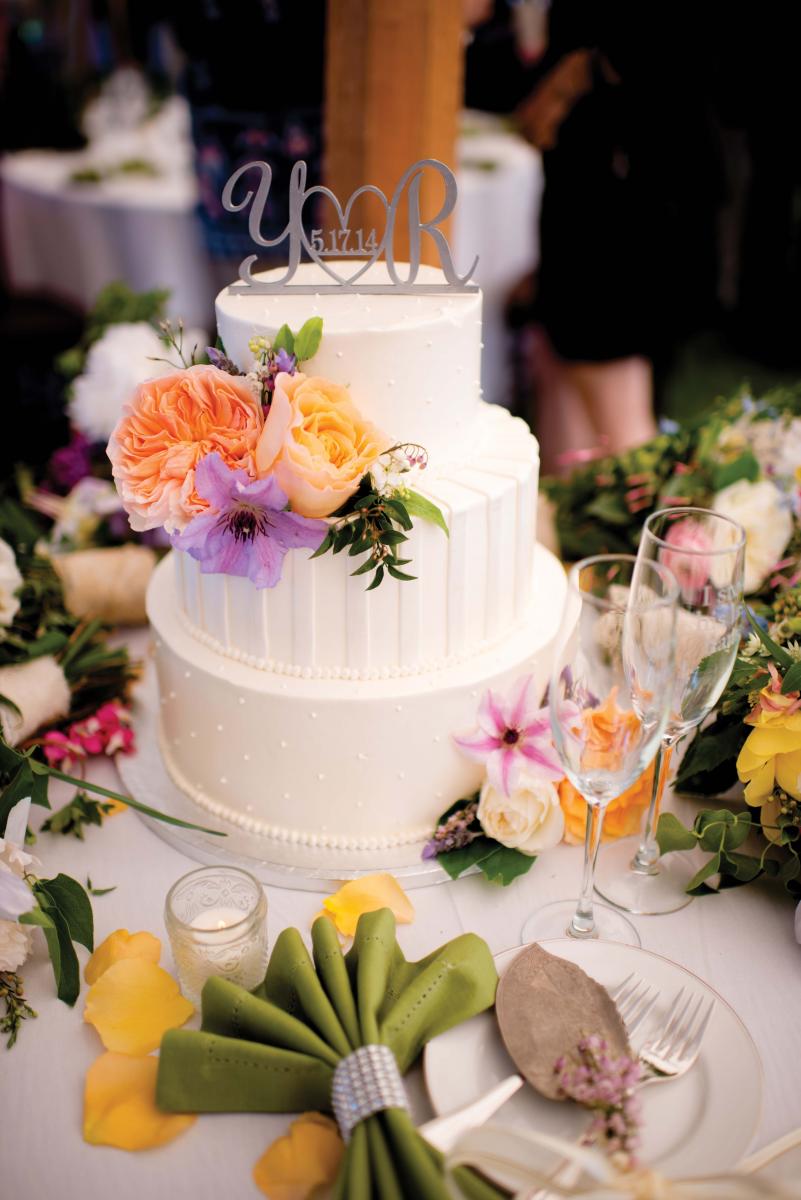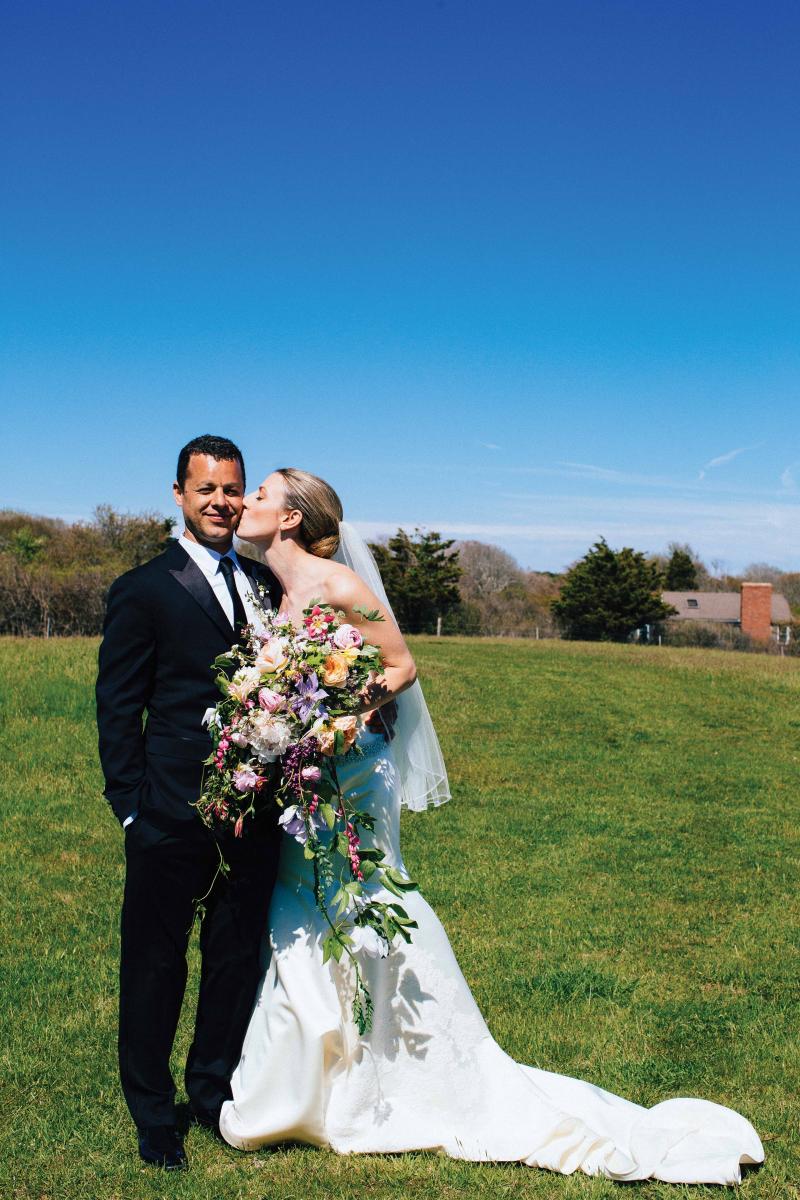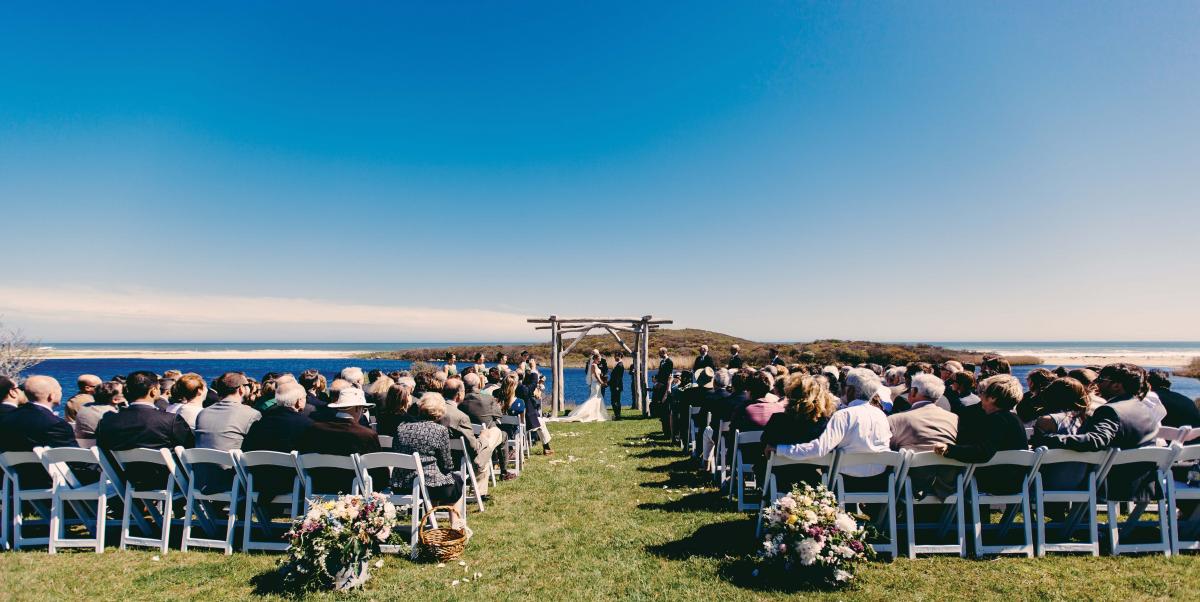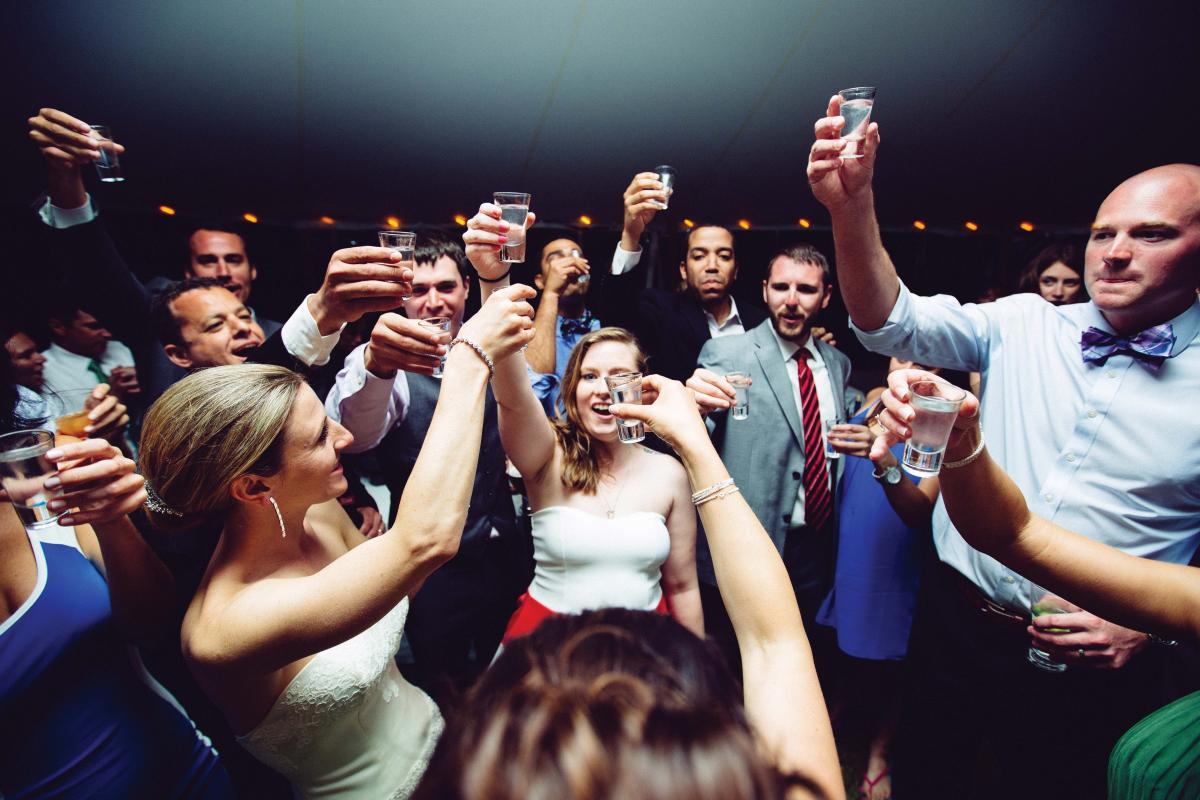 Details
Photographer: Mackler Studios
Day-Of Coordinator: With Grace
Rehearsal: Atria
Caterer: Annie Foley Catering and Party Planning
Cake: Val Cakes
Flowers: Krishana Collins
Hair: The Hair Studio
Gift Bags: Kate Fournier of Noepe Design
Music: Mike Benjamin Band
Rentals: Big Sky Tent and Party Rentals
Transportation: Atlantic Cab + All Island Taxi