Lunch with Your Ladies in Waiting
Here's a way for you to enjoy a girls-only moment with all of your besties. Customarily held the day before the wedding, lunch provides the perfect moment to present gifts to those loyal girlfriends who've been there for you every step of the way. Make it for young and old alike and invite moms, grandmothers, and flower girls too.You might consider a formal restaurant soiree, a fancy tea in a hotel suite, or a casual gathering at a friend's home – whatever blends with the rest of the festivities and suits your style. If it's DIY, try a vintage shabby-chic look in keeping with the Vineyard's rustic, romantic side.
Photographer: Nicole Friedler
Location: Cottage Haven Interiors
Flowers: Morrice Florist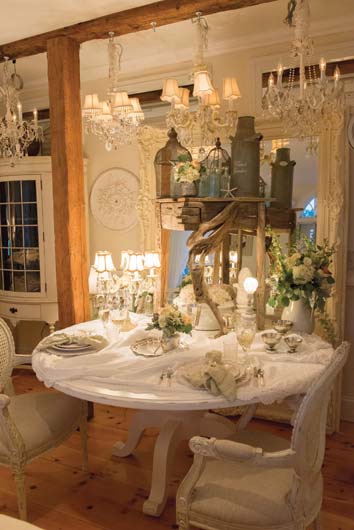 Shopping List
Cottage Haven Interiors: Antique Bottles: $49 – $79 • Candelabra: $700 • Chairs by Eloquence: $675 • Champagne Flutes: $165 • Chandeliers: $700 – $900 • China Set by Pom Pom: $8.50 – $26 • Cottage Haven Custom-made Table: $1,599 – $1,699 • Driftwood Table by Ted Box: $2,800 • Lace-and-Linen Tablecloth by Bella Notte: $483 • Linen Napkins by Bella Notte: 4 for $30 • Mercury-Glass Vases: 3 for $48 • Napkin Holder by Pom Pom: 4 for $30 Silver Set (5 Piece) by Pom Pom: $80 • Silver Tray: $195 • Water Glasses: $6.99 • Wine Glasses: $45
The Welcome Party: Say Cheese!
Guests often arrive for destination weddings tired and traveled out. A welcome party can provide comfort and make for a great get-acquainted gathering where old friends can catch up and new acquaintances can meet before the wedding. You might set up a cocktail hour with drinks and hors d'oeuvres at a favorite bar or in a private home or garden. Offer at least one food station, perhaps a cheese and cracker bar, so guests can mingle and latecomers don't miss out. And go local! The Vineyard has an abundance of fresh fare from sea and land, thanks to many hardworking fishermen and farmers.
Photographer: Nicole Friedler
Location: Tracker Home Décor
Flowers: Flowers by Donaroma's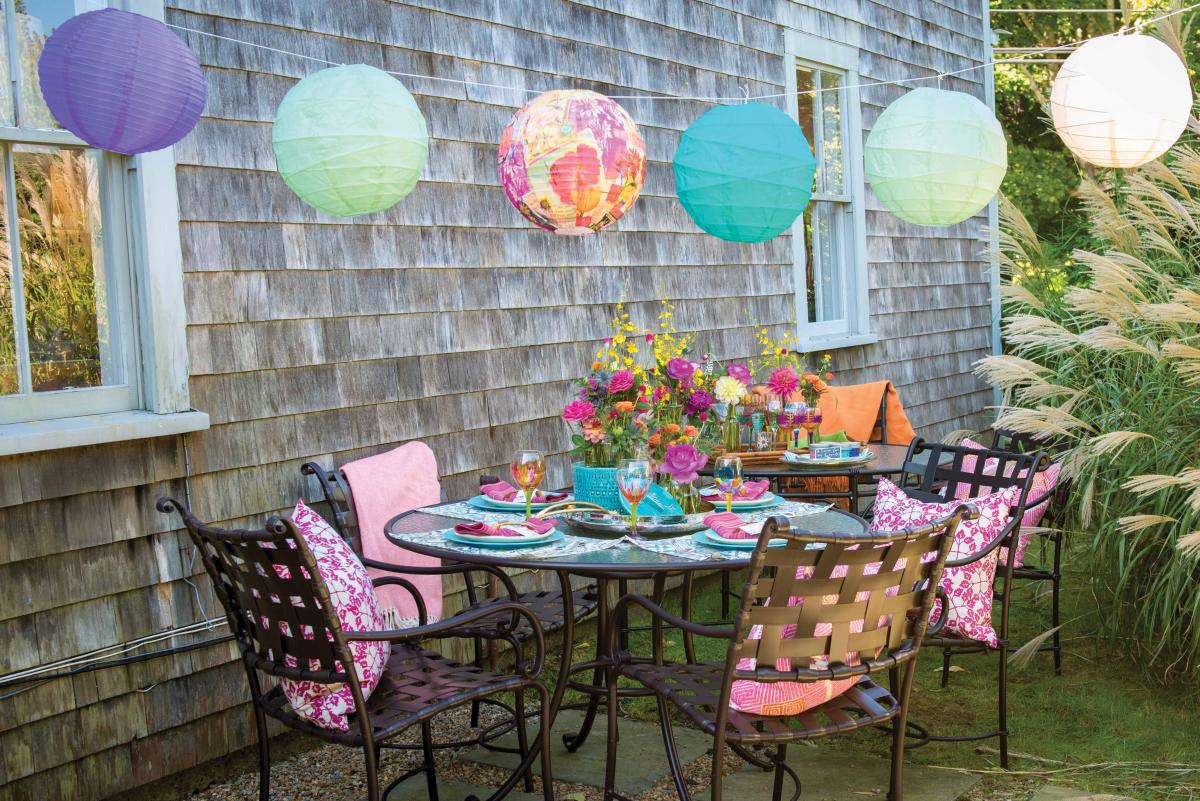 Shopping List
Bananas Clothing, Etc.: Painted Glassware by BasiaArtist Designs: $15 – $35
Tracker Home Décor: Burke & Celine Blanket by Sferra: $80 • Linen Napkins: 4 for $115 • Pillows by John Robshaw: $175 • Tables and Chairs by Brown Jordan: $415 – $880 • Wishbone Paperweights: $32 – $55 | Rainy Day: Paper Lanterns: $9.95 • Placemats: $10.95
Hail to the King! The Groomsmen's Lunch
What are the men up to while the ladies are toasting and celebrating each other? Seems only fair to give the groom a moment to relax with his buddies and an opportunity to thank them too. Dark wood accents and nautical décor with a view of Edgartown harbor invite this half of the wedding party to savor the feel of the Island and maybe enjoy a beer or two before the big event.
Photographer: Nicole Friedler
Location: The Boathouse Restaurant
Flowers: Flowers by Donaroma's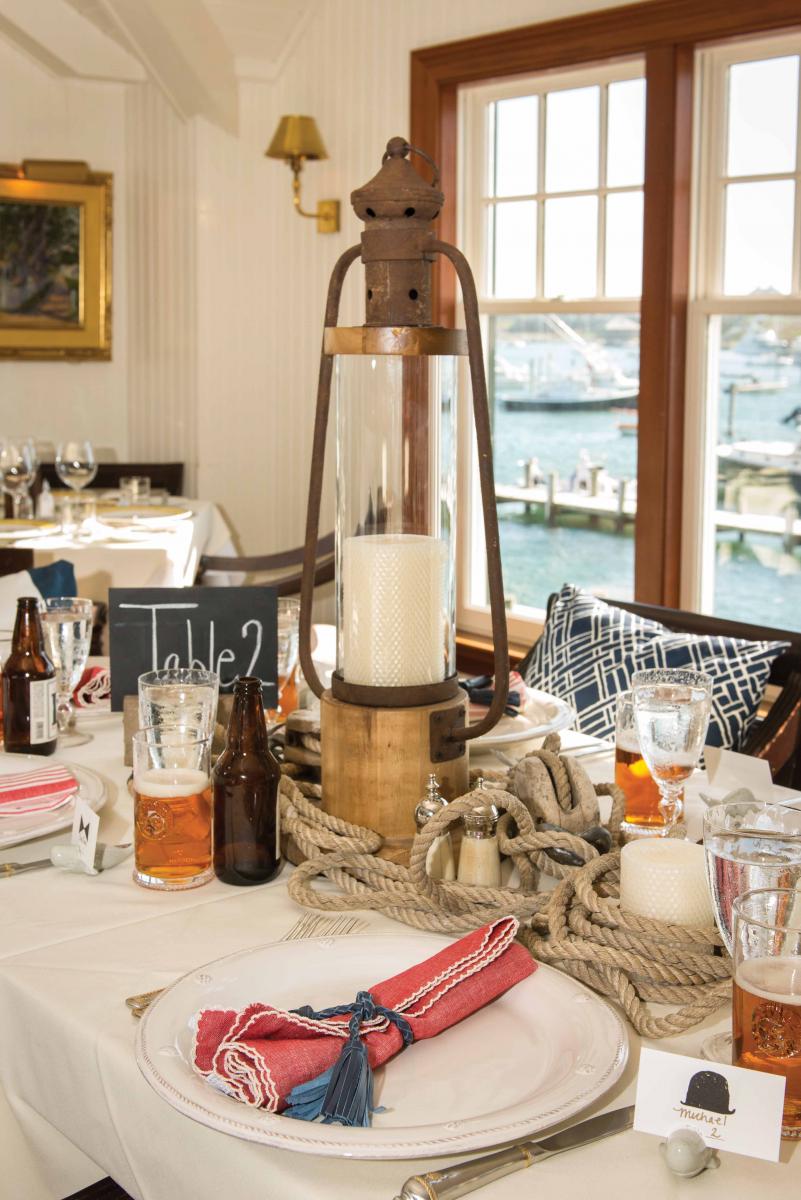 Shopping List
Juliska Island Store: Beer Glasses: $68 Candles: $28 – $49 • Charger Plates: $68 • Escort Cards: 12 for $42 • Gold-and-Silver Cutlery Sets: $138 • Highball Glasses: $68 • Napkins: 4 for $88 Napkin Tassels: $19 • Nautical Lantern: $128 • Slate Cheeseboard: $44 • Water Goblets: $66 • Whale Place-Card Holders: 6 for $28
Barefoot on the Beach: An Intimate Reception
Nothing says Vineyard more than a wedding on the beach. Simple table settings in summery sea-glass colors enhance the by-the-sea charm, and invite guests to feel comfortable kicking off their shoes for a walk in the sand. Forget the formal linens! The distressed beauty of a rustic table surface is perfect for wildflower bouquets, flowered plates, and tinted glasses – décor befitting the casual, waterside scene.
Photographer: Pizzuti Photography
Location: Joseph Sylvia State Beach
Flowers: KG Events & Design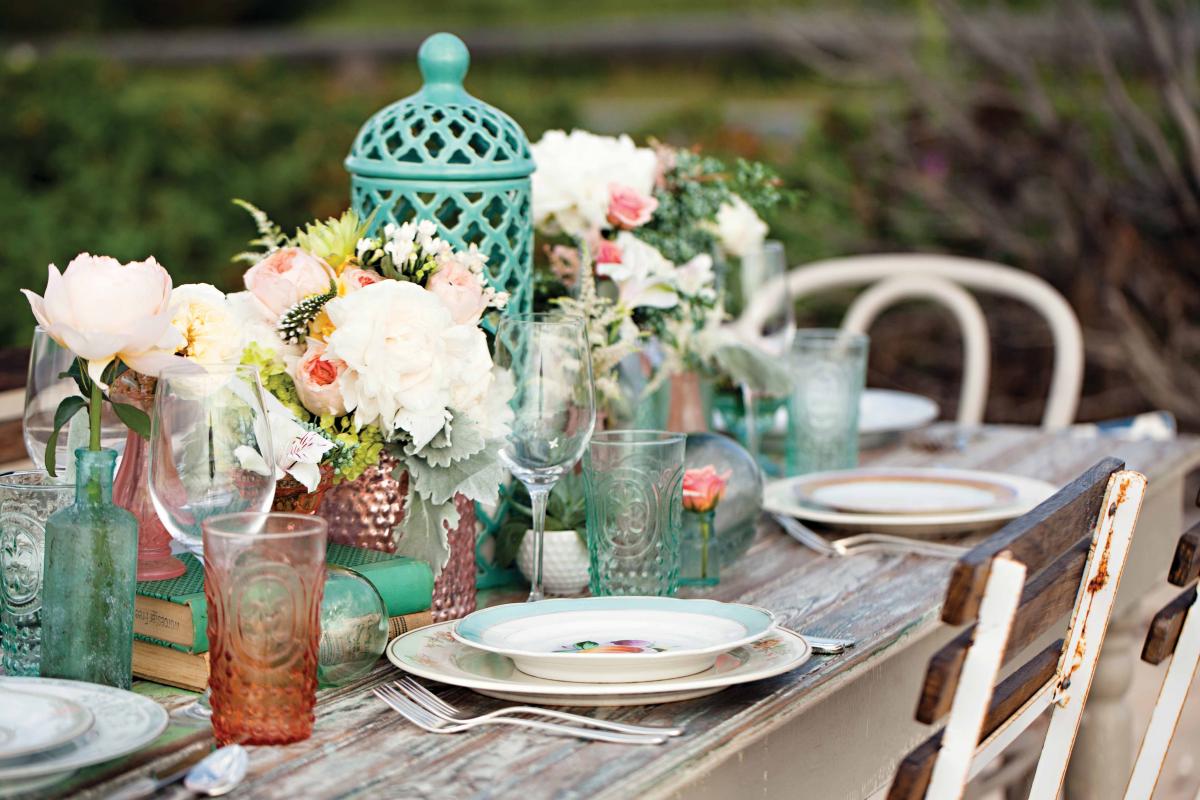 Shopping List
Big Sky Tent and Party Rentals: Silverware and Plates | Vintage Retriever: Table and Chairs
Rainy Day: Vintage Candleholders: $7.95 • Vintage Teal and Coral Glasses: $8.95