Ashley Tilton delights in capturing images that juxtapose luxury and design with raw nature. The rustic-chic trend, with a rural or rustic setting and glamor in the details, is right on track with Ashley's aesthetics and one that brides marrying on Martha's Vineyard have been getting right for years. By using the natural beauty of the Island – whether beach or meadow, stonewall or barn – the stage is set for a celebration with a rustic feel that can be easily glammed up.
On Wings of Love: Megan and Jesse
Both Megan Willey and Jesse Nicholson grew up on Martha's Vineyard and wanted a celebration that would also celebrate the beauty of the Island. "We simply wanted to be near the ocean," Megan says, "with the people that we love." And in the community that was the backdrop for their relationship. With just about every picturesque Island element they could ask for – water, wooden dock, and golden meadow – Flat Point Farm in West Tisbury was a perfect fit. Megan and Jesse had both lost parents – her father, and both his mother and father – and they wanted to find joyous ways to honor and include them in the wedding.

Megan's uncle officiated the ceremony and, Megan says, "did an incredible job at including the spirit of each of them." Megan's bouquet was wrapped in one of her father's ties, and she wore a pin of pilot wings on her dress, as he was a pilot with Cape Air. "He would fly over our house and rev the engines to say hello," she recalls. An extraordinary thing happened during the ceremony: "A plane flew over as I walked down the aisle!" Megan says she felt at peace, as though her father were with her, "walking me down the aisle, and joining our celebration, wherever he may be."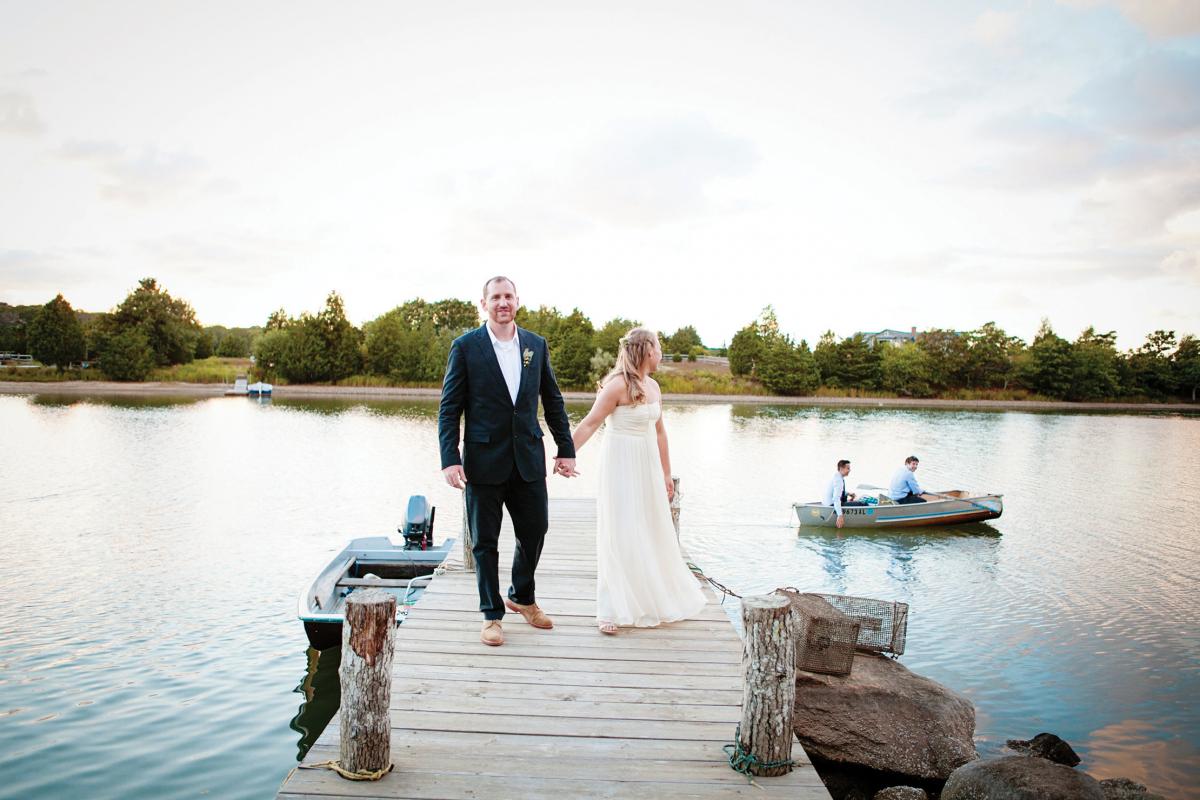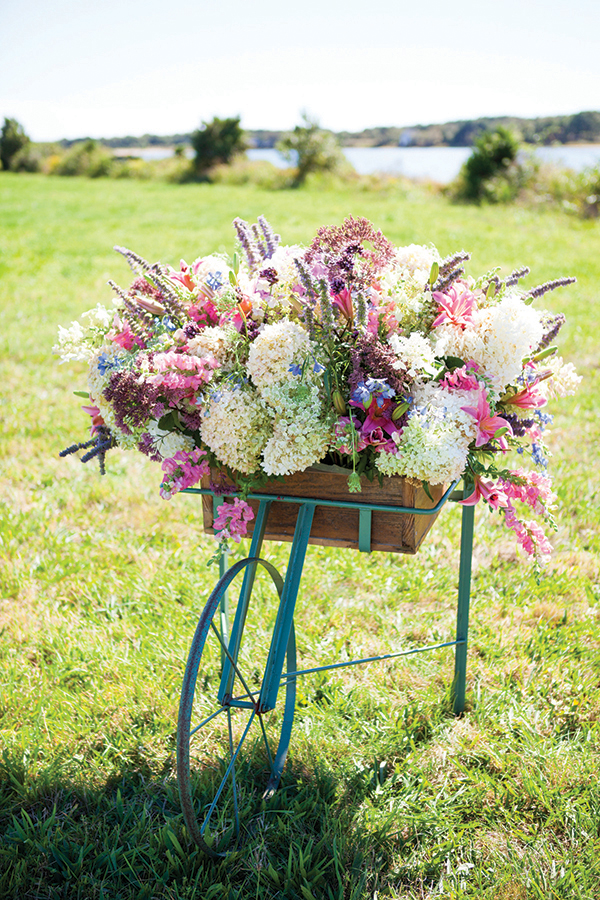 Details
Wedding Planner: Emily Coulter
Photographer: Ashley Tilton
Ceremony + Reception: Flat Point Farm
Caterer: Truly Scrumptious
Hair: Lizzy Kent Hair
Flowers: Island Ambiance
Music: Mike Benjamin Music
Waxing Poetic: Nancy and Tim
Island residents Nancy Canha and Tim Merriman describe their style as low key. They wanted their big day to be about friends and family, in a setting that would reflect them and their sense of the Island, as it's where Nancy grew up and a place that Connecticut native Tim has come to love, too. "A casual space on the water" was the goal, Nancy says. "And somewhere that we could have the ceremony and reception at the same place." Sailing Camp Park in Oak Bluffs fit the bill, and provided plenty of opportunities to style the celebration their way.

"My dad built the arbor that we were married under," Nancy notes. "We used sea glass that had been collected over the years, and our gift box was a lobster pot!" She and her sister and mother had even tried to make their own sea-glass candles to give out as favors. "Great concept," says Nancy, "but with the August humidity ... ." Well, it just didn't happen. Instead, they filled mason jars with shell and sea-pebble candy.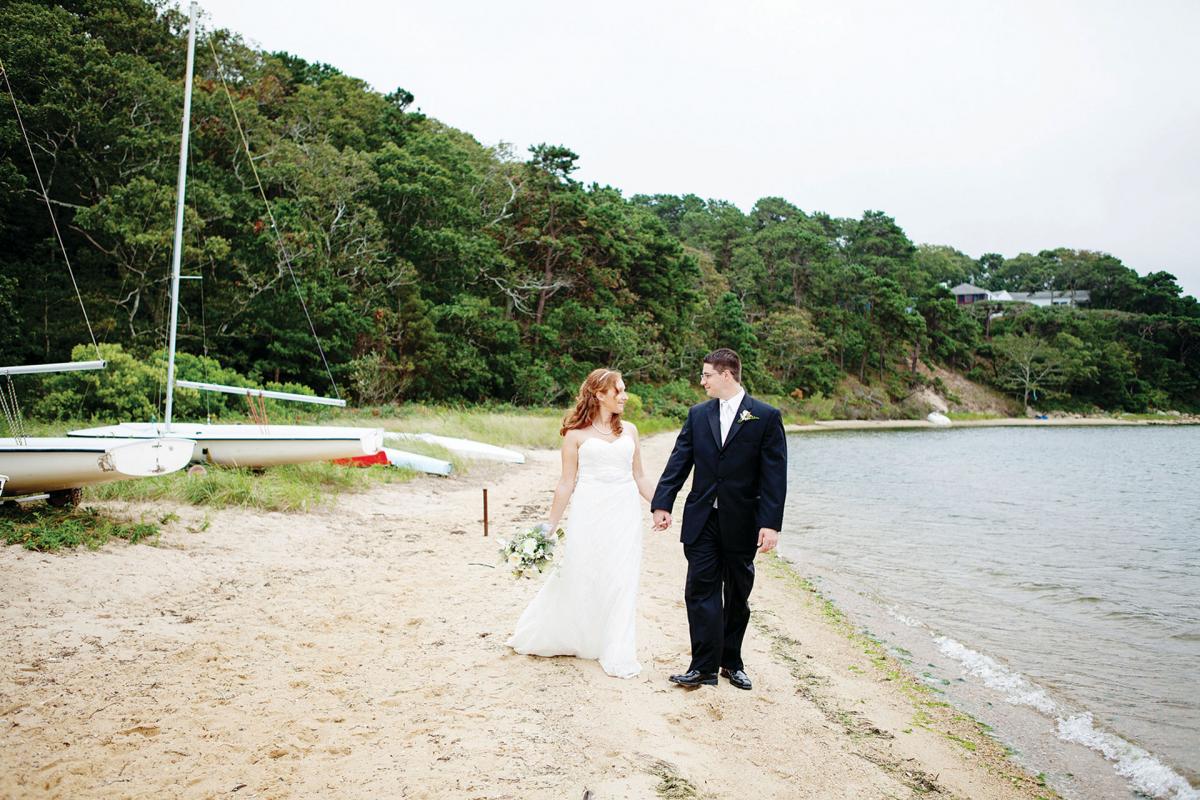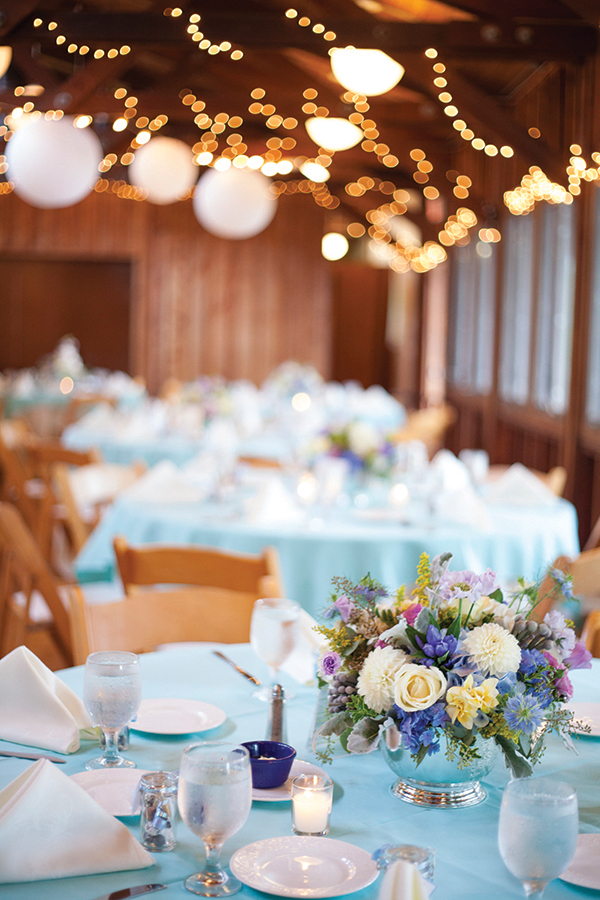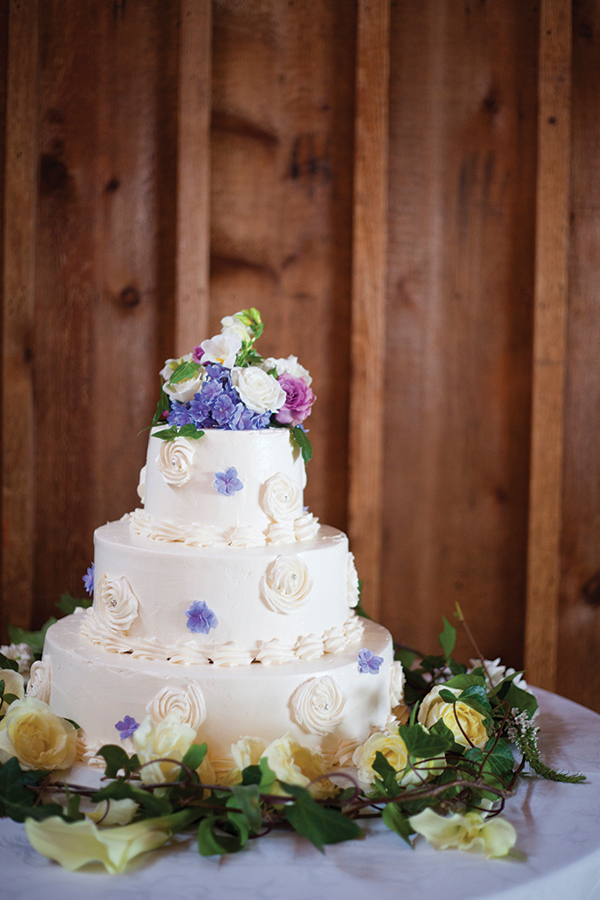 Details
Photographer: Ashley Tilton
Ceremony + Reception: Sailing Camp Park
Caterer: Tea Lane Caterers
Cake: Wedding Cakes by Leslie Hewson
Flowers: Flowers by Donaroma's
Hair and Makeup: Maggie's Salon
Bridal Party Gifts: Stefanie Wolf Designs
Music: Will Pfluger + R&B Entertainment