Photographer Peter Simon has followed anti-war protests, rock and reggae music and musicians, and alternative lifestyles the world over as, he says, "a fly on the wall." Peter applies the style he cultivated through those experiences to wedding photography. Focusing his camera's eye on quiet, candid, and moving moments, he aspires to capture weddings as they unfold naturally, and with a laid back tone reflective of the Island.
Sailing Away: Jen and Andrew
Jennifer (Jen) Anderson and Andrew Summers live in Illinois – but met in Aspen, Colorado, on New Year's Eve 2008, and haven't been apart since. They married on a blissful September day on Lucy Vincent Beach. It was "kind of like we eloped," Jen says of their intimate beach ceremony and wedding party, which consisted of the couple's son, Ethan (who was two
at the time), and the bride's parents. Jennifer says the goal was to make their wedding day what would be for them a quintessential Vineyard day, and that would mean spending most of it barefoot, and catching a beautiful sunset. They chartered the Witch of Endor and, with Captain Pascal at the helm, sailed the forty-one-foot Formosa Ketch from Vineyard Haven
to Chilmark, where they enjoyed watching Ethan playfully chase seagulls on the beach. "The Vineyard has always been my happy place," Jen reflects. "I couldn't imagine getting married anywhere else."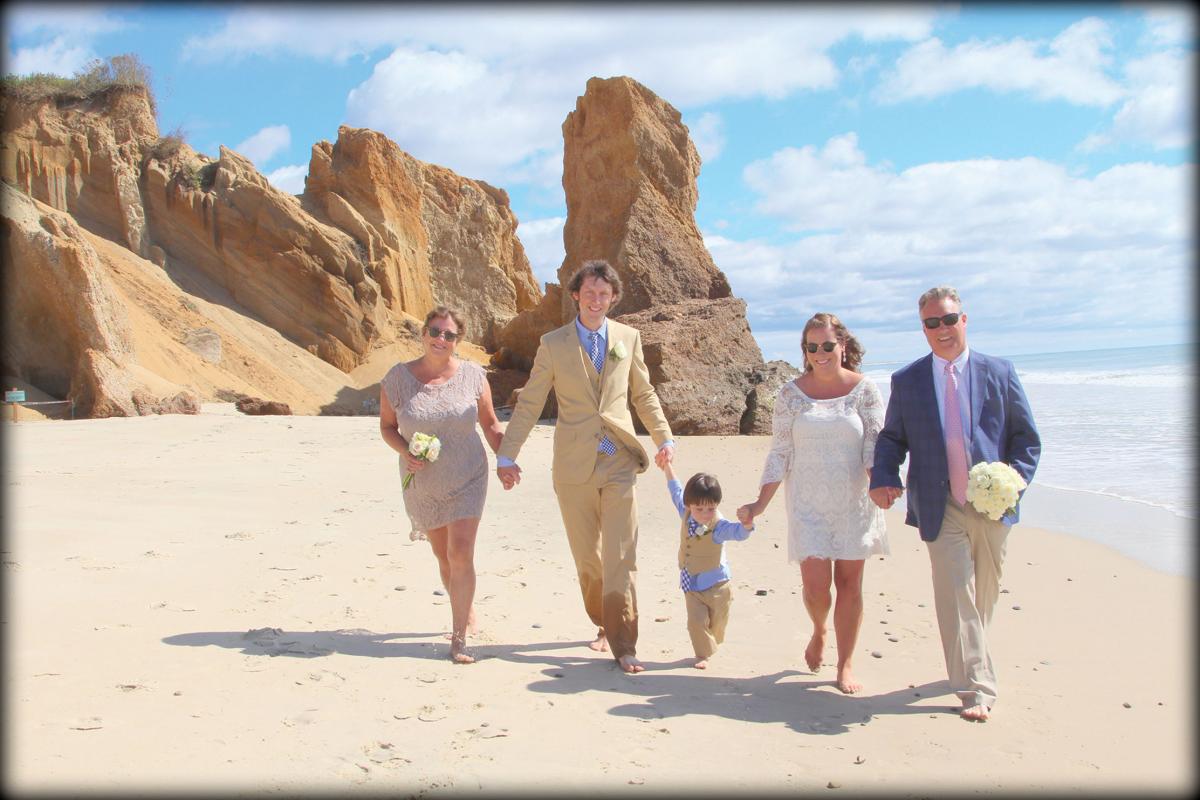 Details
Ceremony: Lucy Vincent Beach
Reception: Witch of Endor + Outermost Inn
Cake: Martha's Vineyard Gourmet Café & Bakery
Flowers: Donaroma's
Hair and Makeup: The Spa at Mansion House
Got Love? Tanya and Bryan

For Tanya Cruz and Bryan Taylor, the romantic gestures began far before the wedding. Bryan proposed to Tanya in the open waters of Mexico by having a dolphin bring her the engagement ring. "It was very romantic," Tanya recalls fondly. Tanya was raised on the Vineyard, and says there was no question that's where they'd be married. She says what made the celebration uniquely theirs "was all the little details: the car with the milk cartons, representing Bryan's love for milk; the ocean, representing our love for the beach; my parents' house, representing a place I love to be." Oh, and having their dog, Angel, walk down the aisle with them. "It was such a blessed day, being able to have my friends and family together with us to share our love for one another and witness our special day," Tanya reminisces.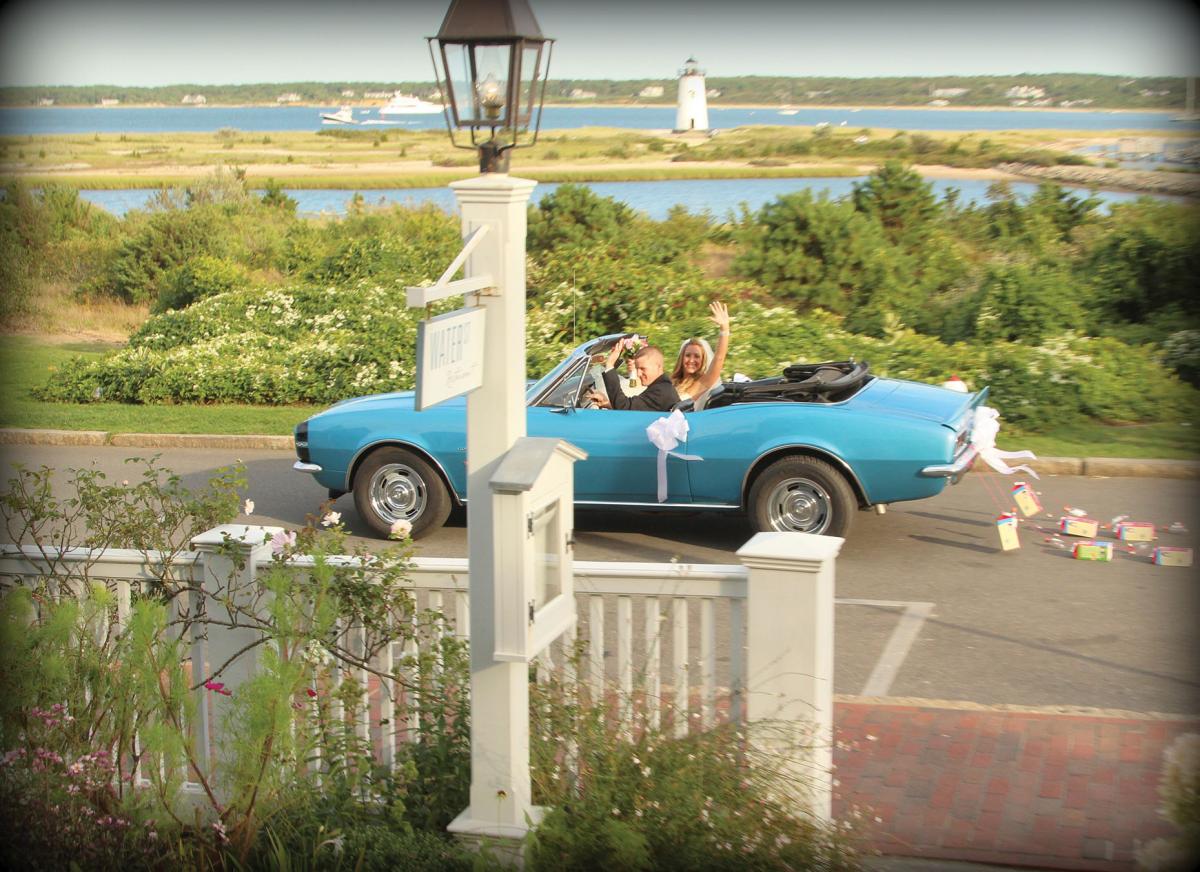 Details
Ceremony: Edgartown Lighthouse
Reception: Private Home
Caterer: Doug Subin
Hair and Makeup: Lisa Leite of Salon En Vogue
Music: R&B Entertainment
A Little "Fairy" Magic: Amanda and Jeremy

With their two-year-old daughter, Caileigh, as their flower girl, Amanda Thomas and Jeremy Edwards declared their love before a small group of friends and family. They chose West
Basin Beach so they'd be overlooking Menemsha harbor. The couple lives in Scituate, Massachusetts, but the bride considers the Vineyard a second home. Her family has Island roots that go back generations and she grew up making annual visits to their Menemsha
cottage. In a fun last-minute twist, Amanda was able to rent the bike ferry to limo the wedding party across the harbor. They added a touch of the celebratory by stringing a "Just Married" sign on the back of the ferry. "It was the perfect way to be escorted," says Amanda. As for the mermaid pose on the jetty, that was Peter's idea, Amanda says. "I just went with the flow. I love photography," she adds, "so it was a huge honor to have Peter Simon take our pictures."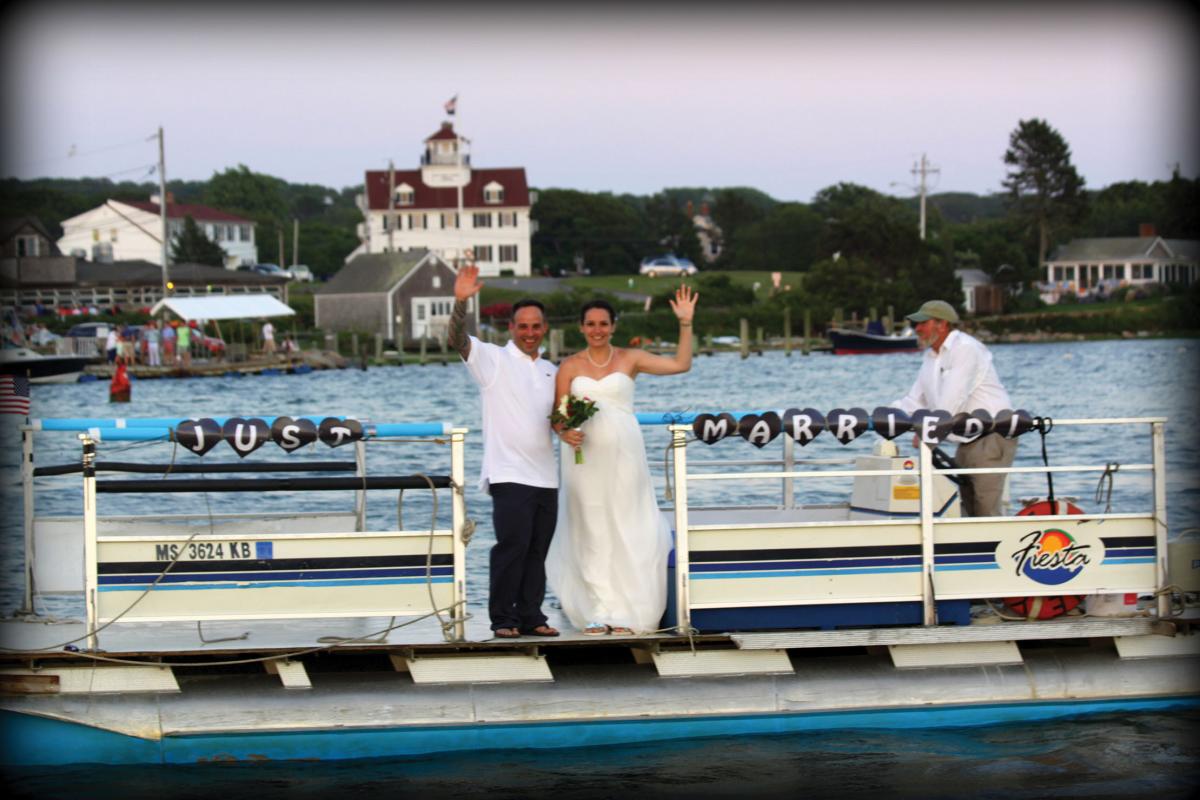 Details
Ceremony: West Basin Beach
Reception: Private Menemsha Cottage
Groomsmen Gifts: Menemsha Blues
Flowers: Morrice Florist