Ceremony: Wasque beach
Reception: Private Home
When you've spent months planning a late August wedding on the beach for three hundred of your closest friends and family, good weather is something you fervently hope for. But to help ensure that Mother Nature was on their side, Laura Schifter and Matt Scriven adopted a Southern tradition: burying a bottle of spirits at the wedding site prior to the big day to ward off any possibility of showers. Voila! The chance of rain decreased from 40 to 10 percent.

Laura and Matt, both thirty, met at a Beacon Hill pub in February 2007. They bonded over a discussion about Hillary Clinton's presidential candidacy, moving on to discover that they had mutual friends. They began dating and their relationship developed quickly.

"He's exciting and adventurous," Laura says. "But he's also an unbelievably easygoing person. He has drive and passion, a love of family, and a big commitment to helping other people."

"I was attracted by her integrity and her drive," Matt explains. "Laura is very focused, very enthusiastic, and very caring about others."

While Matt is completing his last year of medical school at Georgetown University in Washington, DC, Laura is finishing her doctorate at Harvard and working on Capitol Hill as a senior education policy advisor for the House Education and the Workforce Committee. The nation's capital provided a romantic backdrop for the couple's engagement in September 2010.

"After we went to dinner at an Italian restaurant, Matt took me to the Jefferson Memorial, my favorite monument," Laura says. "On the steps, he dropped to one knee and asked me to marry him."

The Schifter family has owned a waterfront vacation home at Wasque Point on Chappaquiddick since 2001, so Laura admits she had her wedding location picked out well in advance of meeting Matt. "It's one of the most beautiful places I've ever seen," she explains. "And I wanted to have memories of marrying at home." Because Matt's family lives in the Boston area and he shares her love of the Island, the setting was a simple decision.

But the planning and execution of the week-long celebration was a complex production orchestrated by both the bride and groom, as well as Laura's parents, three sisters, and New York City–based wedding planner JoAnn Gregoli of Elegant Occasions. JoAnn, who had coordinated another recent Schifter family wedding, relied on the cadre of off-Island vendors she has utilized for many other events of this size and scope. Vineyard businesses were an integral part of the celebration as well.

Many of the guests arrived up to a week ahead of the Saturday wedding for myriad activities in Edgartown, including a fishing excursion with Coop's Bait and Tackle, dinners at l'étoile and Alchemy (including a customized trivia night), a bridesmaids' spa day at Bouclé Salon & Spa catered by Lobster Tales, a Détente-catered rehearsal brunch at the Schifter home, and a picnic lunch at Wasque swimming beach.

Friday evening's intimate rehearsal dinner was held on the patio at Atria, followed by a welcome party for nearly three hundred guests under a tent on the grounds. Laura says all of the Edgartown restaurants they selected did a wonderful job, featuring Vineyard-grown and freshly caught delicacies, including l'étoile's Morning Glory Farm corn and zucchini fritters and Atria's clambake plate.

Thanks, no doubt, to the buried bottle of scotch, Saturday dawned dazzlingly sunny. Using the ferry from Edgartown to Chappaquiddick and a combination of taxis, trolleys, and vans, the wedding guests – the majority of whom lodged at hotels and inns in Edgartown, as well as in rental houses on Chappy – were shuttled to the beach for the 4:30 p.m. ceremony.

With the sparkling Atlantic Ocean and soft green of the dune grass as a backdrop, Laura and Matt exchanged their vows in a ceremony under a flower-covered chuppa honoring Laura's Jewish faith. Her cousin officiated, blending traditions from the bride and groom's shared Irish heritage and differing spiritual backgrounds.

Representing the couple's joy in seeing the world together, each cocktail station reflected regions they've visited, with signature drinks and hors d'oeuvres from the Caribbean, Turkey, Spain, Costa Rica, and Napa Valley. The reception, held under a large tent adorned with twinkle lights to replicate stars, was topped off by a dramatic fireworks display on the beach and an after-party in the Schifters' garage, decorated in a Moroccan/Indian motif by Laura's mother, a nod to their tentative honeymoon destination.

Today Laura and Matt remain in Washington, with an extended honeymoon planned to India and the Maldives. Remember the buried bottle of scotch? They unearthed it a week after the wedding, only to find themselves marooned on the Vineyard, waiting for Tropical Storm Irene to pass by.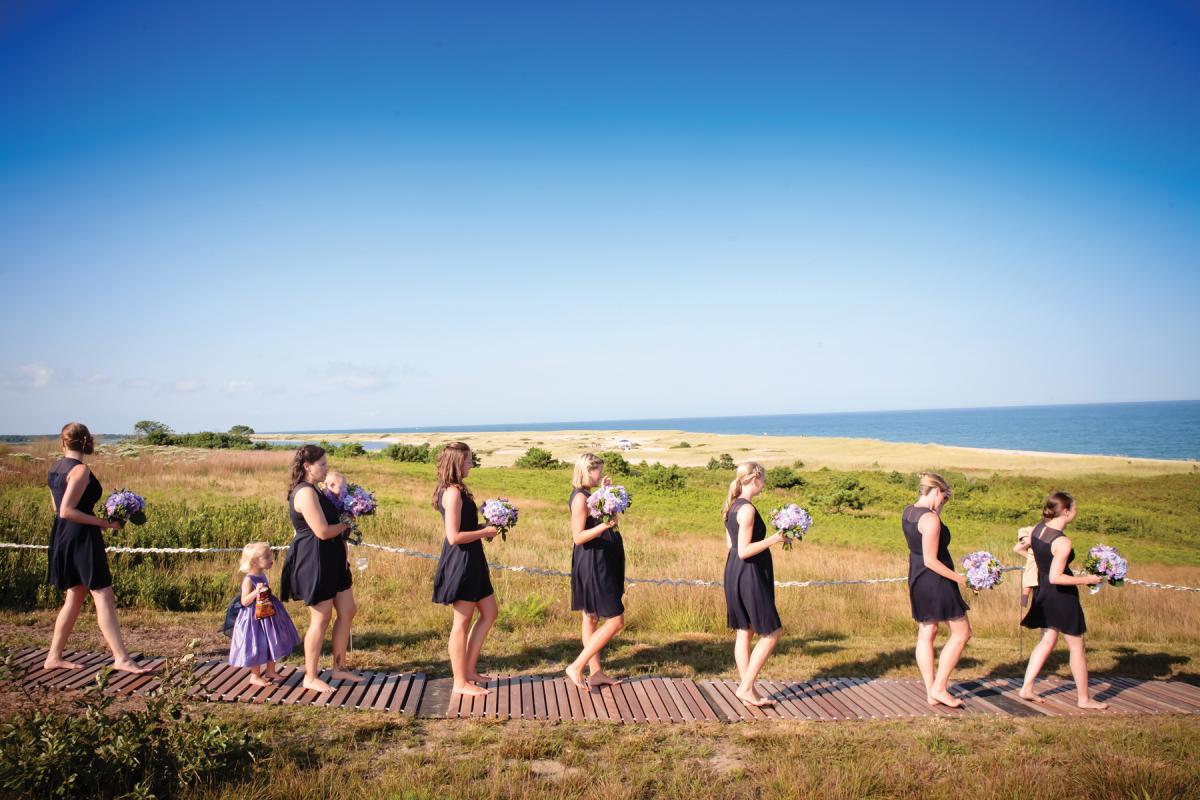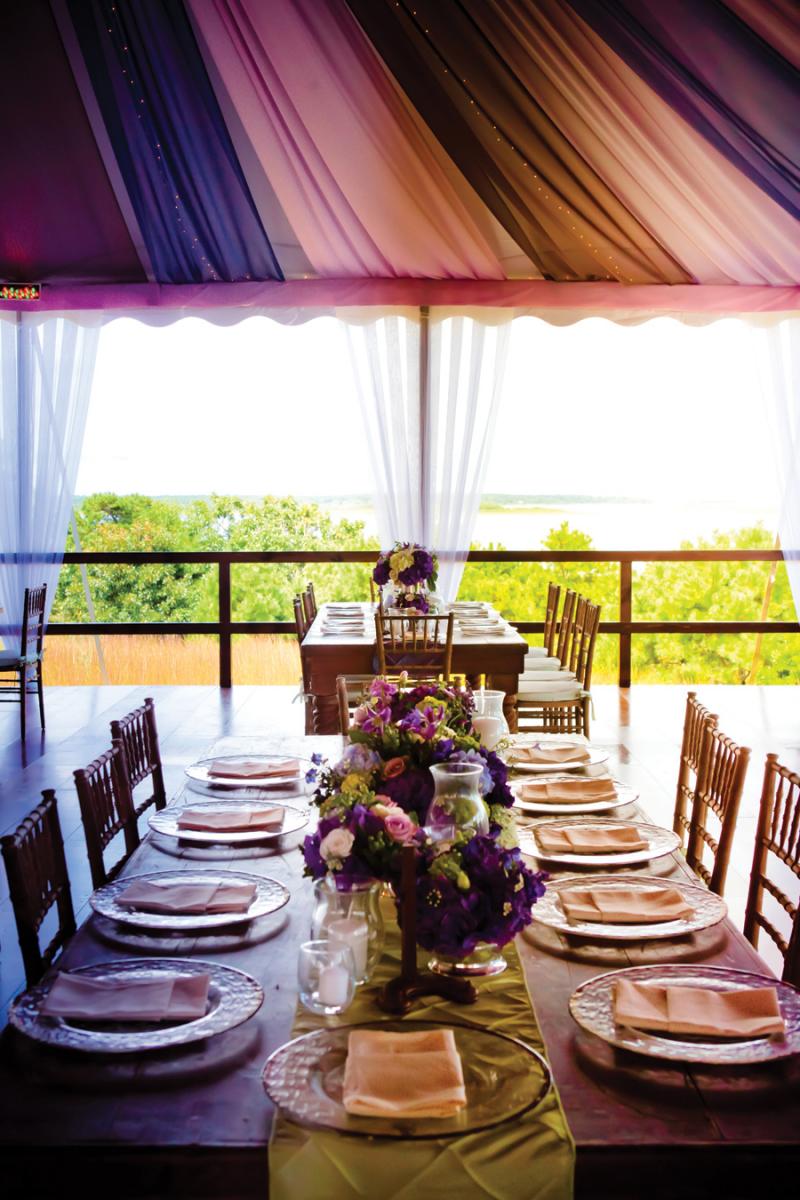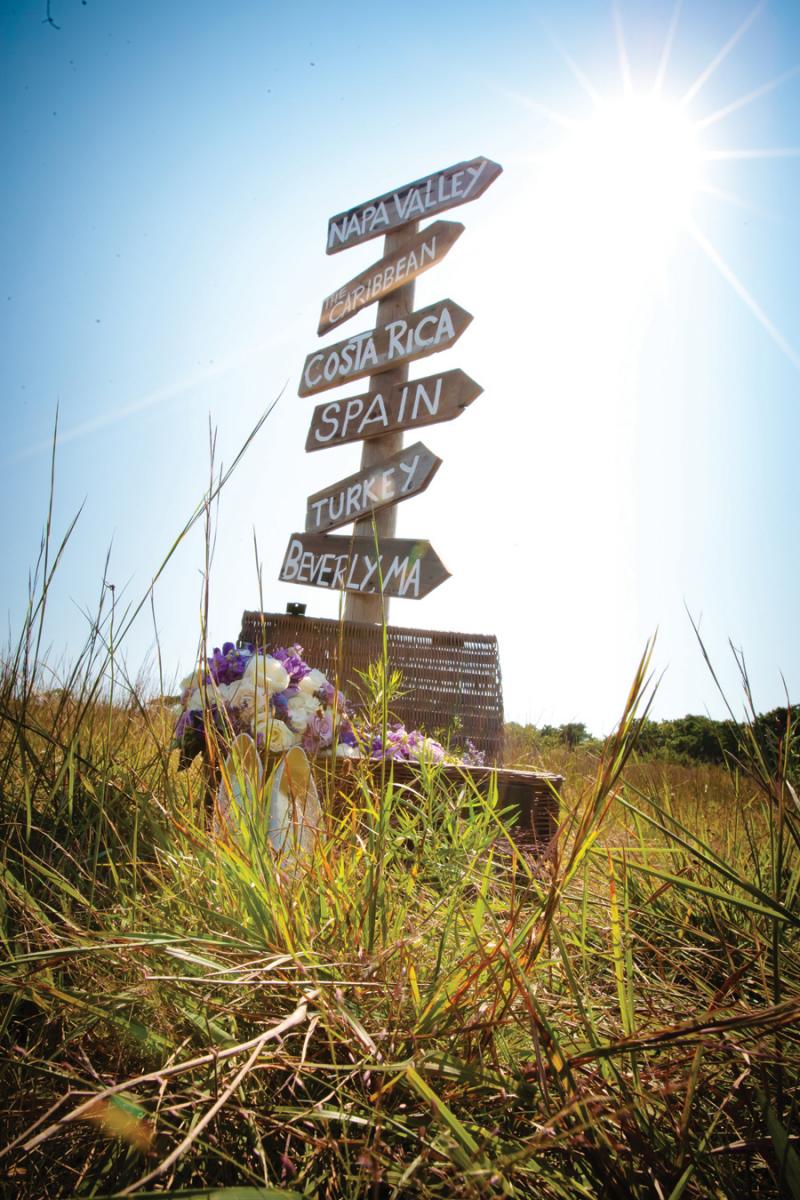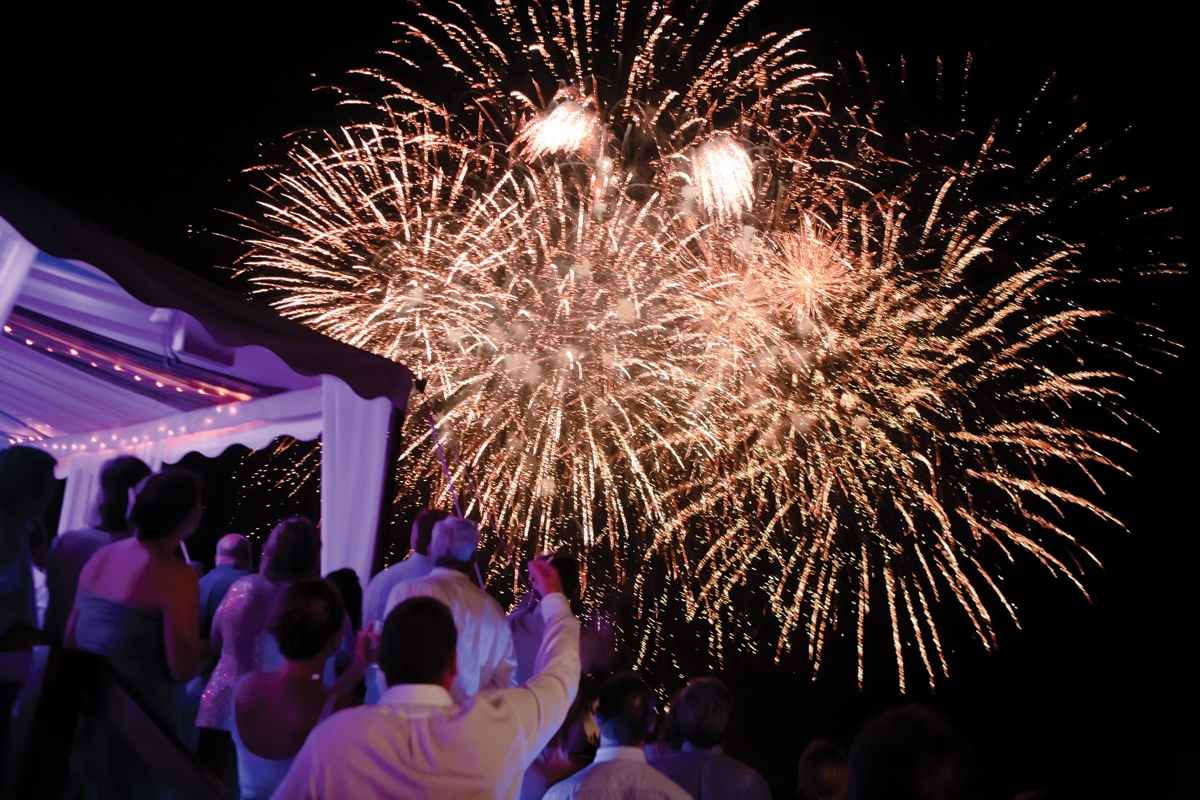 Details
Photographer: 4Eyes Photography
Additional Photography: Alison Shaw
Wednesday Dinner: l'étoile
Trivia Night: Alchemy + Stump! Trivia
Rehearsal Brunch: Détente Restaurant
Rehearsal Dinner: Atria
Brunch: Alchemy
Beer: Offshore Ale
Flowers: Sayles Livingston Flowers
Music: The Grateful Dread + Soul Street
Rentals: Stamford Tent & Event Services + Ormonde Productions
Fireworks: Ocean State PyroTechnics
Transportation: Chappy Ferry + the Trustees of Reservations vans + Martha's Vineyard Sightseeing trolleys + Adam Cab
Ties: Vineyard Vines
Bridesmaids Gifts: Cecilia Designs
Spa Services: Bouclé Salon & Spa
Bridal Luncheon Caterer: Lobster Tales
Fishing Trip: Coop's Bait & Tackle