Ceremony + Reception: Allen Farm
Vineyard native Chelsea Ives and her sweetheart, Sean Kelley, had been together nearly a decade by the time they tied the knot. So the twenty-nine-year-olds wanted their wedding to reflect their interests as a couple. Chelsea, with a girlish laugh, declares: "And we're both huge nerds." They went with a theme that marries the traditional to the fanciful, and is distinctly them: steampunk.

What, you may ask, is steampunk? Chelsea quickly became skilled at answering this query, because even her bridesmaids weren't sure at the beginning. "Anyone I've mentioned it to, they've never heard of it before, but the moment I explain it, they've seen it everywhere," she says. Despite the name, it has nothing to do with punk music.

Steampunk, which has become a fashion trend, actually began as a literary genre. The term applies to fiction set in the Victorian or Edwardian era except – in a science-fiction/fantasy twist – the fictional world functions with enhanced steam-engine technology. There might be steam-powered bicycles or zeppelins; a character who lost a limb might have a sophisticated, steam-powered prosthetic. There is also a predisposition toward mechanical gadgetry: Clock gears, for example, are classic steampunk.

Chelsea and Sean both read a lot of fantasy. Sean discovered the steampunk novels of Cherie Priest, and was so enthralled by the genre, he introduced them to Chelsea so he'd have someone to discuss them with. Chelsea immediately became a fan herself.

While making plans for a Vineyard wedding from their home in Chicago, Chelsea suggested going with a steampunk theme. "Sean got really excited about that," she recalls.

The theme was manifested largely by the inventive bride, her family, and friends. First, of course, the clothing: Everything has a Victorian air to it. The steampunk palette is generally black and dark brown – hardly wedding colors. But one of Sean's favorite colors is red, which offered them a dynamic color scheme. "I found these two [Victorian-looking] skirts in red and black that were amazing. I told my bridesmaids, 'Pick a red skirt or a black skirt, and then pick an opposite-color top, any top you want as long as it looks the theme.' It took a little bit. I got a lot of, 'Is this what you're talking about? Is this what you're talking about?' until I went out and found stuff for them to wear."

Chelsea, to her surprise, found a gown at the mainstream David's Bridal that fit her perfectly and gave the appearance of a lace-less corset; she embellished it with a red bolero jacket handmade in Tel Aviv. Sean and all the groomsmen had hats – a true Victorian gentleman must always have a hat. The groomsmen wore bowlers, and Sean's top hat was embellished with a pair of aviator goggles, another steampunk costume staple.

Chelsea is skilled at taking things apart and putting them back together as jewelry. She had already made herself a pair of clockwork earrings; now she used her talents to make elegant boutonnieres out of library-clock gears for the men in the wedding party.

Guests were encouraged to dress up in the steampunk style, and the couple's website gave examples. "Walking down toward the site, seeing how many people loved us enough to dress up was so overwhelmingly awesome. I have an aunt who is not the most outlandish of people and she and my uncle went all out," Chelsea recalls affectionately. He wore a black leather vest with a watch-chain; she wore a corset-like top and leather boots.

The couple took advantage of a Massachusetts law allowing any person the one-day authority to perform a marriage ceremony. Theirs was written and officiated by a friend from college who had given Sean advice on wooing Chelsea.
As people entered the tent to eat, they were ushered into the steampunk world via a leather-bound guest book emblazoned with hand-stamped images of birdcages, clock gears, Victorian decorative flourishes, and other steampunk-style iconography. (The same images were used in both the save-the-date and thank-you cards.) Beside the guest book was an old-fashioned birdcage where cards to the couple could be placed.

All of the tables at the reception were named after fantasy book realms: Narnia, Wonderland, Hogwarts, the Enterprise, Neverland, Galactica. Each centerpiece featured a volume of Grolier Encyclopedia, which was festooned with doilies, spyglasses, clock pieces, artificial flowers, and other little gadgets.

The wedding cake had red-and-black buttons and gears. "We actually had ordered a steampunk topper but it didn't come in time," says Chelsea, "so we used action figures from our favorite nerdy TV show, Dr. Who." She adds, "Our nerd friends got it – no one else got it, but that was fine."

The couple also wanted to honor and celebrate the pastoral beauty of their wedding site, Allen Farm in Chilmark. While guests sipped cocktails around hay bales, the bridal party went down to the pond with their photographer, Kristen Leigh Conklin. "That was super fun," says Chelsea. "Kristen got up to her knees in muck for us, and she wasn't wearing boots – she was amazing." When the shoot was over, they joined their guests for dinner. They picked Jan Buhrman of Kitchen Porch to cater the wedding since she does Island-grown food. "We had clam chowder because we wanted to showcase the local fare."

Chelsea and Sean decided to send their guests off with little bottles of Vineyard sand, neatly labeled with people's names – and fantasy realms. They provided a literal and symbolic blending of two worlds dear to their hearts: Martha's Vineyard and the fantastical.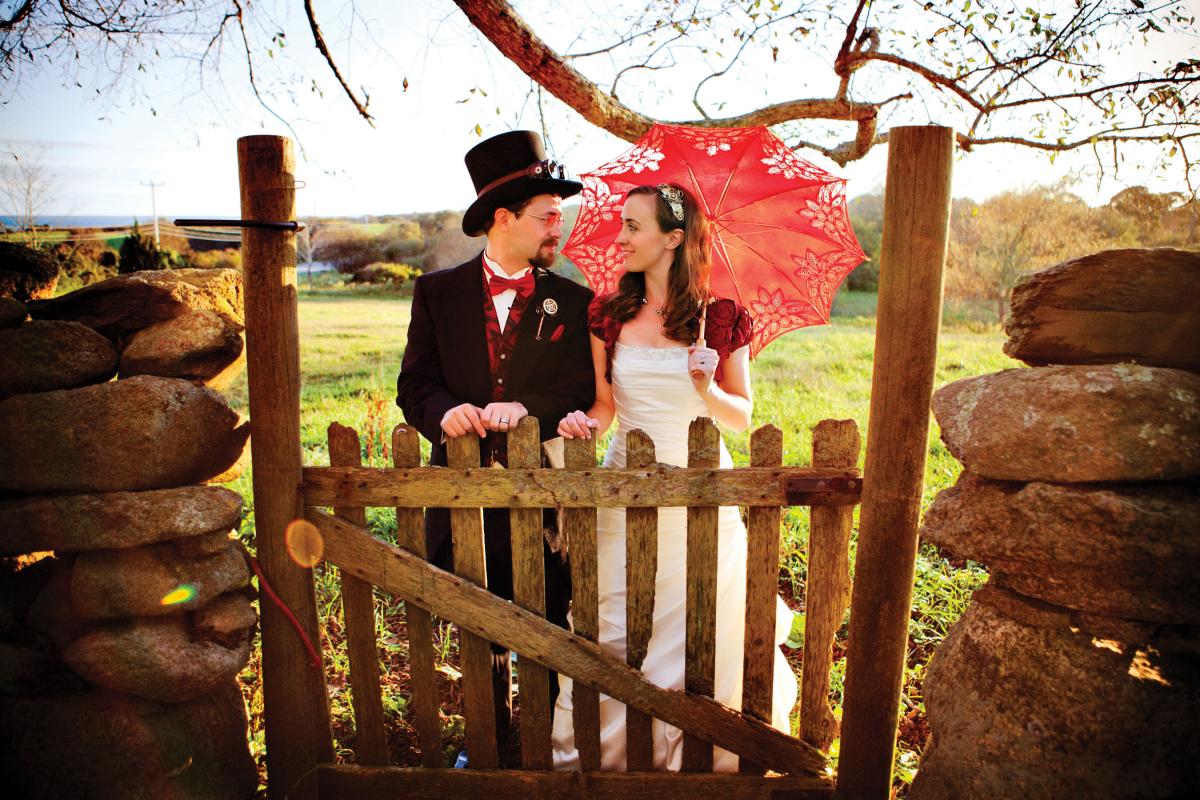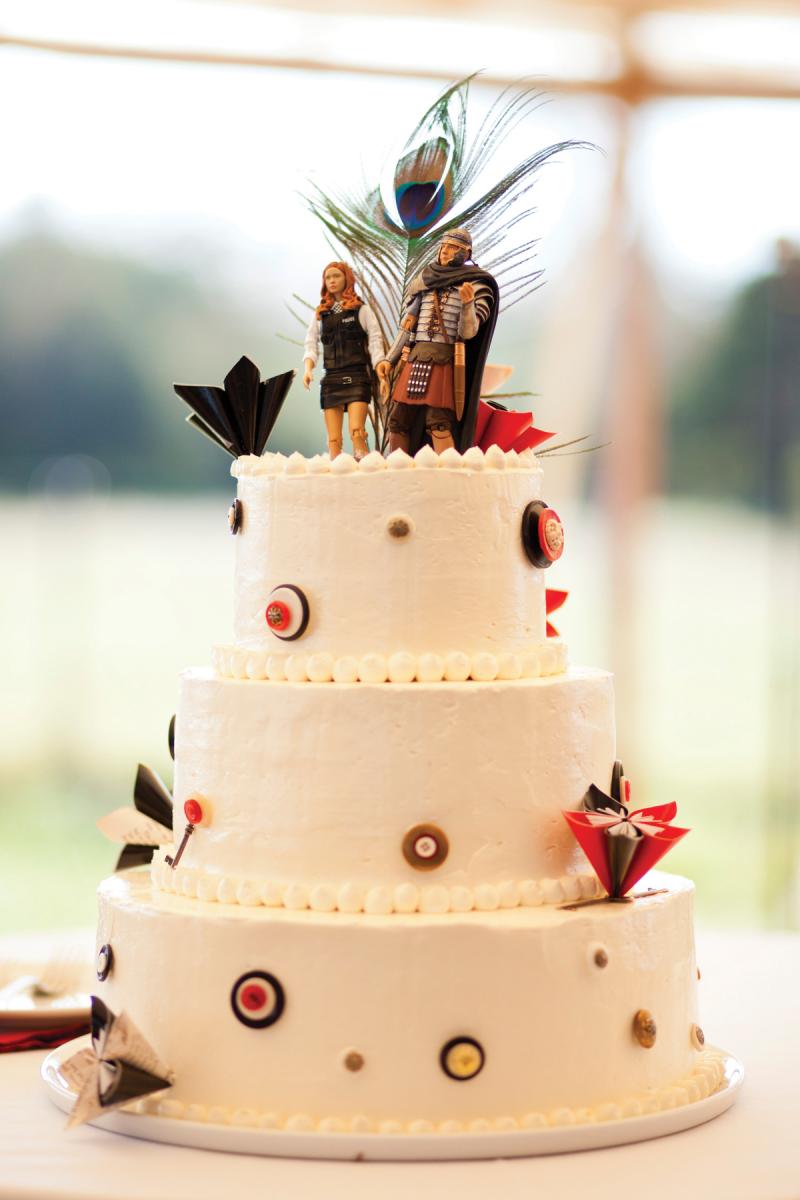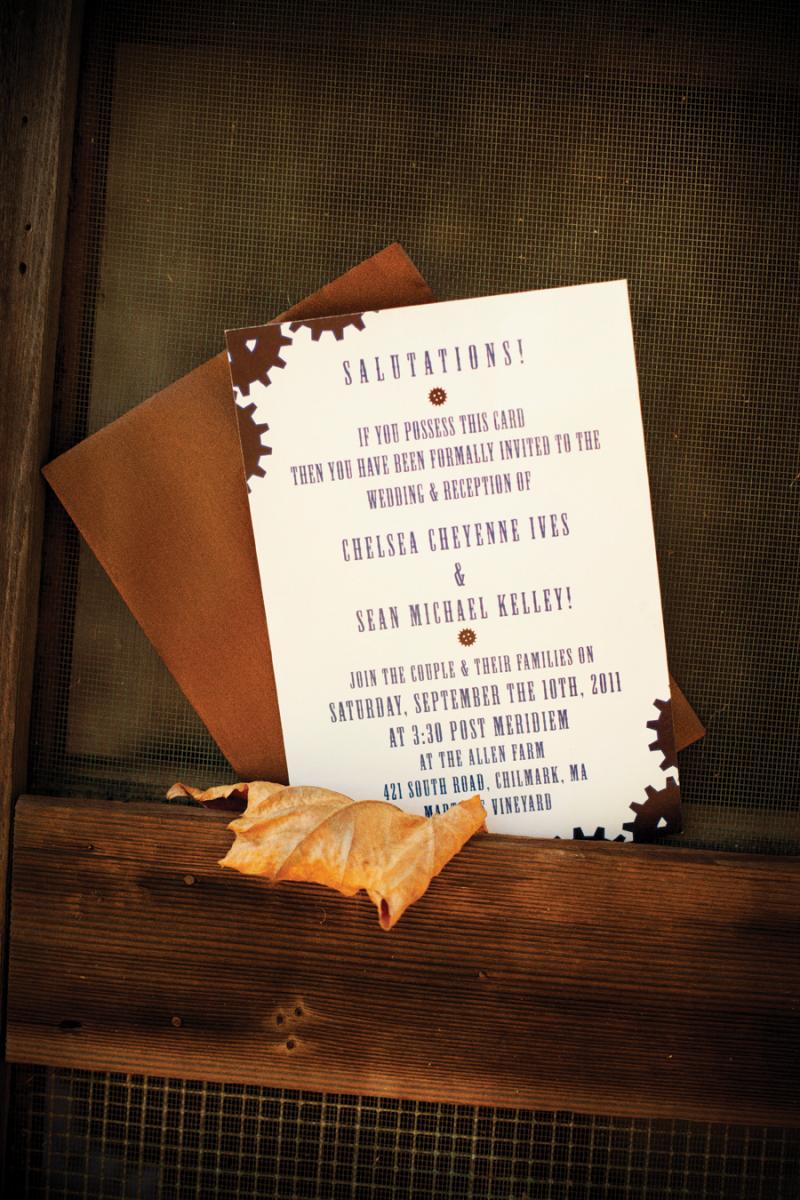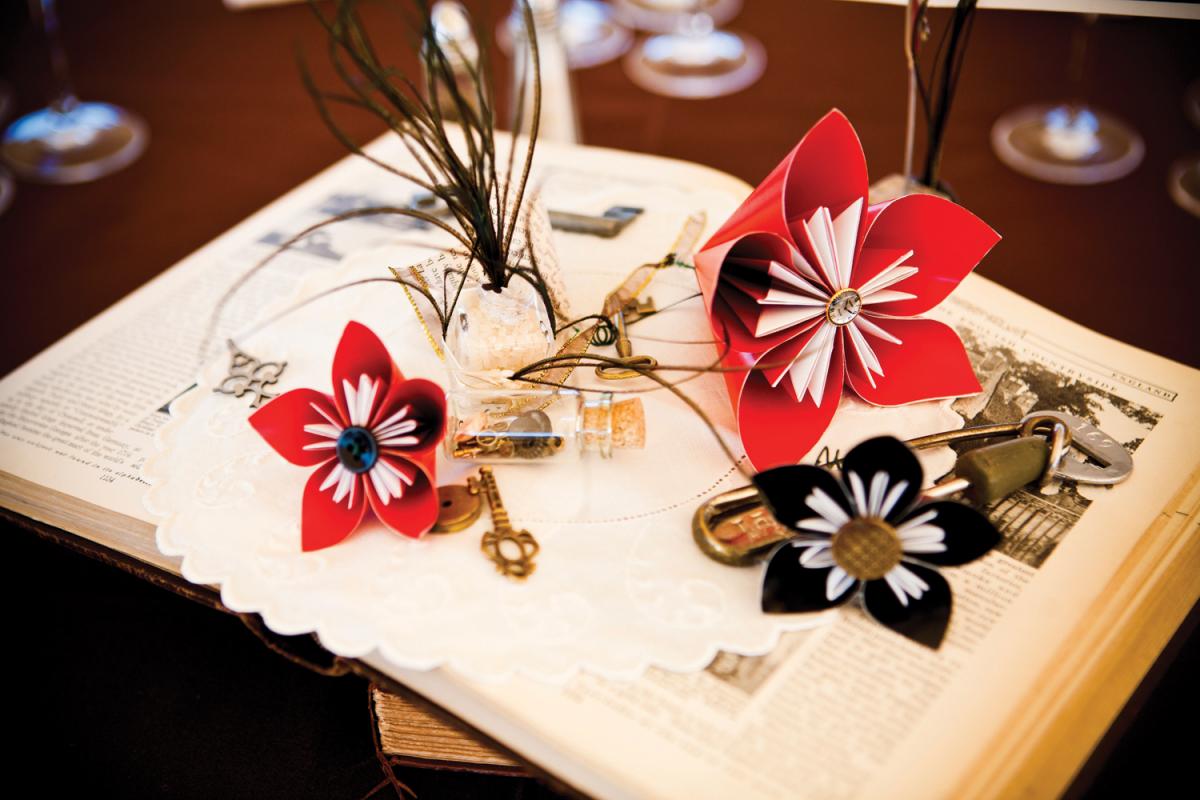 Details
Wedding Planner: Patrie Grace of With Grace
Photographer: Kristen Leigh Conklin
Rehearsal Dinner: The Newes from America
Caterer: Kitchen Porch
Beverages: Our Market
Bouquets + Table Decorations: Sioux Eagle and Clare Ives
Rentals: Big Sky Tent and Party Rentals + Dottie's Potties
Hair: Maggie's Salon
Gift Bags: Vineyard Cash & Carry + Rainy Day
Guest Accommodations: Wesley Hotel + Vineyard Harbor Motel