Ceremony + Reception: Private Home
What's red, white, and blue all over? The colorful, fun-filled, Americana-themed wedding of Marisa Catalina Casey and Paul David Wilson, who tied the knot last July in an intimate, homespun celebration at the bride's family residence in West Tisbury.
Gathering at the Caseys' Vineyard property for the Fourth of July weekend has long been a family tradition, so it made sense to choose the day before, a Saturday, for the wedding. Plus the clock was ticking. A few months earlier, Marisa and Paul had decided to enlist in the Peace Corps as a couple and the only way they could guarantee a post together was to marry. Engaged in April and married three months later, they've since been assigned to Central or South America with an August 2011 deployment date. Marisa, South American–born, was adopted at three and raised in Newton. She has traveled extensively, worked in Latin American orphanages as a student, and is eager to return. "My heart has always been there," she says.

Marisa and Paul met through an Internet dating site in April 2007. "I had to get used to saying it, but I finally decided it's not important how we met, only that we did," Marisa says, adding that Paul embodied all the strengths she was looking for in a partner. An engineer by training, Paul went on to work for UNICEF and earned a master's degree in nonprofit management. Today he works as a financial consultant to nonprofit organizations. During their ceremony, Paul explained that Marisa is "aligned along core values that drive us through important issues: social justice, family, friends, travel, adventure. Like the song, we are better together."

While some men make quick work of their marriage proposals, Paul crafted one that was a reflection of the playful quirkiness the couple shares. An all-day scavenger hunt propelled by cryptic text-message clues brought Marisa to sites all over New York City that have significance to the two of them. At the last stop, the setting of their first date, she found Paul. To her amazement, on bended knee he proffered a plastic capsule from a vending machine encasing an emerald engagement ring.

Given the small window to prepare for a July 3 celebration, Marisa decided to serve as her own wedding planner. While she and Paul discussed every aspect of the event, she became the "go-to girl," working out an arrangement to share the cost of the celebration with her parents. They provided the house, caterer, flowers, and rental equipment for forty guests, while Marisa and Paul covered the clothing, decorations, gifts, and photographer.

With a nod to frugality, Marisa chose two dresses from J. Crew, spending less than a thousand dollars on a strapless gown for the ceremony and a second dress for the reception and dancing. "Both can be cut and dyed later," Marisa reports. "You only wear them for a couple of hours so I wanted versatility." She added a sentimental touch by making a temporary necklace from her late grandmother's brooch. "She passed away when I was eight but her birthday was on the Fourth of July."

While the patriotic color scheme admittedly wasn't their first choice, Marisa says she soon succumbed to the festive feel of the 234-year-old holiday. "I'm a designer, so a theme really helped me plan the event," she explains. Making the most of the Independence Day palette, she put her skills as an artist to work. The founder and executive director of a community-based youth arts center in Brooklyn, Marisa had no trouble recruiting teenage assistants. "I used the wedding as a teaching tool and my students really got into it," she says. Together they crafted vintage poster–style invitations, origami fortune-teller wedding programs, and decorations to reflect a down-home traditional feel. Hand-sewn flags and a matching ring pillow, handpainted wooden cupcake toppers, popcorn to eat and throw, red parasols for shade, and red, white, and blue paper fans completed the carnival-themed decorations.

To make the celebration more intimate and personal, the couple invited married guests to send them copies of their own wedding photos, which Marisa then turned into black-and-white, two-sided table decorations. "We did it to acknowledge other people's special days. It was fun to see how they'd changed over the years," she explains.

Saturday, July 3, proved to be a spectacular summer day. Marisa and Paul awoke early and began hanging colorful flags and handmade decorations around the spacious yard, which overlooks a pond and a picturesque meadow replete with grazing horses. A team of friends and family helped set up game stations – bocce, badminton, and beanbag toss – as well as decorations, a candy table, and a photo station with whimsical props. After being helped into her gown by her sister and several close friends, Marisa went in search of her soon-to-be husband. "When I saw him in his seersucker suit, red tie, suspenders, and Converse high tops, I cried tears of joy," she says.

The ceremony, written by the bride and groom, included readings by close family members. Business completed, it was time to party! Guests enjoyed cocktails and hors d'oeuvres, and competed enthusiastically in the lawn games. Dinner was served at one long table, "Tuscany-style," according to Marisa. When she heard one guest comment, "This has been the best wedding I've ever been to," she knew the couple had achieved the playful, old-fashioned carnival atmosphere they'd hoped for. The July 4 fireworks in Edgartown that evening provided a final flourish to a truly Americana-inspired weekend.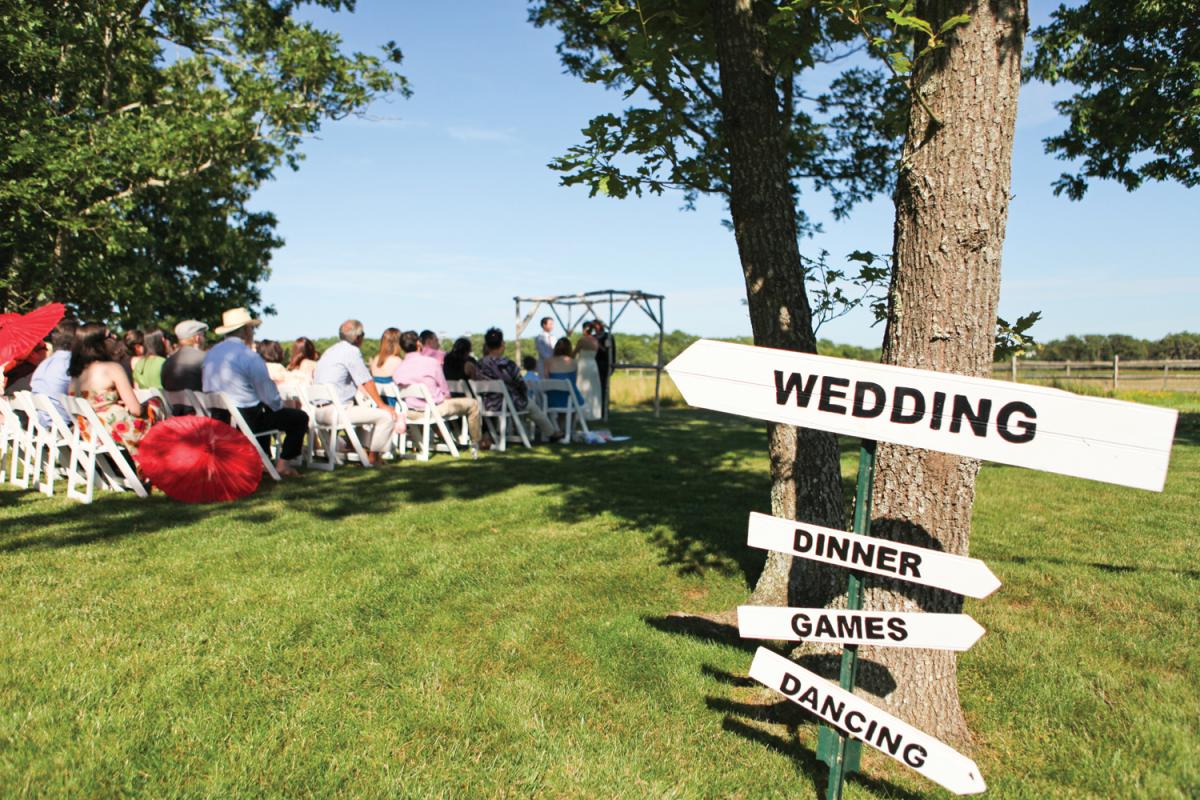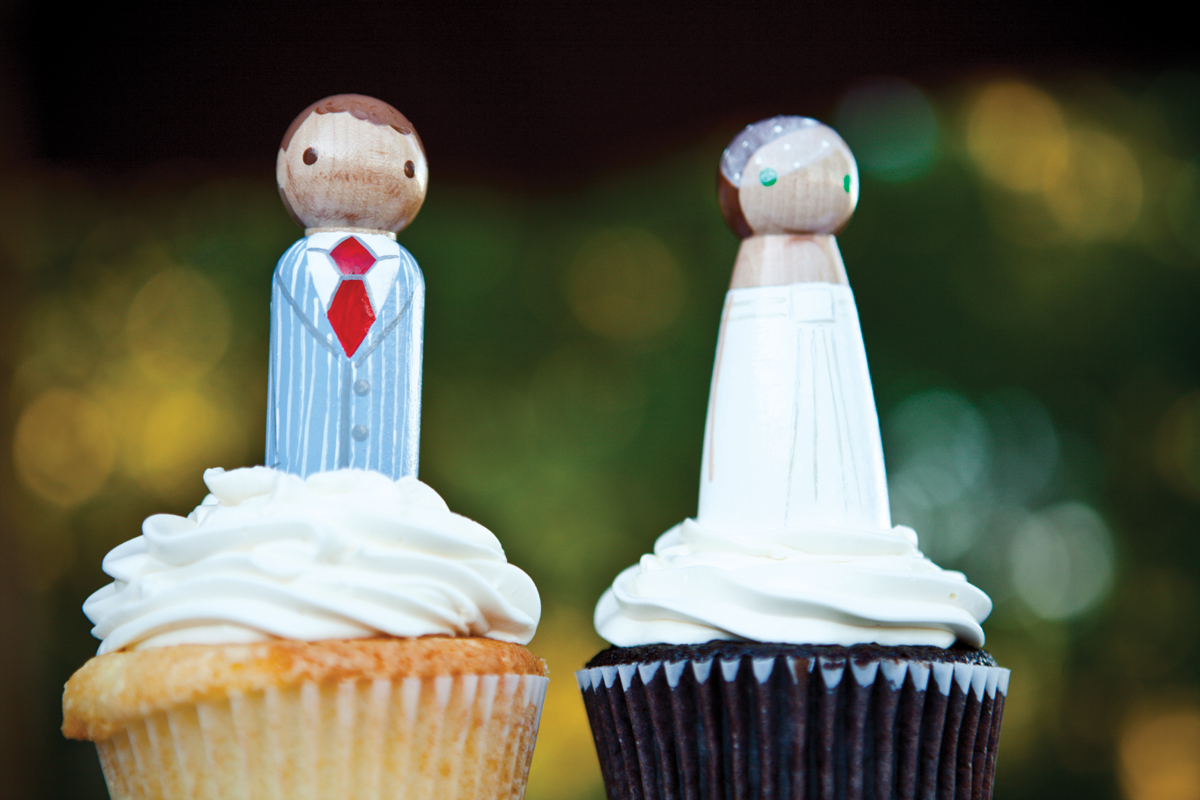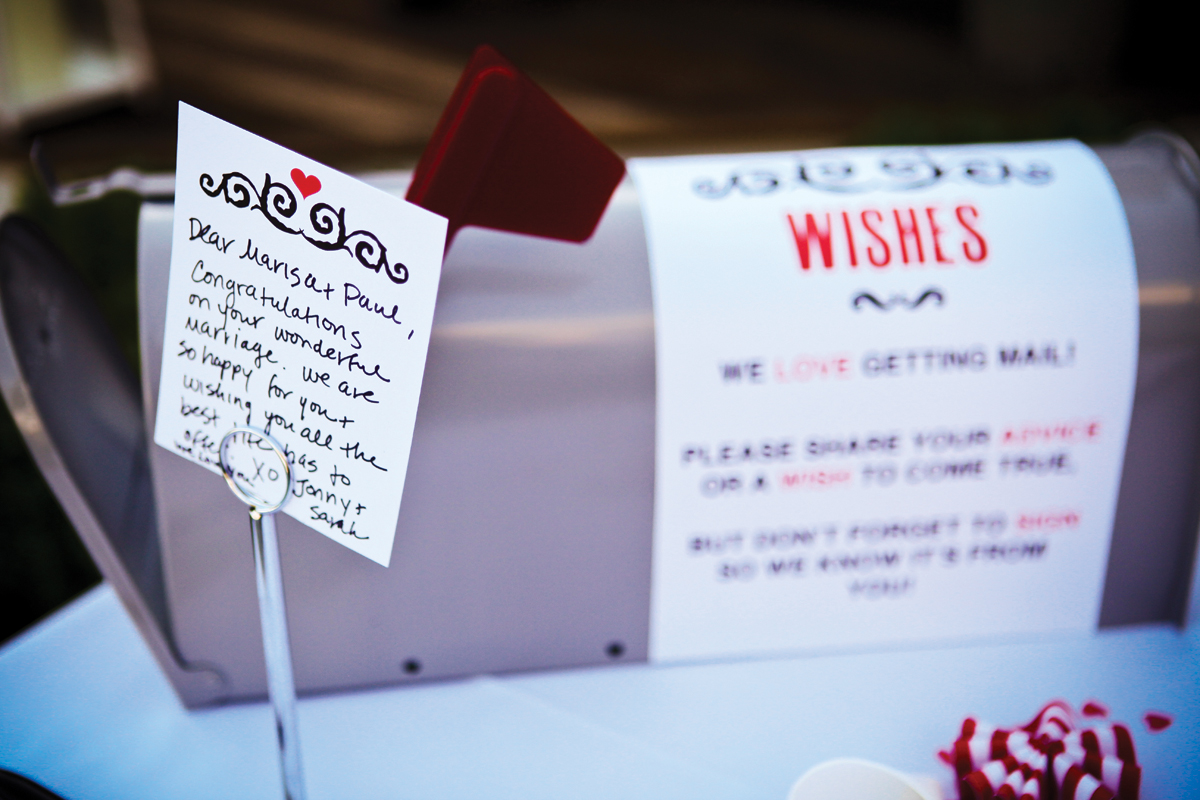 Details
Photographer: Kristen Leigh Conklin
Rehearsal Dinner: Atria
Celebrant: Justice of the Peace Laura Johnston
Caterer: Kitchen Porch
Cake: Val Cakes
Flowers: Flowers on the Vineyard by Louise Sweet
Rentals: Big Sky Tent & Party Rental
Hair + Makeup: Lizzy Kent of Panache Salon