Ceremony: Grace Episcopal Church
Reception: Lambert's Cove Inn
When former Harvard classmates Erin Straw and Jonathan Paul first announced that the date of their nuptials would be in December 2009, friends and family were a tad concerned about the weather.

"I told them it almost never snows on Martha's Vineyard," says Erin, "and if it does, it melts in a day."

Erin, a third-year medical student at Columbia University, had little choice in wedding seasons: She had but a three-week school break over the holidays to spare. A wintry isle beckoned – the one where Erin and her family had vacationed for years and where her parents had relocated full-time from New York in 2008.
While scoping out Vineyard reception venues during the previous holiday season, the newly engaged couple booked the lavishly decorated Lambert's Cove Inn in West Tisbury on first sight. (Tip for brides-to-be: Holidays mean free décor.)

A year later, one week before their December 20 wedding, meteorologists began ruminating about a weekend nor'easter. But hey, who puts stock in a Vineyard weather outlook a week in advance? On worry-free Friday, guests ferried over and flew in for a full weekend of merrymaking. As Saturday evening's rehearsal dinner at Détente in Edgartown gave way to an after-party at nearby Atlantic, the snow began to fall...and fall...and fall. By daybreak, nearly a foot of snow had blown in on wind gusts of up to sixty miles per hour. And the snow continued to fall...and fall.
"I was hoping for flurries for my wedding day," says Erin, laughing. "I guess I over-hoped."

At Lambert's Cove Inn, proprietors Scott Jones and Kell Hicklin began shoveling driveways and walkways the moment they woke up. Maggie Mae made it to Maggie's Salon in Vineyard Haven in her Land Rover to coif the bride's hair. Vineyard Haven's Morrice Florist had made its deliveries a day early. Only one guest was waylaid, due to a cancelled flight. From Grace Episcopal Church in downtown Vineyard Haven, where the steep stairway to the front entrance had vanished under a snowdrift, Reverend Robert Hensley phoned to reassure the bride she could enter the sanctuary via the side door, but the bride said: "What?"

So in a premarital honey-do, Jonathan, with the aid of his groomsmen, shoveled the church steps for his true love. (Likely the task was no big deal for the native Canadian.) At ceremony time, the guests in the pews may have suspected a case of runaway bride, but Erin was merely detained in the vestibule, shedding a thick coat, ditching her Wellies for rhinestone pumps, and unhitching her ballroom skirt.
Driving to the reception, Jonathan's parents and grandparents wiped out in a snowdrift (luckily no one was hurt) and had to be rescued by taxi; Mom accidentally left her gold shoes behind, but she happily danced with her newlywed son in her gold dress and black boots.

At twilight, Kell and Scott were still shoveling walkways outside the inn against a backdrop of snow-laden evergreens. As Erin's young nieces observed, the up-Island landscape was as magical as a scene from the movie Narnia. Gee, if only winter brides and grooms could actually book a romantic blanket of snow.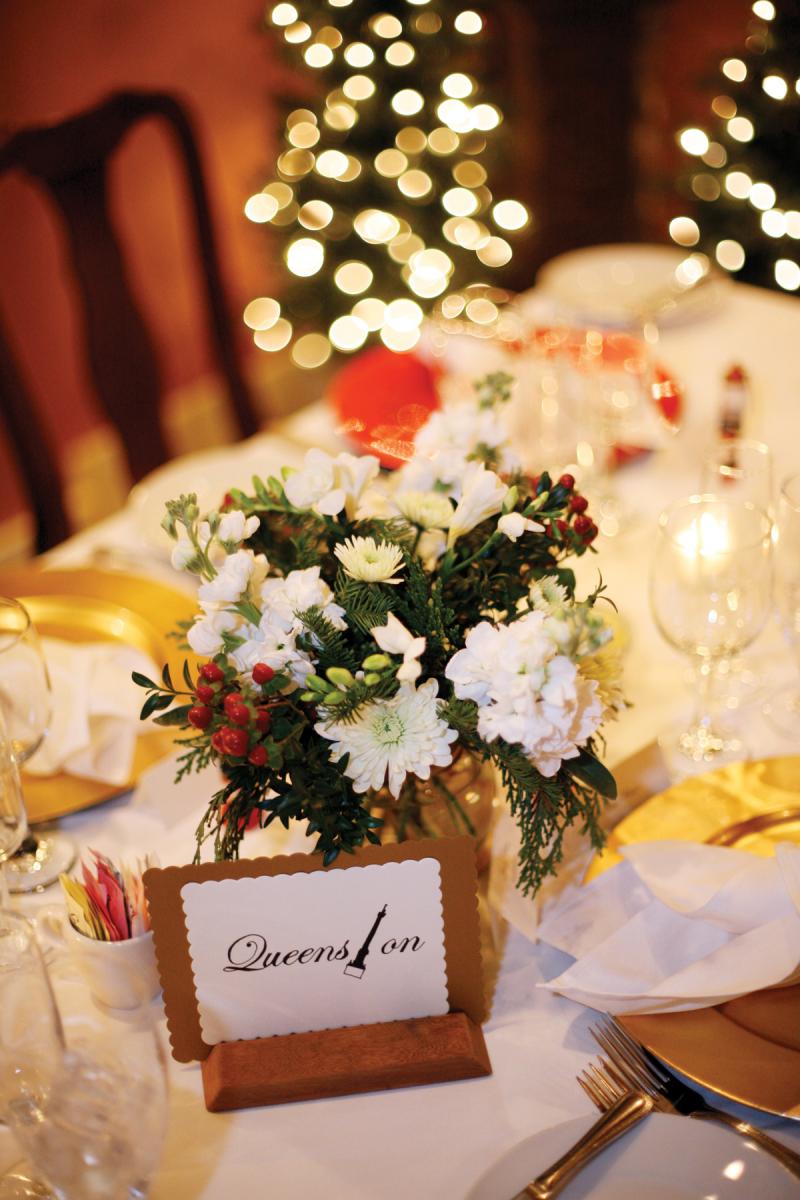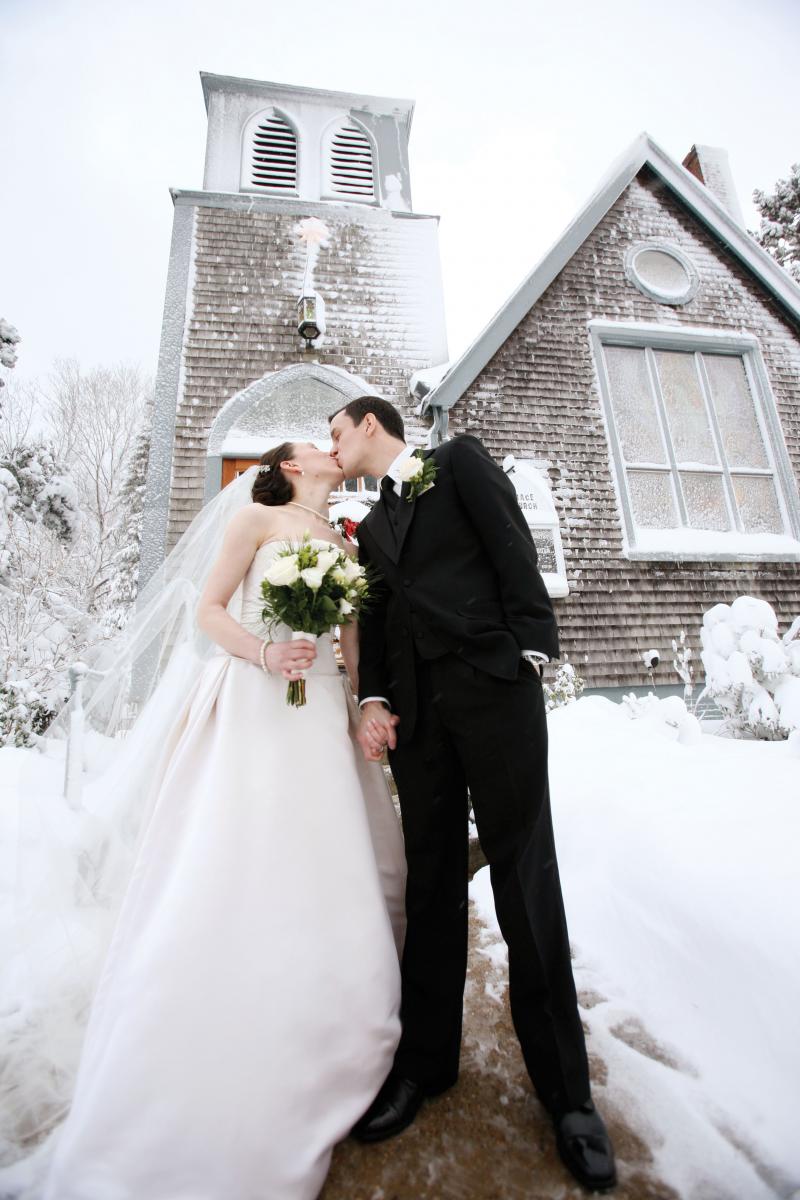 Details
Photographer: Paul Rich
Rehearsal Dinner: Détente
Cake: Cakes by Liz
Alcohol: Our Market
Flowers: Morrice Florist
Music: Wes Nagy + DJ Dave Solimine of Good Times Unlimited
Rentals: Seaside Celebrations
Hair + Makeup: Maggie's Salon
Guest Accommodations: Lambert's Cove Inn + Mansion House